Following the announcements that golf clubs in England have to shut until December 2, Harriet Shephard examines whether these new restrictions will actually be detrimental to people's health rather than beneficial.
A whole month of no golf in England.
It's a real blow for golfers living in these areas, the clubs themselves and the golf industry as a whole.
When us golfers claim that we'll suffer and be miserable without our weekly fix of on-course action, we're not actually being dramatic.
There are lots of facts to back up the theory that golf can help people cope with stress and maintain their mental health.
But on the other hand, the closures have been implemented to help slow the spread of COVID-19, and of course we'll all be happy to see the back of this awful virus as soon as possible.
So, I've decided to take a look at the arguments for and against closing golf clubs during the COVID-19 pandemic.
(And I've tried to be as unbiased as possible).
Stopping the spread
Apart from the obvious fact that we don't have a vaccine, coronavirus has been so tricky to deal with because it's a new virus that we know very little about.
However, what seems to be indisputable (as far I understand it anyway), is that social distancing, hand washing and wearing face coverings helps to slow the spread.
Wales and Ireland have made the decision to close all "non-essential retail and leisure outlets" (including golf clubs) to stop people being in close proximity to one another and therefore spreading the virus.
So many people have suffered already because of this terrible pandemic, and the last thing anyone wants is for it to effect even more people.
So, if closing golf clubs helps slow the spread, is it worth suffering in the short term for a pandemic-free life?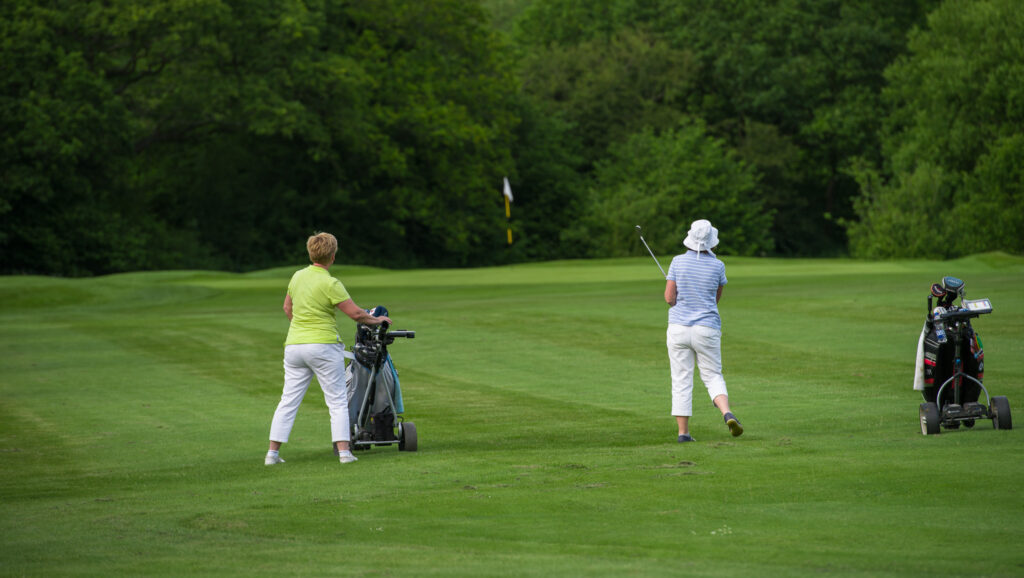 A low-risk activity
It's weird to think that this time last year we had never really heard the phrase "socially distancing", and now it's part of everyday life.
Staying at least one metre apart is very hard to do in sports like rugby, football etc but with golf it's so easy. We play on huge courses and in wide open spaces.
I'm also always off in the rough somewhere anyway so there's no danger of me getting too close to my playing partners in the fairways (half a joke).
Research agency Sports Marketing Surveys (SMS) has stated that golf carries a very low risk of transmission.
Its latest report says: "Person to person transmission of Coronavirus is limited outdoors, especially when players can remain safely apart at a distance well in excess of the 1m+ policy. When golf was tasked by the UK Government with proving that the game could be played safely and within restrictions, the industry answered promptly and efficiently.
"New signage at golf courses and facilities is allowing for successful spacing of players. Removing rakes from bunkers has prevented the most likely source of on-course transmission. There are now no other surfaces on the golf course that players need to touch. Provided golfers leave the flag in and do not pick up each other's golf balls the game can be played entirely at a distance from players and communal surfaces.
We've all adapted and changed the way we play to make sure everyone can stay safe and still enjoy golf.
Data from Ireland up to the 17th October shows just nine COVID-19 cases were contracted under the banner of "sporting activity / fitness". Some of those may well have been through golf, but it's not specified.
Scientists at the Texas Medical Association rank golf as being as risky as going to the supermarket or going for a walk or bike ride.
So, as other green spaces such as parks are being kept open, should golf course remain available to use too?
Coping with stress
Even the most calm and positive amongst us have suffered during this past year, and for those who already had struggles with anxiety or depression, I can't imagine how hard it's been.
I'm sure I can speak for all of us when I say that the pandemic has made me appreciate the time I spend on the course (or range) more than ever before.
A study by the Mental Health Foundation states that six in ten (59 per cent) of UK adults who experienced stress because of the pandemic found that walking helped them cope. Plus, half (50 per cent) of those asked said that visiting green spaces, such as parks, also helped.
Golf combines A LOT of walking and A LOT of gorgeous green space, so it makes sense that playing the game makes us feel calmer, happier and less anxious.
The R&A has commissioned extensive studies into how golf can help improve mental and physical health. Scientific evidence drawn from 5,000 studies on golf and health, found that playing golf can increase life expectancy, reduce the risk of major diseases, and improve mental health.
A study from SMS also confirmed that golfers feel less lonely than the average population, feel more engaged with their local communities, feel less stressed and are generally happier in their everyday lives.
More generally, exercise such as golf is a great way of combatting obesity and improving cardiovascular fitness.
With some scientists suggesting that coronavirus affects those suffering from obesity more extremely, surely we should be encouraging people to exercise during these tough times, not taking one of the few available sports away from them (gyms and other sports facilities have also closed in Wales and Ireland).
Can we find a compromise?
Of course, 'covidiots' exist everywhere.
Perhaps there are people at your club who think it's okay to dash through the clubhouse without a mask on or still insist on taking the flag out.
But surely there is a way of operating that means golfers can stay safe without clubs closing all together.
We reported last week that one club in Ireland was keeping its COURSE open but closing the rest of its facilities.
Is this an option that others could adopt? The downside is that clubs still wouldn't be able to make any income through their restaurant, pro shop etc, but they would be doing their paid-up members a HUGE service.
Of course, we don't want to encourage anything that puts anyone at risk, but if we could go back to the way things were done back when lockdown was first easing – keep clubhouses closed, two balls, play with people in your household, restricting buggies etc – I'm sure many would see it as preferable to having no golf at all.
Most of all, the team at Women & Golf hope we can stay safe and all get back to enjoying the sport we love as soon as possible.