We hear from Women & Golf readers about their experiences at the 2023 Solheim Cup at Finca Cortesin
At the start of last week, I was so hopeful that we could focus solely on the positives of the biennial event. Often in the women's golf space, something happens - rules violation, slow play, etc which shifts media focus away to a negative storyline.
With women's professional golf still striving for more media coverage, it really does it no service when casual golf fans only read about the issues, rather than the exceptional golf on display.
So, with that in mind, it was with great disappointment to see the fallout on Twitter on Friday with complaints raging about the spectator experience at this year's Solheim Cup.
I am not one to focus on the negatives but I couldn't let this go by without comment. This is, after all, the biggest event on the women's golf calendar.
I reached out to Women & Golf readers to get their feedback because although I was at Finca Cortesin, I spent the majority of my time in the media centre, not having the true fan experience.
What became clear was that something fundamental had been forgotten, the role of the spectator, with one reader rightly saying "spectators are just as important as the players to make the event a success."
The Venue
To anyone who had been to Finca Cortesin previously, the concern about the hilliness of the venue was plain to see. It certainly would never be a course to tackle without a buggy. So before even one spectator had set foot on the property, there was already an obvious problem.
Which was confirmed and observed by Women & Golf reader Andrea:
"The course is spectacular but was totally unsuitable for spectators. So many bottlenecks and very very steep climbs with buggies trying to get through as well. By the time you got through the players had teed off. Golfers are of the older generation and I know I struggled and couldn't walk a lot of the course. Anyone in a wheelchair had absolutely no chance and even in mobility scooters no chance. How terrible is that?"
With reader Cheryl adding:
"It's just too hilly a course and with limited access to viewing with four matches going on and usually only one side of the fairway was available for spectators to walk so there were log jams of people on certain holes."
Finally, Carol commented:
"Out on the course, it was difficult to follow games due to roped off areas leading to long walks to the next hole. There were only a couple of holes that had vantage points to see a couple of holes. The course was very steep, lots of undulations, if you weren't fit it would have been a struggle to make your way around."
However, even faced with this, the hardy Solheim Cup fans powered on through the week and worked out where the best spots were to spectate but many found a spot and stuck to it due to the difficulty to get round the course.
Navigating the Venue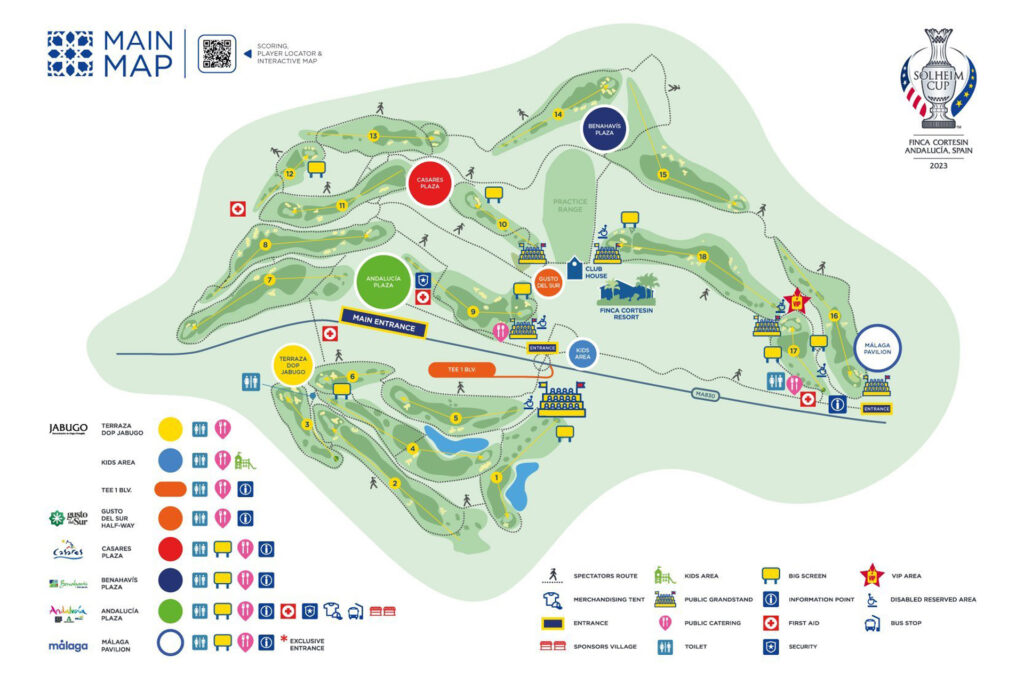 I'm not the best map reader and can get lost using Google Maps, so I am definitely not qualified to comment on navigation but even if you wanted to venture to every corner of the course, it was not easy to work out how to do so.
Annelie, who was attending her first Solheim Cup said:
"Signage was very poor across the course and we got lost several times trying to take routes indicated on the map which didn't exist."
Whilst Jo was attending her third on European soil:
"We had planned to watch groups come through various greens but soon realised in the morning that access paths were limited, large bottle necks happened and viewing spots were hard to come by. Some of the paths on the official map didn't seem to exist.
"The walk beyond 6th up through the tunnel then onto 7 onwards became hilly and difficult to navigate at times whilst keeping up with play.
"We followed a track somewhere in valley between 13-15 which was pot holed and riddled with tree stumps. Despite the flow of people we were clearly off track and missing the 14th completely."
Spectator Stands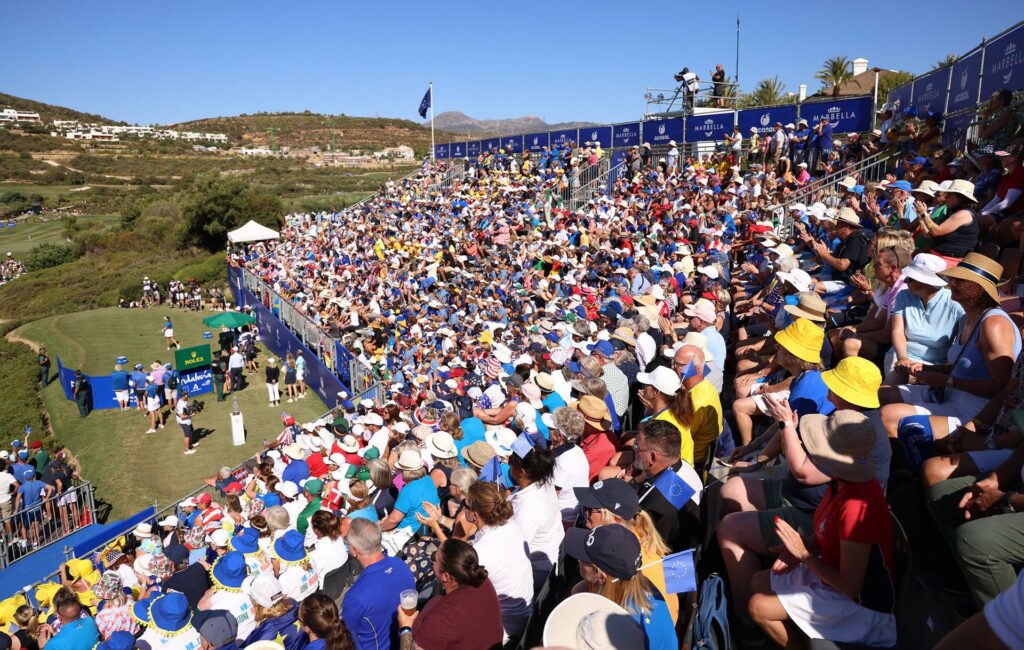 Well, at least you could take a spot in a grandstand and rest your weary legs... That was if you were lucky enough to get a seat. Only six stands across the whole course with the biggest being on the 1st tee. It's worth noting here that the 1st tee stand was half the capacity of the one used at Gleneagles in 2019. Across the other stands capacity in most was only a couple of hundred people.
The lack of grandstand seating was mentioned by nearly all Women & Golf readers who got in touch.
It was not a perfect solution but the slopes of the course did allow many spectators to sit by the side of the fairways, in almost a tiered fashion, so that views were not obscured.
Food and Drink
As temperatures rose to nearly 30 degrees, it was worrying to hear that water bottles had been confiscated on entry on the first practice day. This was a problem that was quickly rectified by the organisers and had been in part due to strict laws for large events in Spain which don't allow for bottles or aerosols to be brought into events.
Luckily common sense prevailed, but even if you did bring a water bottle there was nowhere to fill it up, maybe this is a luxury only available at the Open and AIG Women's Open championships? Water filling stations would at the very least have cut down on the queues at concessions with spectators looking to purchase more.
Food had also initially been confiscated but this rule was also relaxed. Something that may have alleviated complaints a little as some food outlets ran out of food on Friday and Saturday.
Deborah explained her experience from Friday:
"Yesterday we went to one of the food concessions and they had run out of everything except hot dogs before midday-not great if you are vegetarian! There are nowhere near enough concessions and those that are there are slow and under stocked and not replenished nearly often enough."
The organisers released a statement on the issue:
"On Friday, there was a delay in replenishing some of the food and beverage outlets, which has been addressed with the tournament organiser, Deporte & Business. We have resolved the situation, ensuring the availability of food and water around the course. The fans are the heart and soul of the Solheim Cup, and we are dedicated to giving them the best possible experience."
Viewing Screens
The aim may have been to give the best possible experience to fans but on so many levels it failed to deliver.
"Fitter ones amongst us have probably walked most of the course, others who find the terrain difficult have queued to grab a seat in one of the stands. Watching the action on the big screen in Andalusia Plaza is an alternative and pleasant enough in the sunshine but not really the point of being here," said Jeanette.
Viewing screens were dotted around the course but reader Carol pointed out that most screens were not big enough and more were needed across the course.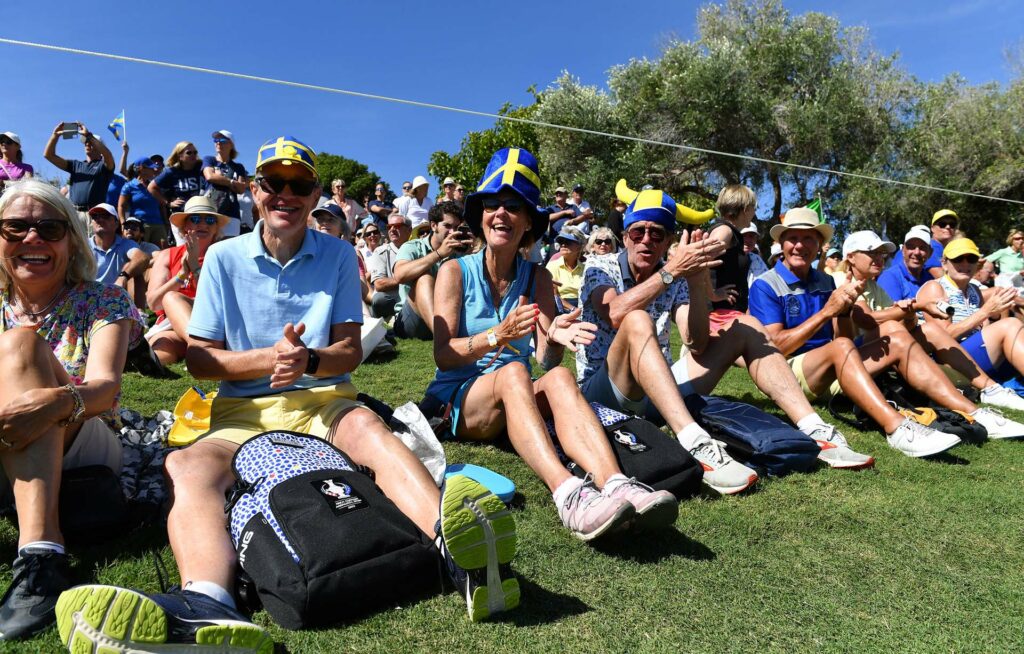 Transport
Getting into and out of a golf event is generally never without its issues, I do not think I have ever heard of one where it has not been.
Car park signage, queues for buses, not enough buses and issues with the recommended taxi firm were all points raised by readers.
Logistically, this could have been handled better but overall there is never a perfect solution to transport into and out of a major sporting event with a large number of spectators all looking to exit at a similar time.
Toilets
Before we finish with some positives, let's just talk about toilets. Feedback was pretty bleak, not enough, running out of paper, unclean and also running out of water to wash your hands.
Deborah sums it up:
"Don't even go there on the toilets. Nowhere near enough, far too far apart with no toilet paper or water to wash your hands. Disgusting."
The Golf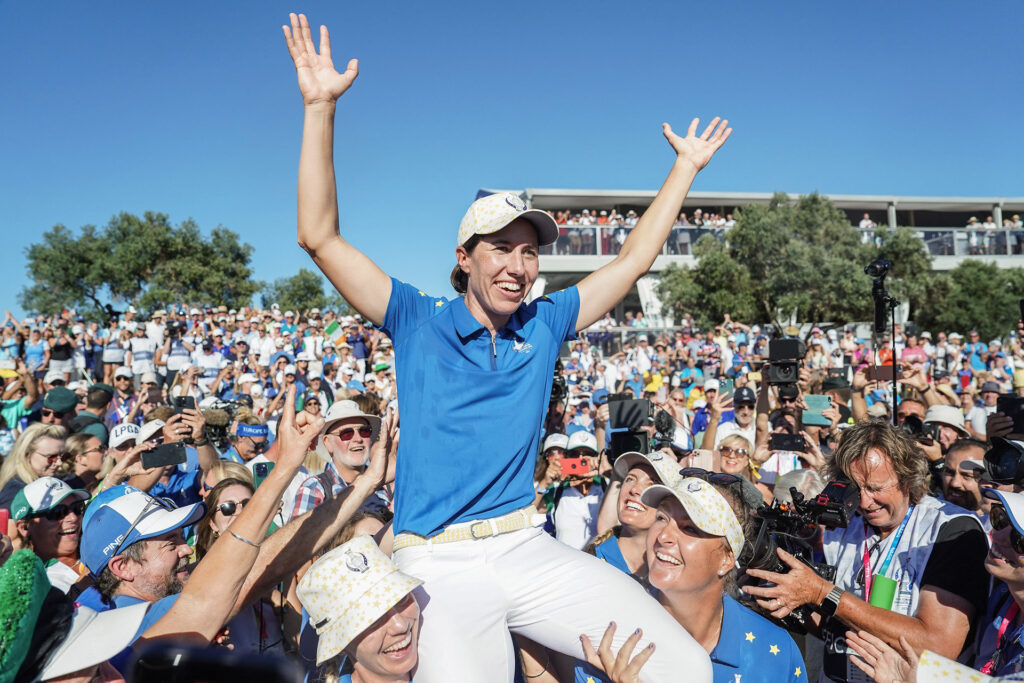 Thankfully and as I had hoped, in the end it was the golf that did the talking. A thrilling final day of singles matches, ultimately ending in a tied match. Something that was echoed amongst the Women & Golf readers:
"Having said all of this it was still a great experience to be there, meet up with friends and experience such a nail biting Sunday afternoon." Clare
"Yes their catering, on-site facilities and plaza layouts could have been better but fortunately were eclipsed by the amazing golf, hot sunny weather and stunning scenery!!" Helen
"What a fantastic day at the Solheim Cup. Any moans and niggles about the organisation of the event faded into the background in the face of the amazing golf and great good humour of the crowd." Michelle
Lessons need to be learnt if we are to make sure that it's the golf and the talent on show that does the talking. We, as women's golf fans, do not want to see issues repeated next year or in 2026. With Claire raising an interesting point at the end of her email to me:
"I hope that the organisers will listen and take onboard what many spectators experienced at Finca Cortesin, perhaps they should include the "spectators voice" when choosing future venues?"