Ladies European Tour player Natasha Fear talks about growing up in Spain, the impact of Covid-19 and her new partnership with Infinitum
I was born, raised and live in a town called Jávea on the east coast of Spain. It's right in between Alicante and Valencia. I'm obviously biased, but out of all the places I have travelled to, my home is still my favourite.
My Dad is British but he retired and moved to Jávea many years ago and still lives there now. My Mum is from Indonesia, her father was Chinese, but emigrated to Indonesia when he was very young. My parents divorced when I was 15 and my Mum moved back to Indonesia and now lives in Yogyakarta. I was brought up as an only child, but I am the youngest of 10 children from my Dad's side with my youngest brother being 20 years older than me, and my eldest sister has just retired.
My home club is La Sella Golf Resort. I'm very lucky to be there as they have always supported me from a young age and have carried on supporting me since I turned professional at 19. I won a few regional tournaments growing up and represented la Comunidad Valenciana in the regional championships for a couple of years. I also won countless Saturday tournaments in my area with over 100 trophies at home at one point.
The win that I remember the most would be the Copa de Castellón. It was the last amateur tournament I ever played in, and the prize was a voucher for expenses which was enough to pay for LET Q-School that year.
Ladies European Tour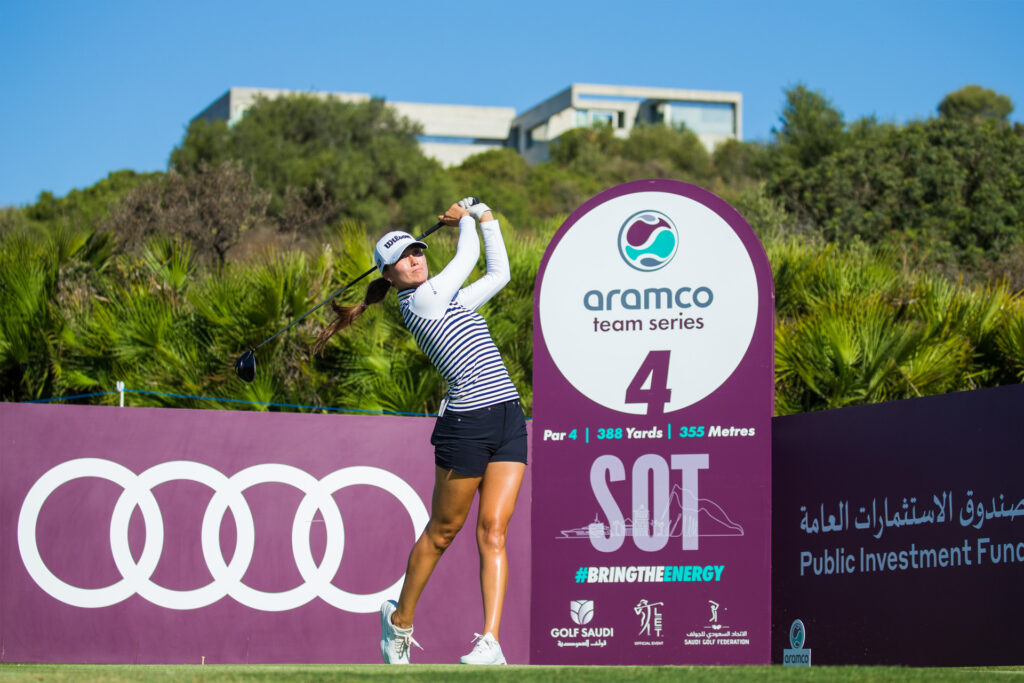 The LET is a whole different level of competition because the standard of play is a lot higher. The winning score is further under par, and the cut line is lower. I feel like it's more competitive and players are a lot more experienced and prepared to compete. Having said that, if a player doesn't gain full status on LET the first time, they go to Q-School (this was my case) and playing on the LETAS (the LET feeder tour) is a great way to gain more experience in professional golf. They have a fantastic schedule and I'd recommend it to anyone looking to build a career on the Tour.
Impact of the Covid-19
Throughout the pandemic, Covid-19 has affected all the players. For me personally, it didn't allow me to have the pre-season I wanted to as golf courses were closed for two months at the start of the year, as well as all gyms. You also have to be aware of a lot more things when travelling such as the travel restrictions for that country, how many hours before you need to take the test, and so on, but that part is just routine now and I have gotten used to it.
The other thing that it has really affected is my diet. At the start of the season, we weren't allowed to stay in self-catering accommodation, so we weren't able to cook for ourselves and eating takeout every night wasn't great. I wasn't eating as much protein and vegetables as I normally would which affects my energy. I have eaten more pizza in 4 months than I did in the whole of 2020!
We are now able to stay in apartments at some events so that's fantastic and helps a lot.
Another big issue is that it has also affected our income. We've had to spend more because we've had to stay in official hotels and have reduced "buddy groups". I don't know about everyone else, but I've already used all of my sponsorship money and we still have another 3 months of tournaments.
It also affects the way you are when you are at home as we have to travel and take tests. As a precaution, I haven't seen my friends socially indoors in a very long time as I'm aware of staying outdoors. It's summer so that's fine.
It's all slowly getting better though, which is good to see.
Aramco Team Series - Sotogrande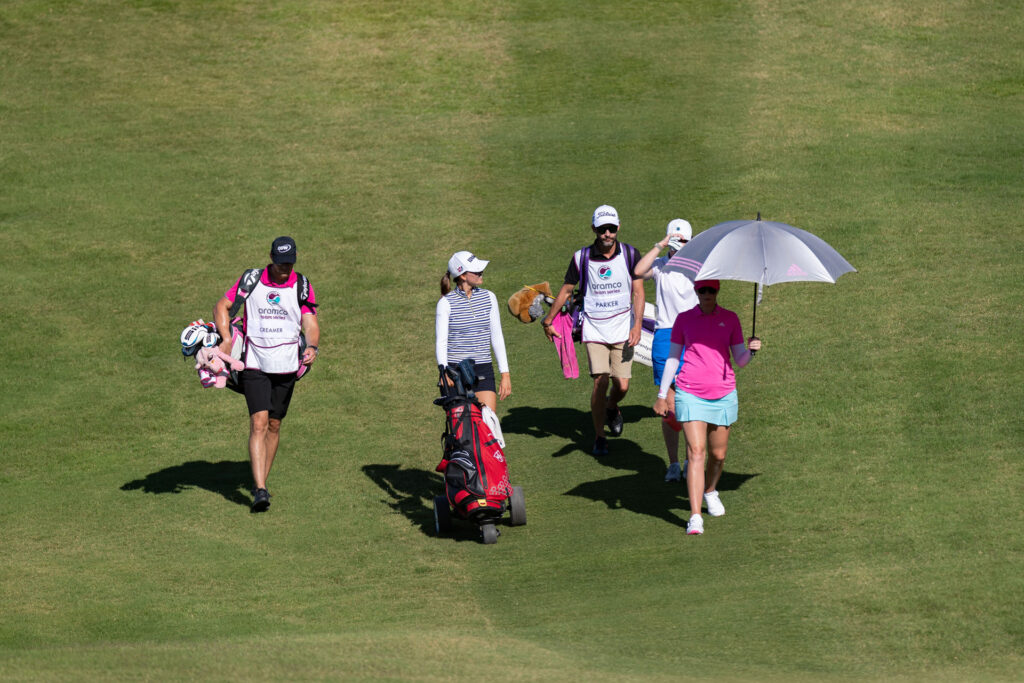 At the beginning of August, I had the opportunity to play in the Aramco Team Series event in Sotogrande. It was amazing to play with Paula Creamer, she is a real star of the women's game. The fact she played in the tournament at almost 5 months pregnant, in that heat, is testament to her drive to compete.
It's not often that I would get to observe LPGA Tour players, so that's exactly what I did that week. What I noticed most is their routine and how they analyse every shot before playing it as if it was the last one they were ever going to hit. They also always have 100000% commitment to every shot they hit. I was also impressed with how good they were with staying in the present and not letting certain things affect them throughout their rounds. I've recently dropped a lot of positions because of my last few events so my goal is to make it into the Top 50 on the Order of Merit to improve my current status.
My partnership with Infinitum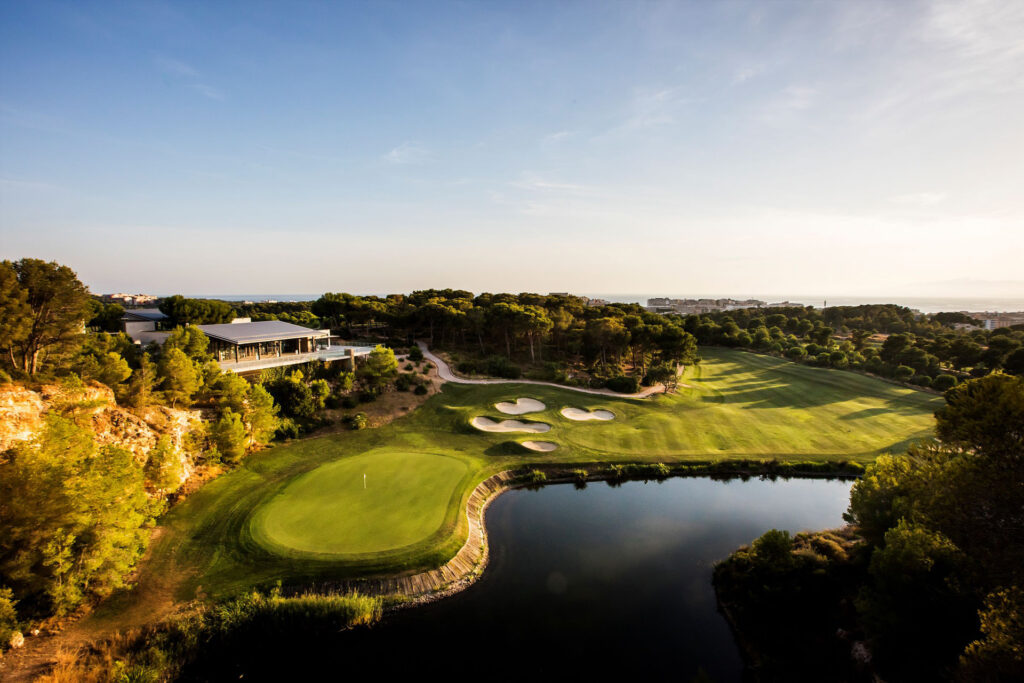 During the pre-season, I spent time at Infinitum after being introduced to the resort by Performance54. The resort allowed me to enjoy the facilities and practice in exchange of giving a ladies clinic and some promotional work out on the courses. Since then, my relationship with them has evolved and I am very excited to say they will be my new bag sponsor for the next year.
Infinitum is a fantastic resort which I have truly benefited from because I am able to practice and use the state-of-the-art facilities on offer. Their two championship courses – Hills and Lakes – present a pretty special golf experience and have fantastic natural views of the Sequia Major (a protected natural area) and the Mediterranean Sea. It all allows me to hone essential skills and practice different shots that will be key to success on the LET.
The resort also has lots of plans for development in the future. I haven't had the chance to go and see it for myself yet, but they now have an amazing beach club and there are four restaurants – I will definitely have no complaints about my diet when I am there!
It was a wonderful experience to practice there the week before the season started in May and I can't wait to return during the winter as part of my new partnership with the resort.
Natasha is currently playing in the Ladies European Tour - Didriksons Skaffo Open in Sweden.
Follow Natasha's tour life via her Instagram. Find out more about Natasha's partnership with Infinitum here.