Renowned journalist and former Loose Women panellist Philippa Kennedy explores the merits of getting an independent club fitting.
Many of us haven't a clue what we are doing when we take up golf.
Someone lends us a few clubs, we take a swing and it's pot luck if the clubs actually suit us or not.
I was lent a set of second-hand Mizuno clubs when I started nearly 30 years ago. They were men's clubs but I'm tall and was quite strong then and they were fine for a couple of years.
Then I was asked to try a gorgeous set of titanium shafted women's Lynx clubs and once again I was happy with them for a good ten years until a male pal told me he was selling his Pings.
He's always buying new clubs (more money than sense) so I jumped at the offer as they were barely six months old and expensive. He just didn't get on with them, but I did. My first brand new set, also Ping, were bought when I was working in Dubai. The Ping people set me up beautifully and adjusted the clubs to suit my swing and height. They even adjusted the old set to match.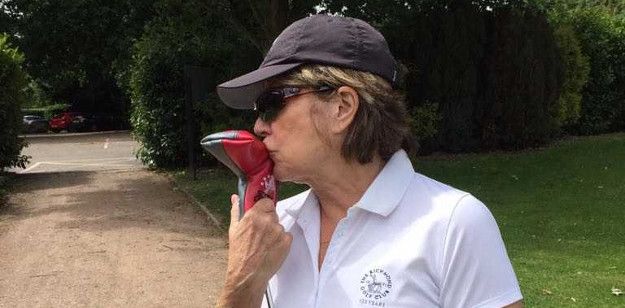 Finding a club-fitting guru
So here I am at a certain age when I can't face 36 holes without a buggy and feel a little weary coming up the 18th. After all these years, my lovely pro pal – Sarah Claridge – suggested I get properly fitted by an independent just to see if lighter clubs would help.
She told me there are several such club-fitting gurus scattered around the UK and I chose to go and see Padraig Dooley in Cork.
First off, he quickly dispelled the myth that there are "men's clubs" and "women's clubs".    
"The golf club doesn't know who's hitting it," he says simply.
"Every club has a head, a shaft and a grip. Then there's the weight and the length. They all contribute to where the ball goes."
Be realistic
He believes that the quickest way to improve is to get clubs that fit but is keen to stress that while it may get you down from 21 to 18, it won't turn you into a single figures player. There are 60 million players in the world and only 10% are single figures and 1% scratch. So be realistic.
I told him that three shots would do me fine at the moment.
Many people think they're not good enough to be custom fitted, but that's just silly. There's so much equipment out there these days and the outlay for a decent set is quite considerable, so it makes perfect sense to me to be custom fitted.
It's a matter of trial and error really, although with a Trackman device filming your swing and giving a reading that is then interpreted by an expert, you get there much quicker than doing it yourself.
Padraig sees a wide variety of swings and tries to work with them.
"I see something that shouldn't work but does and swings that should work but don't," he says pointing out that Jim Furyk – whose swing is really quite weird – is on record as the third highest earner of all time.
"Today's golf clubs are all very good. There isn't much to choose between them," says Padraig. "If somebody doesn't have the speed, they can't generate the height and don't get the carry distance, which is why you see so many hybrids on the tour."
Every club has a job
Gapping between clubs sometimes needs to be altered to give more loft. You need to make sure every club does a specific job.
Down on the range at Drive Golf Performance, his beautiful premises near Cork, he looked at the clubs in my bag and pointed to two clubs that basically do the same thing – a five wood and a rescue club. I also had a three wood that I don't hit well – my five wood goes further.
We tried out several different heads and shafts and the evidence was clear. A piece of sticky paper on the club head showed which combination gave the best results.
The shaft that worked best weighed 45 grams, lighter than my old Pings and the best length was 37 inches in a seven iron, which is still seen as a man's length. The lie was standard.
The head that worked best was the Cobra King SZ giving height, forgiveness and length.
We then checked my other clubs and Padraig suggested getting 6- 9 irons plus 4 and 5 hybrids. He told me to hang on to my driver which was a relief as they're so expensive.
It was a fascinating experience and after several days of thought, I decided to go ahead, having managed to get a good price for my old clubs.
I'm waiting for them to arrive as I write.
To find out more about Padraig and his club fitting services visit www.drivegolfperformance.com.