Girls In Golf Society founder Caron Morton gives her thoughts on inclusion in golf for LGBT+ women.
There has been a huge void in golf, from the top down, of any encouragement, inclusion or even acknowledgement that LGBT+ golfers exist. We have been very much overlooked as participants and consumers of golf-related products and services. It is a poor reflection of the sport and this lack of inclusion in golf feels quite embarrassing at times.
There are so many initiatives and support for encouraging more women into golf, but there seems to be a huge disconnect between the governing bodies and the golf clubs who, ultimately, deliver the programs and quite frankly, nothing seems to change very quickly. In addition, there seems to be no conversation at all about including LGBT+ women within these initiatives.
Golf has an image problem
Language is important. Visibility is important. Golf needs to champion the benefits of advocating inclusion of this sport for all, which will, in turn, help to ensure the health and prosperity of the game itself.
There is still a huge problem with golf's image, in that it is still seen as white, male, pale and stale. Golf was set up for men and is full of committees that either don't seem capable of changing, or indeed, have no desire to do so. The typical "Well, we've always done it like this" still seems to be the norm. On the Professional coaching side, not much seems to be changing either, where there is still only 4% female representation with the Professional Golf Association of Great Britain and Ireland. Why are women and girls not being encouraged to take up golf as a profession, what's going wrong?
Leading by example
At Girls In Golf Society (GIGS), we are trying to champion change our own way. Earlier in the year, GIGS commenced dialogue with the R&A regarding an official LGBT+ meet-up point at the AIG Women's Open Championship, which was received with positivity and would be a good first step in the right direction.
Simply flying the Rainbow Flag at the Tournament would represent a huge acknowledgement to LGBT+ fans who have supported women's golf for so long. We will let you know how our campaign proceeds!
The recent addition of a Diversity tab and statement on the LPGA website is really encouraging and must be doubly so for the players themselves. To quote Ladies European Tour player Becky Morgan from a recent Q&A during Lesbian Visibility Week, she said:
"The Tours have finally realised that a huge proportion of the fan base are gay – for a while, they probably tried to forget about it. Certain events have always had big gay followings. The Tours have now recognised they need to embrace that."
We are certainly looking forward to the embrace!
Visibility is key
There's still some way to go to fully embrace the LGBT+ community at all levels of golf and I find it particularly infuriating that golf broadcasters continue to avoid mentioning a gay partner or wife of a player.
Visibility is a big driver for a change in attitudes and although I hope to see more LGBT+ role models in golf, the likes of Mel Reid and American professional Beth Allen publicly coming out has to be applauded. Most recently Sky Sports Golf's Sarah Stirk, spoke to Attitude magazine about finally being comfortable about her sexuality, she said:
"Life's too short, isn't it? If somebody doesn't like me, or whatever, fine. I only care about the people I care about. I've had to learn that. I think that is part of this [interview] as well. I want to feel proud of myself for doing it; if it's there in black and white, I can say, 'Here's an interview I did in Attitude.' The bottom line is: I don't give a s**t anymore!"
It's time to start really thinking about what we mean by inclusion in the golfing space and involve a more diverse range of voices, so that campaigns to get more women into golf are appropriate for all women and none feel excluded. Surely it's just common sense that encouraging everyone to participate can only help the sport prosper.
Caron Morton - Founder Girls In Golf Society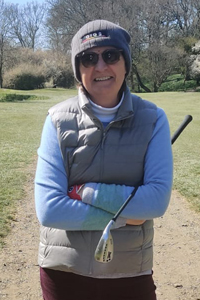 Caron (she/her) is Founder of the Girls In Golf Society - GIGS - Social Golf for the LGBT+ Community. An experienced sales, marketing and operations manager at golf & country clubs in the UK and Thailand. Partner in Diva Destinations - specialists in travel for the LGBT+ community. Caron is on a mission with GIGS to unite the Golf industry in becoming more LGBT+ inclusive and to create welcoming and safe spaces around the country for LGBT+ Golfers to choose golf as a sport where they can be their authentic selves and feel comfortable whilst participating.
Golf Trivia - Caron has had 6 x Hole-in-Ones and is chasing the pins for more!
Contact: [email protected]
Twitter - @girlsingolf
Insta - @girlsingolfsociety
FB - GirlsInGolfSociety