We hear from Gaby Hay who was one of the thousands of women who took up golf during the pandemic. How does she feel one year on?
One year on. I am hooked. Well and truly hooked.
The clean air, four seasons in one day, the sound of a clean strike, the sound of a shank, the silence, the respect, the camaraderie, the tension, the perfect drive - (does it exist)? The insatiable desire to improve, do better, learn more, always learning. So much to learn, to soak up, to develop. The mental side, the physical side, the technical side, the variation, it's always different, never the same, so many variables. New courses, new friends, new rules, new 19th holes, new drills, new clubs.
The beginning… how it started...
It was lockdown 2020, golf courses opened, it was the only thing I could think of to take my mind off the pandemic. I googled golf clubs nearby, found Beedles Lake, booked a tee time on the par 3, and fell in love. Three friends and I - all in our thirties - played almost every day, shanking, thinning, topping, but when we did strike it well, it kept us coming back. It was our therapy.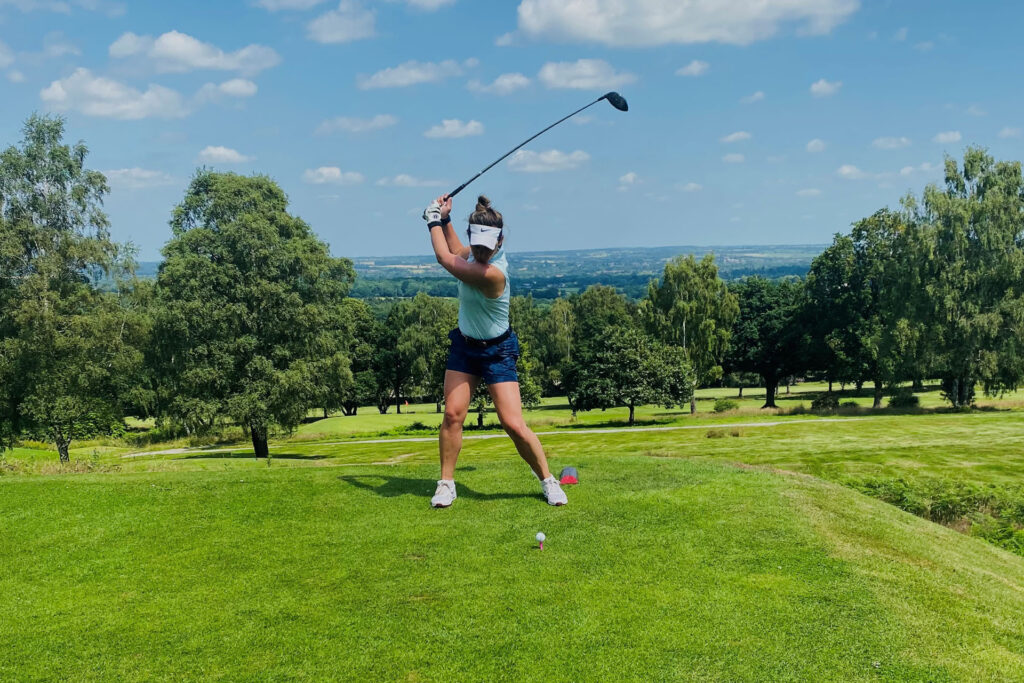 So why golf?
I have always played sports and love to be active and golf was something I had always been interested in, but I never had the guts to join an actual golf club. It kind of felt a bit out of my reach and perhaps something younger women couldn't or shouldn't do. I had played on driving ranges a lot and the odd 18 hole course with my mum, but I never thought I would be able to play a round of golf properly and get a handicap, it always seemed far flung. But once I made the step to search for places to play, I found Beedles Lake Golf Centre, a local course only 15 minutes away., and I pestered my three good friends to join me after work on sunny summer evenings. It was all so accessible to us, it was easy to just turn up and play, at any time of the day, we had second-hand golf clubs from charity shops, or hand me downs, and there was no mention of attire or etiquette, so we felt able to be at home there and get stuck in. I wore my old tennis gear or a pair of lycras and we all felt so comfortable and encouraged.
Golf gave us all such a mental outlet. There was a global pandemic going on, lockdowns, and we all had challenges in our life at the time - golf helped to centre us, ground us, give us hope I suppose. I knew I wanted more. And when we stumbled upon the three month membership offer to join for £150, I couldn't turn it down. It was kind of by chance, a lady member bumped into us in the carpark and told us about the offer. It wasn't that obvious so it was kind of fate that we joined that club. Four females in their 30s joining a golf club, unheard of perhaps?
Let's make it the norm. So now it's been just over a year, and I can safely say I am hooked. I have met many new people and have thought long and hard about why I have so enjoyed being part of a club...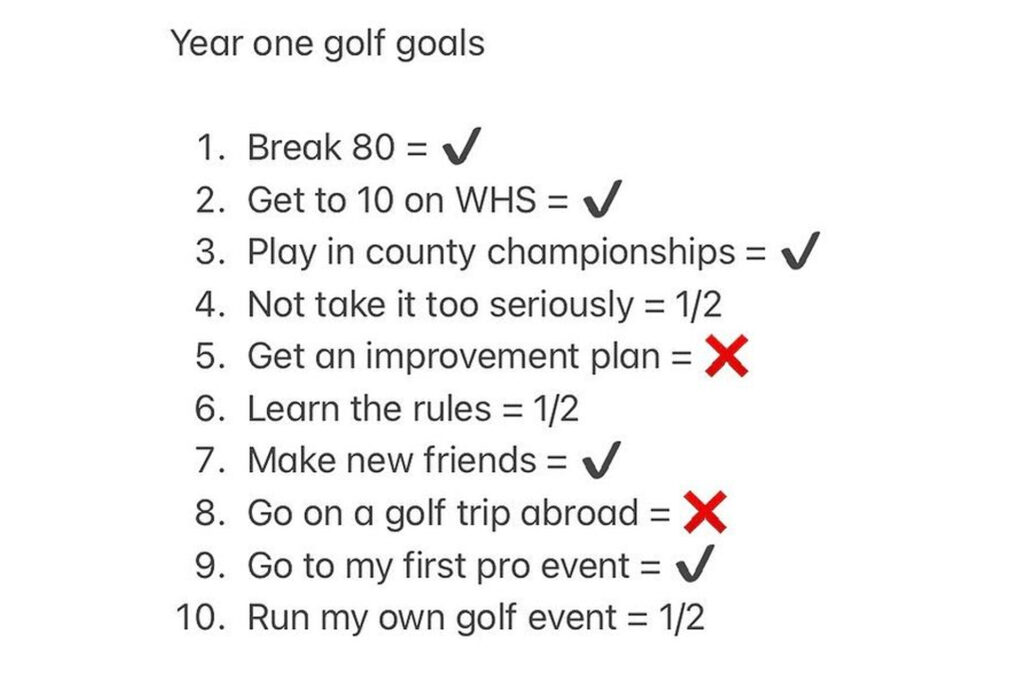 5 reasons why… I love being a golf club member
1. Unlimited and flexible golf
Once you are a paid member, there really is the chance to play all the time. Early in the morning, weekday evenings, weekends, there is always something available. I know this isn't the case in all clubs, but we have certainly got our money's worth. 7 holes, 9 holes, 12 holes, it doesn't always have to be a full 18 holes, it has been so flexible.
2. Social Community
Golf brings people together from all backgrounds, ages, personalities. It is a melting pot. The unique thing about golf is that you chat on your way round, and really get to know your playing partners. Not to mention the 19th hole which is one of the best bits of playing a round of golf. I have found the members incredibly welcoming, supportive and helpful and it certainly has created a new network of friends for us all.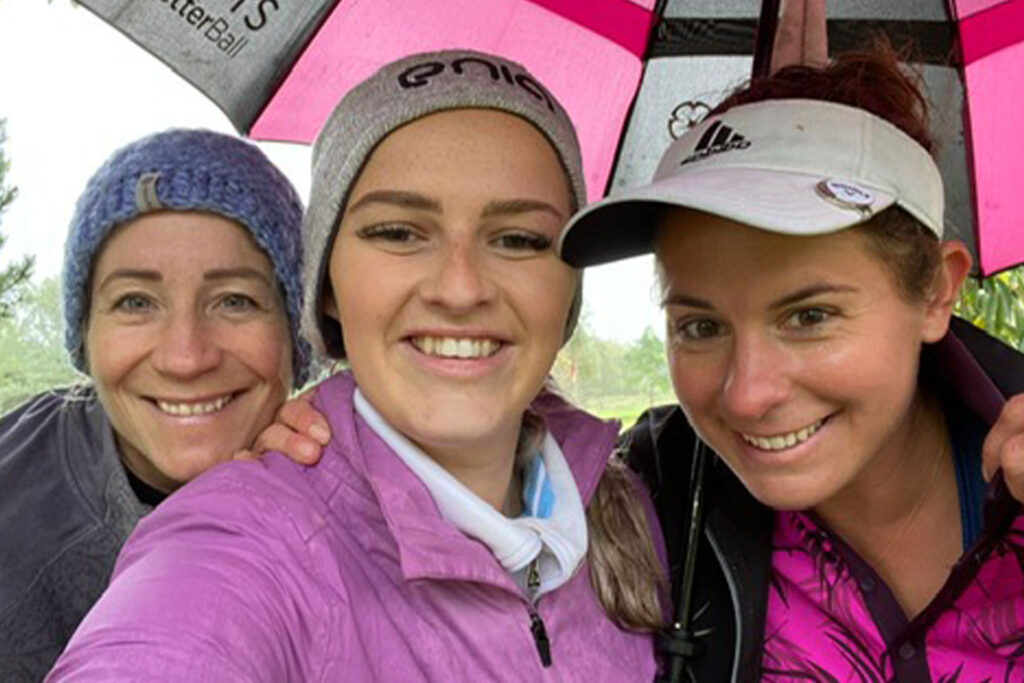 3. Competition - individual and team, mixed, social, something for everyone
I personally love a bit of competition, friendly of course. And golf gives you the opportunity to play in a competition every week if you want to. There are so many different formats available so whether you want to play as part of a team or as an individual there is something for everyone. I think a highlight for me this summer was playing in a mixed team event where the youngest player was 13, and the oldest 70! What other sport can you do that?!
4. Character Building - understanding yourself
Golf has a knack of exposing your weaknesses. Not just technical, but mental too. How you respond to pressure, the unexpected, new people, playing poorly, gale force winds. There are so many variables, and some days it can just be tough. But the wheel keeps on turning, and that pure strike, or great score, keeps us coming back. I have learnt a lot about myself and how I can better handle my emotions on the course. This then helps me off the course…
5. Open Events and visiting beautiful courses
Having a handicap and being part of a club opens up opportunities to enter open competitions and travel to some of the most beautiful courses at a much more affordable price. These competitions are team events and so much fun, I had never heard about this type of golf before joining a club, but it really does open up a lot of doors to visit some beautiful parts of the country.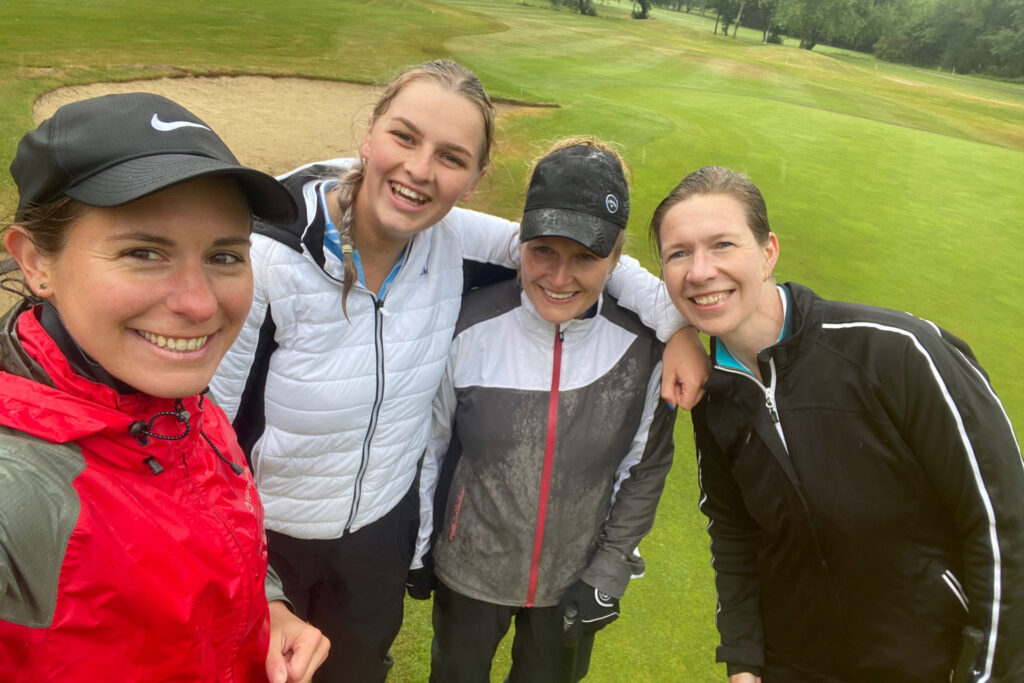 So what can the future hold for women and girls in GOLF?
Having had the positive experience I have had, and at my age, I wanted to speak to my fellow golf club members about what they would like to change in this game to make it better and appeal to a younger audience.
Here are the top 5 themes that emerged:
Get more women's golf on screen
You can't be what you can't see. How can we make golf more visible and appealing across digital channels. More Solheim Cup like formats surely will attract a wider viewing audience.
Modernise Club Culture
We need to find ways to encourage clubs to embrace women and girls and not let restrictive culture of rules and outdated etiquette put off new members. Let's get younger women and girls on the committee too.
Club and School collaboration
Make golf more available in schools and encourage clubs to work with local schools
Modified versions of the sport can be so fun and easy to deliver and if a young girl enjoys it, how do they then find a local club to join and play at. School-club links need to be better.
Simplify the rules
Rules are a big part of the game but they need to be simpler and easier to understand so they don't put off newcomers. Can we create a myth-busting guide that every new golfer has access to.
Shorter formats of the game
Shorter formats of the game and competitions need to become the norm, time is limited for many women with families, for example 6 hole evening competitions.
What do you think, do you agree with Gaby? Drop us your suggestions here.
About me: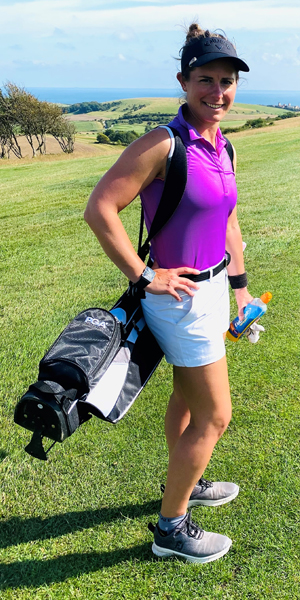 I started my golf journey in 2020 during lockdown and became hooked. I am in my mid-thirties, am lucky enough to work in sport, and am passionate about getting more women and girls into the game. I would love to connect with as many golfers as possible who are also passionate about this and would like to explore ways in which we can make the game more appealing and accessible.
Follow my golfing Instagram and get in touch. I also host The Working In Sport podcast which can be found here.