Guest columnist Emma Ballard explains that golf offers so many varied careers for women, but we just don't hear about them enough.
"Does anyone really know what they want to be when they grow up? At 12, I thought I did, I believed I was destined to be P.E. teacher. This was mainly because I thought there were only two paths I could follow if I wanted to incorporate the sports I loved into a career – teaching or being an elite athlete.
I knew was never going to be an elite athlete, and so I settled for teaching.
Thankfully, by the time I went to university, I had broadened my horizons and knew more about what the sports industry had to offer as a career path. I studied Sports Development and Coaching Sciences, a very broad degree that gave me many opportunities to work in sport, including a placement year at a sports marketing agency that specialised in golf. 
This marked the moment my career in the golf industry began. Fast forward 16 years and I am now a specialist in digital marketing, communications and social media, very far removed from where the 12-year-old me envisioned I would be.
At this point I should confess that I didn't just happen to fall into golf, I come from a golf mad family and have played on and off since I was 10.
This week is National Careers Week, which looks to empower positive change through career education and with the lead up to International Women's Day on Monday, it seems the perfect opportunity to talk about working in golf for women and girls.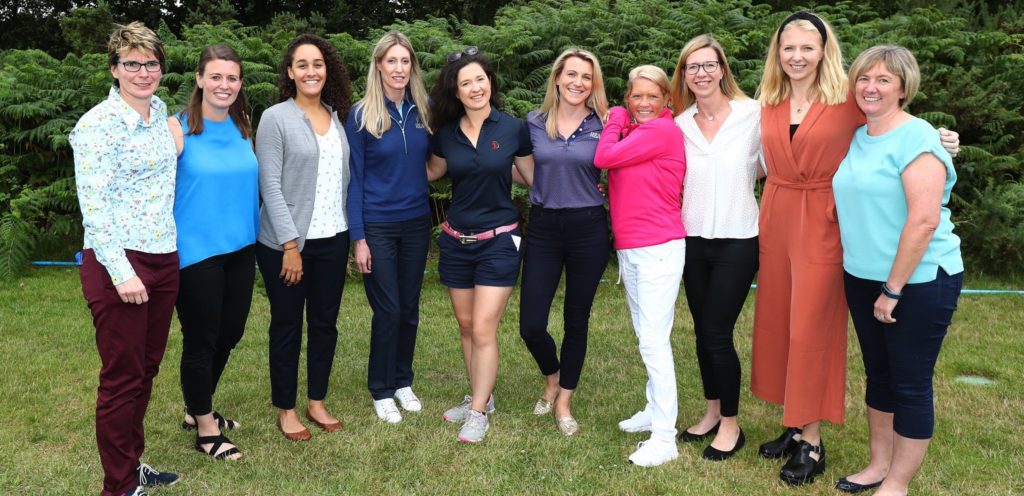 What does a career in golf look like?
Let's start with the stereotypical roles that most people associate with the sport – tour player, caddie, head professional, club manager, greenkeeper, to name a few. All roles that are successfully filled by women, the only difference being (in most cases) that it's just on a much smaller scale.
The truth is that there really isn't any role within the industry that women cannot do, it's more that women don't often realise what golf has to offer and that there is so much more to the industry than these defined "golf" jobs.
For me, being part of The R&A Women in Golf Leadership Programme really highlighted the breadth and depth of female talent and positions within the industry.
You would then assume that everyone who works in the golf industry is a good golfer – I can definitely dispel this myth! There may be a lot of golf enthusiasts but actually great golfers are hard to come by (male or female), yes some may follow the sport and play but you do not need a golf background to excel in this industry. I'd even argue that sometimes we could do with more non-golfers in the industry to help shine a light on the changes that need to be made at all levels of the game.
Ways to get involved
With golf often thought of as quite an insular sport, the industry has looked to work together and produce more of a joined-up approach in recent years. The launch of The R&A Women in Golf Charter, is a good example of this. Where women may once have felt underrepresented, they are now becoming more visible and if there has been one benefit of the pandemic, then it is the fact it has kicked started a move to grow networks and bring more people "to the table". The launch of Gather, a global golf network, in September 2020 is a perfect example of this.
In the broader sports sphere, September also saw the launch of the Women's Sport Collective on LinkedIn which has been a revelation for women working in sports and is providing many opportunities to broaden member outlooks, increase knowledge and share experiences.
Over the coming weeks, I look to highlight some of the women who work in golf – to help promote the sport, to demonstrate the breadth of roles that exist and hopefully to inspire more women to join us."
Watch this space for more insights into careers in the golf industry.
About the author
Emma is a Women's Golf Day volunteer and recent graduate of the R&A's Women in Golf Leadership Development Programme. She's was also formerly Director of Digital at marketing communications company Medi8 Limited.