The Golf Foundation has welcomed Nicola Bennett as a new official Ambassador for the national golf charity that introduces young people from all backgrounds to the game, because golf can change lives.
Nicola Bennett, a London based PGA Trainee Professional golfer, is driven by a desire to make golf more inclusive and hopes to inspire more young players, including those from ethnically diverse communities into the sport.
As an emerging professional golfer and committed PGA golf coach, she has competed in Women's Professional Golfers' Association (WPGA) events, the LET Access Series, and last summer in the Rose Series. Her next aim is to secure her card for the Ladies European Tour. On social media, she is fast becoming an advocate for diversity and inclusion in golf and across wider sport.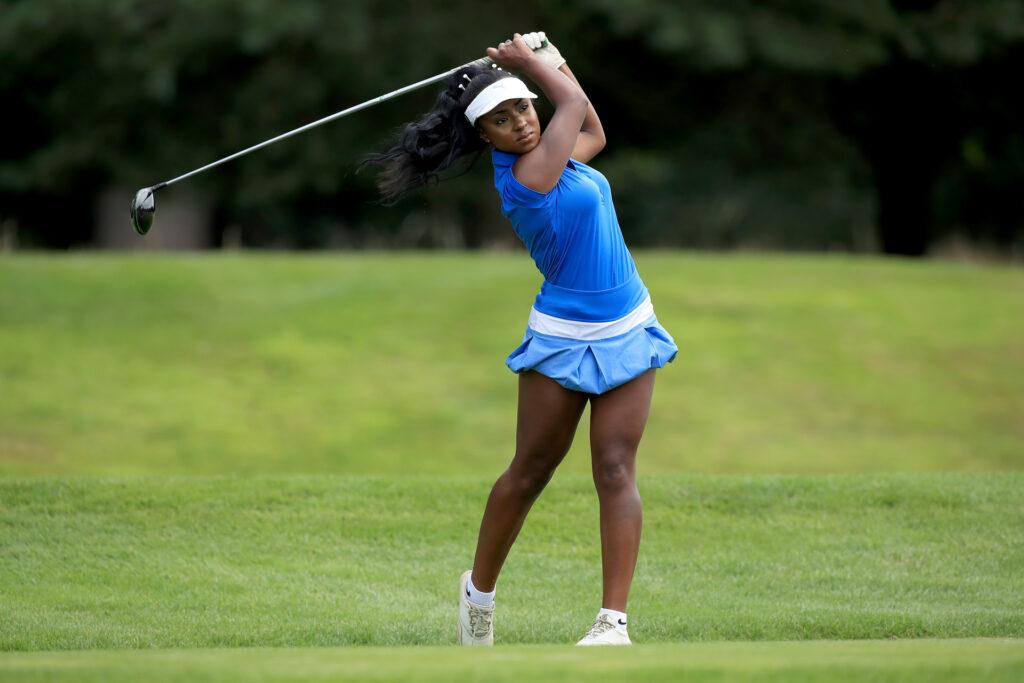 Nicola is also a PGA Trainee Professional at Bush Hill Park Golf Club in North London who were winners of England Golf's Club of the Year last week, where she has recently specialised in coaching women and juniors. She first came to the attention of the Golf Foundation team when she performed outreach work in local schools in the Enfield area.
Commenting on her new Golf Foundation Ambassador role, she said:
"I'm excited to be working with the Golf Foundation as I am passionate about creating golf experiences for young people from all backgrounds. The support of HSBC through the Golf Roots programme is incredible and I can't wait to help deliver these opportunities."
Golf Foundation HSBC Golf Roots programme
Nicola's first assignment for the Golf Foundation, on June 9, reflected her desire to reach out to young people in the same area of London where she grew up. Nicola made a much-anticipated visit to Valence Primary School in Dagenham to help promote the Golf Foundation's HSBC Golf Roots programme which aims to give a first go at golf to two million young people over the next five years.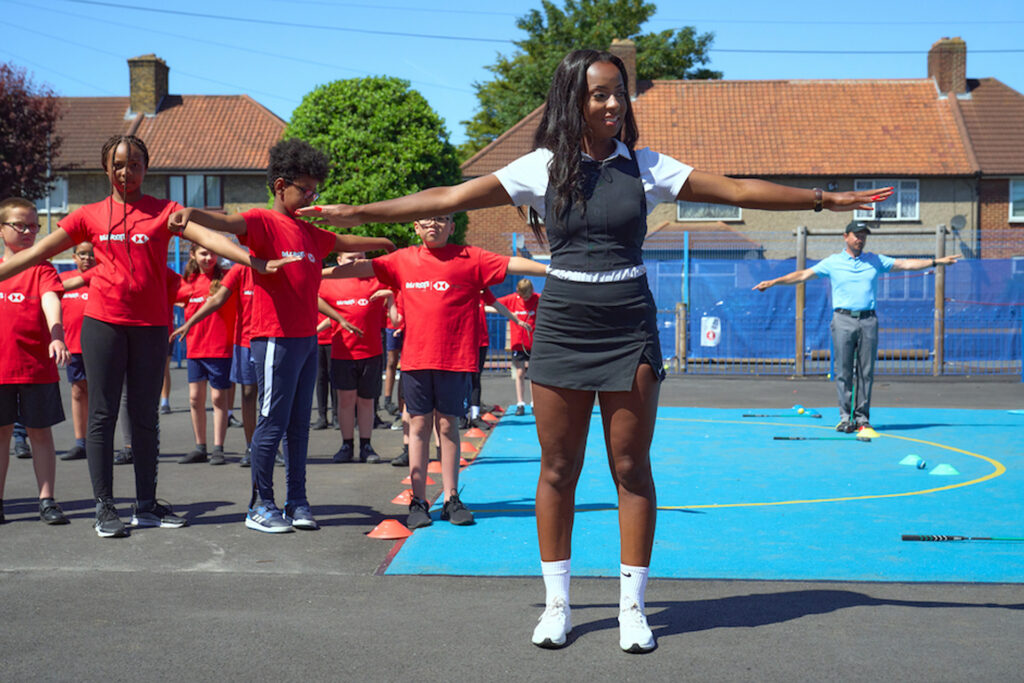 Chris Jenkins, the PGA Advanced Professional from nearby Crowlands Golf Centre, not only has a direct link with Valence Primary through his Golf Foundation work but was also Nicola's first regular coach.
Chris and Nicola reunited for this special session to inspire new young golfers from this area of London, just what the Golf Foundation team is looking to do more of to make the game more inclusive.
Valence Primary School pupils enjoyed their first go at golf with Nicola and Chris, playing the Golf Foundation's new Golfway easy-to-learn format, a fun way of playing which suits children of all abilities, with the aim of including more than 7,500 schools over the next five years.
As an advocate of teaching life skills through golf, Nicola already teaches breathing and mindfulness exercises to her junior golfers as part of their normal coaching sessions, an approach being promoted nationally by the Golf Foundation.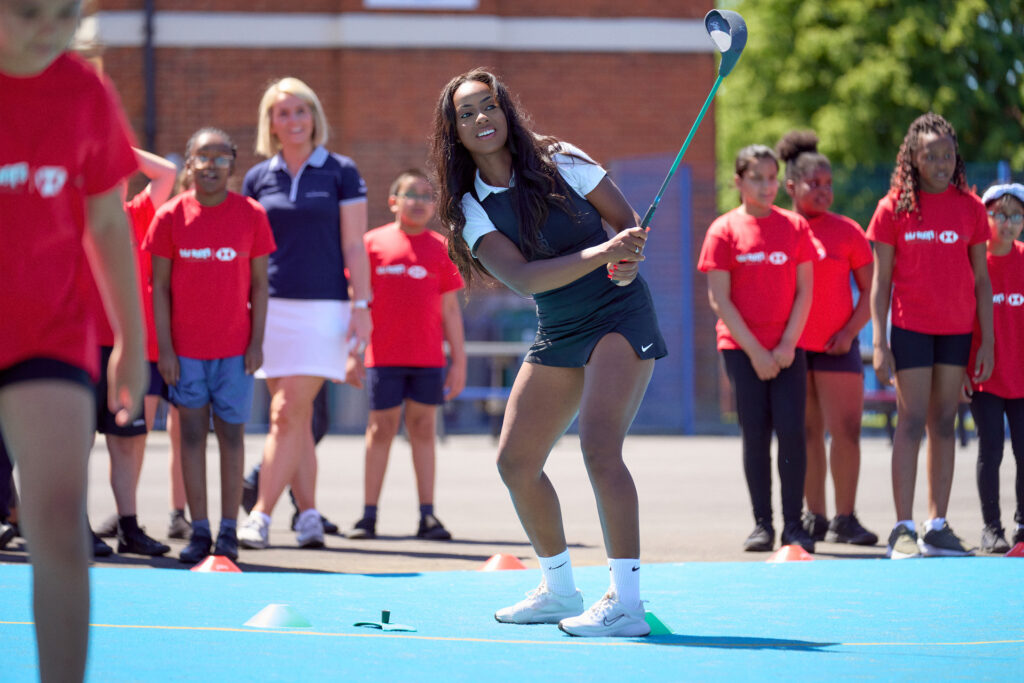 Getting more children playing golf
The Golf Foundation wishes to reach new players in city areas, including a focus on offering greater opportunities to young people from ethnically diverse communities, and has recently been working with a range of partners to ensure progress, including young people's charities Sporting Equals, StreetGames and London Youth.  The national charity's team believes that Nicola's experience and insight will be highly valuable while she can be a great role model for many youngsters who have never considered trying golf.
Supported by golf's major stakeholders, including The R&A and The PGA, the charity is actively seeking to enrich the lives of young people of all abilities, offering transferable life skills through golf which young people can benefit from in their wider lives.
Bennett is the perfect fit for the Golf Foundation
Brendon Pyle, Chief Executive of the Golf Foundation, said:
"We are thrilled that Nicola has agreed to become an Ambassador for this charity. We have known for some time of Nicola's coaching work at her club and her emergence as a competitive professional player, but we were delighted to hear that Nicola has also been reaching out to local schools to introduce children to golf, and that she is now really keen to take this work on wearing a Golf Foundation team shirt."
Pyle added:
"Nicola is a hugely positive person and we have seen that she wants to share her love of the game with young people from all backgrounds, which will only help us as we seek more partners to start to make golf more truly inclusive. Having discussed Nicola's professional aims and how they align with the values of our charity, we have no doubt she will be an outstanding Ambassador for the Golf Foundation."
Nicola joins fellow Golf Foundation female Ambassadors Meghan MacLaren and Felicity Johnson, both Ladies European Tour players who have shown great support for the charity over the last 18 months.
Learn more about the Golf Foundation at www.golf-foundation.org