Meet the top six players on the LETAS Order of Merit who have been awarded LET Tour membership.
Sofie Kibsgaard Nielsen from Denmark, Elena Moosmann and Chiara Tamburlini from Switzerland and England's Emily Price, Hannah Screen and Gemma Clews will all play on the Ladies European Tour in 2024.
Here are the 2023 LET Access Series graduates:
Sofie Kibsgaard Nielsen, Denmark
Kibsgaard Nielsen has had a phenomenal year on LETAS. It's been Danish domination since the start of the year as the 24-year-old has led the Order of Merit and Rookie of the Year rankings since the third tournament, the Flumserberg Ladies Open where she placed second.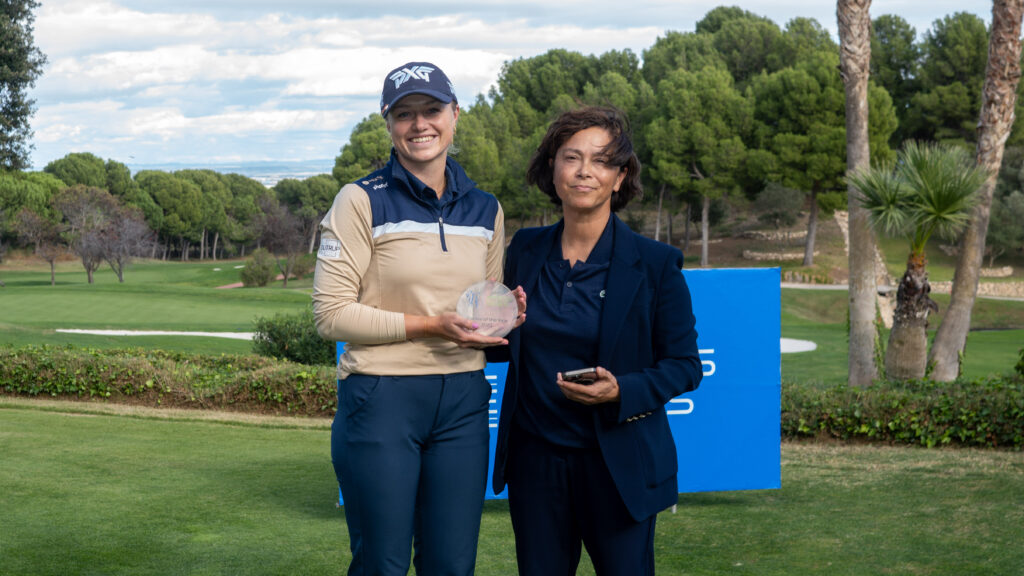 The 2023 Rookie of the Year and Order of Merit winner was able to clinch her card after her third victory and is excited to be a member of the LET in 2024.
LET Access Series wins: The 2023 Montauban Ladies Open, the 2023 Capio Ogon Trophy and the 2023 Lombardia Ladies Open.
Kibsgaard Nielsen recorded three additional top-10 finishes in 2023, two of which were runner-up positions and the other a top-five.
This year, Kibsgaard Nielsen made two LET starts and finished top 50 and made the cut at the Lacoste Ladies Open de France.
This season the Dane has had the lowest 54-hole score to win at the Montauban Ladies Open with rounds of 68, 67 and 68 (-13).
"My goal for the year was to get the card and now it is secure it feels amazing. At the end of the season, it was important for me to step up and not let go because I was safe. I'm very excited and look forward to next year, I think it's going to be fun and I'm ready for the challenge. To walk away as the leader of both rankings is just above what I expected. It's amazing."
Elena Moosmann, Switzerland
Moosmann has been a name to watch on the LET Access Series since 2019 when she won her home tournament, the VP Bank Ladies Open at just 17 years old as an amateur. 2022 was Moosmann's first full season on the tour where she finished 18th on the Order of Merit after nine events and three top-10 finishes.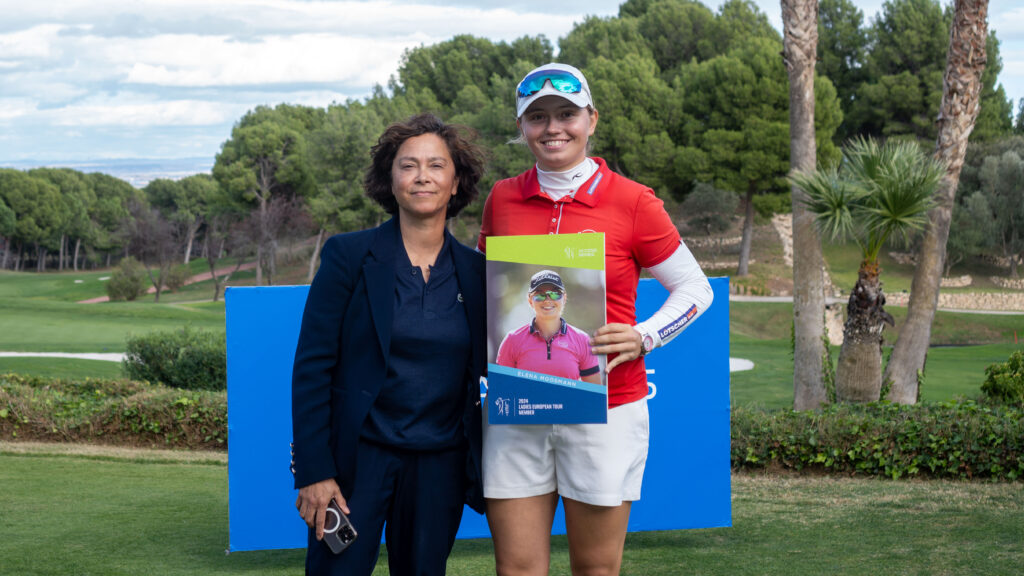 This season, the 21-year-old returned to the tour with a fire in her belly and finished the season in style with a win at the final event, Santander Golf Tour- Zaragoza.
LET Access Series wins: 2019 VP Bank Ladies Open, 2023 Santander Golf Tour-Zaragoza.
Eight top 10 finishes this season, the highest number this season with five being top five positions.
Moosmann played the most tournaments out of the top six- 17 events only missing one to play her home LET event.
The youngest 2023 player to earn their card.
LET Rookie for 2024.
"It was my goal for the season and to make it happen is just the best. I couldn't be happier. I just want to thank everybody that was always on my side and LET Access for always helping us players out and being there for us."
Chiara Tamburlini, Switzerland
Straight from finishing college in the US, Ole Miss Women's Golf alumni Tamburlini arrived at the tour back in June at the Amundi Czech Ladies Challenge as an amateur and immediately made an impression by making six cuts in a row.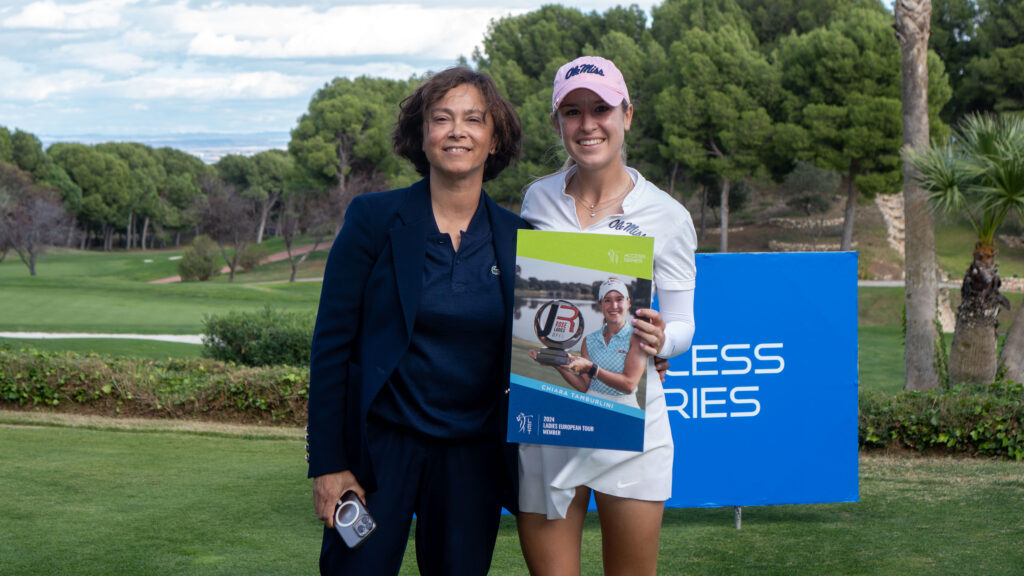 Tamburlini then made the difficult but exciting decision to turn professional the night before the PGA Championship Gothenburg which the 24-year-old then incredibly went on to win. Since then, the Swiss woman has vaulted up the Order of Merit rankings and secured her card with another win at the 2023 Rose Ladies Open where on final day she went head-to-head with friend and fellow LETAS graduate Elena Moosmann.
LET Access Series Wins: 2023 PGA Championship Gothenburg, 2023 Rose Ladies Open.
Six additional top 10 finishes, including two top-five finishes.
Highest winning margin at the PGA Championship Gothenburg (5 strokes).
LET rookie for 2024.
On winning her card, Tamburlini said: "I've had my card secured for a couple of weeks but when I finally made the last putt, I knew it was real. I wanted to start crying because I was so happy. Words cannot describe how happy I am. It's been an emotional year; I was going to stay amateur for the rest of the year and not play the last two events in Spain because I didn't have invites. Now I'm a LETAS graduate it's hard to process."
Emily Price, England
Price has had an excellent rookie season on tour. The 24-year-old has been one to watch since the very first tournament, the Santander Golf Tour Girona where she lost out on the win in the memorable four-person play-off and finished runner-up.
Whilst Price was the most consistent player throughout the year and seemed to effortlessly make cut after cut, behind the scenes the Englishwoman was battling a back injury and bravely performed week after week. A win finally came at the Big Green Egg Swedish Open, a tournament which was cut to 18 holes after severe Swedish weather.
LET Access Series wins: 2023 Big Green Egg Swedish Open
An additional seven top-10 finishes including six top-five positions.
LET rookie for 2024.
"To finish this year the way I have and to secure my LET card is a dream come true. I feel on top of the world and super excited to get the chance to play next year and see what I can do. LETAS has been a brilliant foundation and has prepared me well. I do believe I am better off for having started here."
Hannah Screen, England
Screen's year on LETAS has been a true Cinderella tale. The 23-year-old started the year with no status, category 18- LET Q School non-attendees. Screen arrived on tour at the third event, the Flumserberg Ladies Open as an invite and made an impression.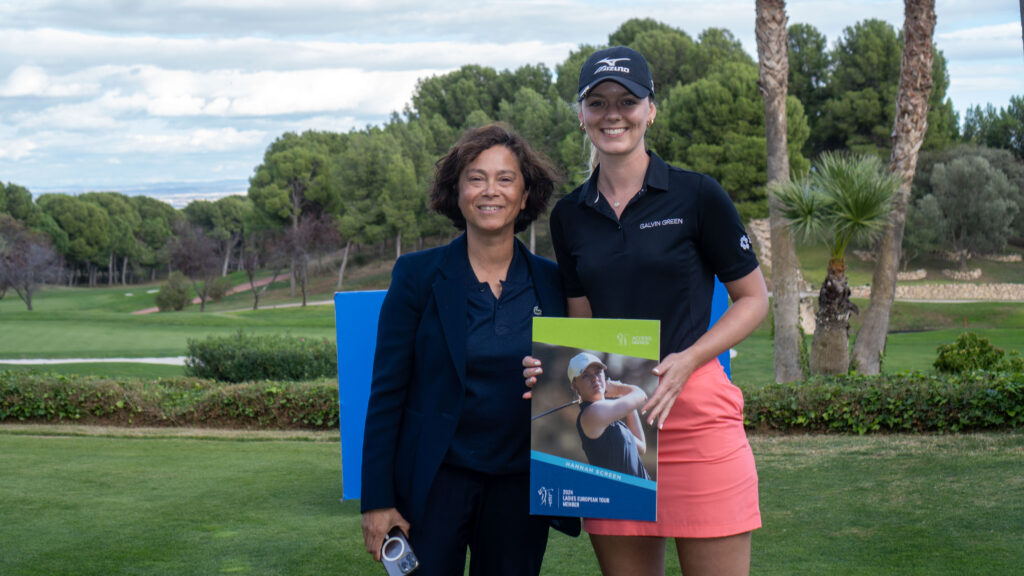 The two events at Ramside Hall were a turning point for Screen as she put herself in contention for the win twice and finished eighth and third respectively. The Englishwoman was the final entry into the top six after finishing the season with a flourish. A win at the penultimate event and runner-up position at the final, Santander Golf Tour- Zaragoza secured Screen her 2024 LET card.
LET Access Series wins: 2023 Calatayud Ladies Open
An additional four top-10 finishes.
LET rookie for 2024.
"If I look back it's incredible, I started the year begging the tour and promoters for invites. Now I have my LET card. It's been an amazing year and to finish the way I did is great. I want to say thanks to all my team. I'm so proud."
Gemma Clews, England
No one has had a longer battle to secure their LET card than Clews. In 2022, Clews had a strong season on LET Access Series recording eight top 10 finishes and was in contention for a card but missed the last cut and finished ninth.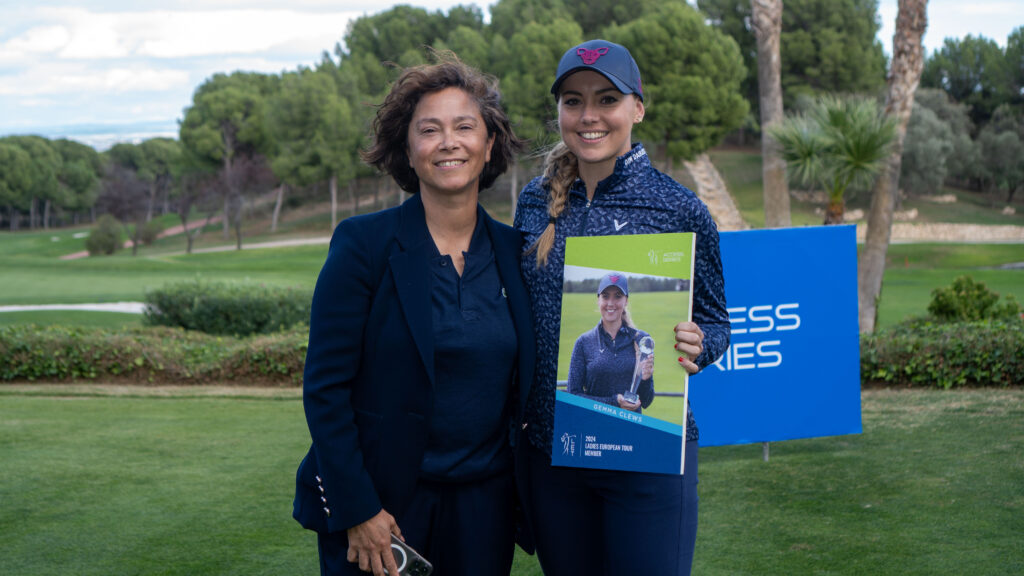 Disappointed but determined, the 29-year-old returned this season stronger and secured her first victory on tour at the Smorum Ladies Open in Denmark. It was a fight till the end to secure her card for Clews, who finished with two top-five positions in the last two tournaments.
LET Access Series wins: 2023 Smorum Ladies Open.
Another four top 10 finishes including runner-up at the Amundi Czech Ladies Challenge.
16 top 10 finishes in total on tour.
"It feels incredible, last year was tough and I had a bad finish to the year. I did something that was difficult at the time and I stayed and sprayed champagne on the girls that got their card. I said to myself that next year that will be me. I've worked hard and it's paid off.
"My highlight of the year was winning Denmark but also how I have handled the last three events and the situation compared to last year. I'm so proud of myself."
Find out more about the LET Access Series