Alison Nicholas makes up the final place in the GB&I team for the Women's PGA Cup after receiving a captain's pick
Alison Nicholas MBE will return to the country where she achieved her greatest individual triumph after earning a 'Captain's Pick' to represent Great Britain and Ireland in the Women's PGA Cup.
Nicholas won the US Women's Open in 1997 and will be back there next month after team captain Sarah Bennett chose her to complete the five-strong line-up to contest the match at the Twin Warriors Golf Club, Santa Ana Pueblo, New Mexico.
Heather MacRae, Suzanne Dickens, Ali Gray and Jess Smart had qualified for the team by virtue of their performances in either the WPGA Championship or 2022 OCEANTEE WPGA Series.
However, the selection process allowed Bennett to choose the fifth member and she admitted being spoiled for choice.
"A 'captain's pick' is never an easy choice, and I was in the enviable position of having a number of quality players to choose from," said Bennett, who is also the current PGA Captain.
"I'm delighted Alison has accepted and her inclusion completes what I feel is a massively strong team.
"Alison has been in good form this season and her experience as a player at the highest level and a captain is a huge bonus." In addition to her successes on the course, Nicholas has captained Europe's Solheim Cup on two occasions and Bennett added: "It's great to have her experience behind me."
Nicholas's good form was typified by her performance in last month's U.S. Senior Women's Open in which she finished tied 40th.
Bringing extensive experience to the GB&I Women's PGA Cup Team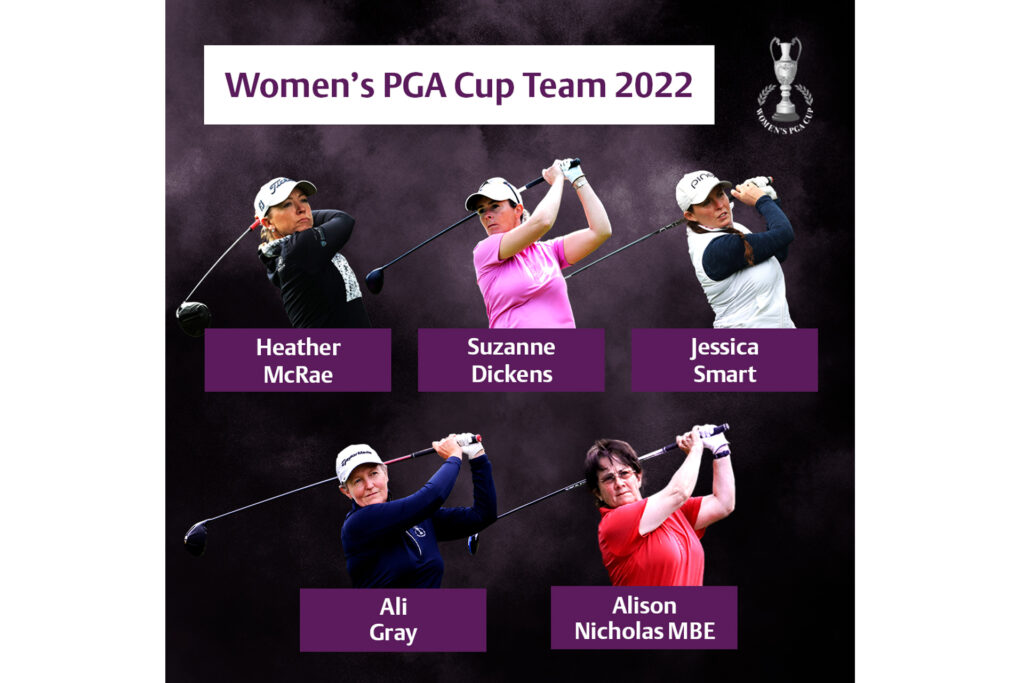 Ironically her participation in the tournament at the NCR Country Club in Kettering, Ohio, prevented her from playing in the final OCEANTEE WPGA Series event of the season and earning sufficient points in the Order of Merit to qualify for Bennett's team without needing a 'captain's pick'.
"Obviously I wanted to play in this year's Women's PGA Cup as it would probably be my last chance, so I'm delighted to be chosen," said the 60-year-old who coaches at Redditch Golf Club, Worcestershire.
"I knew the players that had entered the last event couldn't overtake me in the Order of Merit and the ones who could were PGA trainees who weren't eligible to play in the Women's PGA Cup. I was hoping I'd played well enough up to that point."
Nicholas, who has extensive experience of team golf having played in six Solheim Cup matches, won the U.S. Women's Open at Pumpkin Ridge Golf Club, Oregon. However, playing in New Mexico will be a first.
"I've played in the USA many times but never in New Mexico," she added.  "I've checked the course out online and it looks stunning. I'll try and get as much information on it as I can and practise accordingly. I'm really excited."
The second Women's PGA Cup – a team competition for women PGA Professionals from around the world - will take place at Twin Warriors Golf Club, Santa Ana Pueblo, New Mexico from October 24-29, 2022. Find out more here.