PlayMoreGolf's Leslee Moger explains why their flexible memberships could be key to driving up female participation in golf clubs
They say there's a first time for everything and that certainly applies to women and golf.
I know from personal experience that too many women find the prospect of golf club membership too daunting.
They are deterred from taking the plunge and joining a club for a variety of factors – factors that are guiding and inspiring PlayMoreGolf's work to make the game more accessible.
These factors can include the cost of a full membership, time pressures, vetting processes or stereotypical images of golf clubs being a well-guarded bastion of a male-orientated sport.
They can all be off-putting, but I'm pleased and proud to say that there is a way forward for women who are considering taking up the sport thanks to PlayMoreGolf.
That's because, in a nutshell, PlayMoreGolf is perfectly positioned to help women dip their toes into golf club memberships and to work out if that's for them.
What is PlayMoreGolf and how does it work?
PlayMoreGolf provides more choice, better value, improved flexibility and convenience for golfers - whilst still enjoying the benefits of golf club membership.
The UK's largest flexible golf membership offering, PlayMoreGolf, based in Banbury, Oxfordshire, was launched to reverse the decline in golf memberships as families struggled in the wake of the 2008 financial crisis.
Making the game more affordable, flexible members are administered by PlayMoreGolf on behalf of golf clubs and membership with prices dependent on costs of full seven-day membership and average green fees.
When a new member joins PlayMoreGolf, they are able to select a 'home club' and become a member there – not a member of 'PlayMoreGolf' and have access to a network of our community of wonderful clubs.
I'm pleased to report that PlayMoreGolf has gone from strength to strength and now links over 12,000 players with more than 250 golf clubs under one membership across the UK, from Aviemore to Cornwall, so you can play with friends and family almost anywhere.
Can PlayMoreGolf work for me?
Our flexible membership provides women who may have dismissed golf and in turn golf club membership with a unique opportunity to sample the benefits of the sport and experience all of the benefits of a full club membership at a much more affordable cost.
PlayMoreGolf represents an extra dimension to current golf club membership offerings – sitting alongside the likes of the seven-day, five-day or weekend memberships or day passes.
It will prove especially attractive to women who are new to the sport and who may be intimidated by the prospect of joining a club with all the traditions and protocols that are associated with the sport.
With PlayMoreGolf you can choose your own path to boost confidence such as lessons with the club pro to improve your competence or women-only lessons which will increase the camaraderie that I know appeals to female golfers.
It gives women of all ages the chance to embrace golf at reasonable prices and means they can join a club, enjoy the game, expand social circles and widen golfing horizons within our network.
Also, and this is really important as tough times beckon for us all, PlayMoreGolf flexible membership can come at a fraction of the normal cost – so there isn't the sizeable financial commitment that comes with traditional memberships.
What are the obstacles that PlayMoreGolf will help women overcome?
PlayMoreGolf's flexible membership recognises the demands of modern lifestyles. Our simple-to-use app-based offering provides a viable alternative that works in harmony with frantic timetables of the modern family.
It is enabling more golfers to find their passion for the game and that is especially relevant to women. I say that because those stereotypes about us being time-poor still ring true as we shoulder a disproportionate amount of parental and caring responsibilities.
And that's where PlayMoreGolf comes into its own.
It's the perfect platform to meet up with your friends to play nine holes in the afternoon or early evening rather than committing to a full round of 18 holes. That's especially important for savvy women who need to make the most of their free time.
We know from feedback from the people who join the PlayMoreGolf community that more often than not that this flexible model fits the bill for golfers.
Once personal doubts are removed and new friendship groups are formed, almost half of our customers go on to take that next step, sign up for seven-day memberships and they do not look back which is a perfect scenario for PlayMoreGolf and our partner clubs.
I really hope that more and more women follow this path and golf clubs will be far better places for it. Plus, the sport we love will continue to prosper.
How is PlayMoreGolf encouraging individual clubs to boost female numbers?
We work with the clubs who are part of the PlayMoreGolf family on an ongoing basis to bolster their female membership and we have recommended a string of measures to improve the picture. These include:
Recruiting female staff and volunteers who will be the role models who encourage female members to join and inspire younger girls and adolescents to see golf as a female-friendly game
Appointment of female board members and management to ensure policies and club rules remain female-friendly
Targeting more women on social media platforms
Reviewing club dress codes to make sure they are female-friendly
Cater schedules to women who are notorious jugglers
Offer female-only activities at club houses
Thankfully, PlayMoreGolf is working with lots of forward-thinking figures in the golfing community who are putting that right at progressive clubs which is really encouraging.
Is PlayMoreGolf's hard work paying off?
The golfing powers-that-be recognise that we women have skin in the game and want the same opportunities as our male counterparts to enjoy the many delights of golf but there's plenty of work to be done.
Out of the total population of golfers in UK, 10 per cent are women so we're under-represented but we're on the up. R&A figures released last year revealed 25 per cent of female golfers were new to the sport, trying it for the first time because of the Covid-19 pandemic.
There is plenty of momentum. PlayMoreGolf's flexible membership model will make sure that continues and I hope more and more women will join us to make it happen.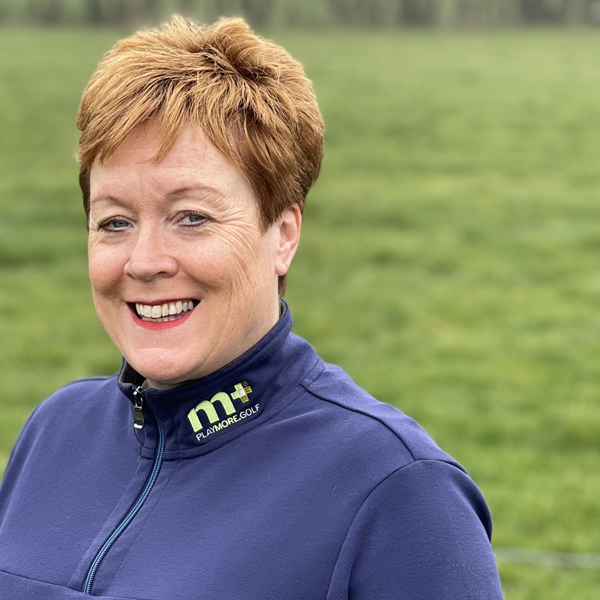 If you would like to find out more about introducing PlayMoreGolf's flexible golf membership, contact me for a chat [email protected]
Leslee Moger is Club Acquisition Manager at PlayMoreGolf
Interested in this topic? Then you may want to read - Opinion: Fee increases and no flexibility are pushing women out of the game