GolfSixes League in 2022 saw "huge benefits" for children, parents and more than 500 golf clubs, as junior membership figures soared at venues connected with this Golf Foundation initiative across all four Home Nations.
Feedback from 2022 indicates that GolfSixes League, which is supported by The R&A, is more popular than ever among young juniors new to the game. Thanks to backing from the Home Nations and PGA professional coaches there was a 47% increase in affiliated membership across the 542 participating clubs in England, Scotland, Wales and Ireland.
The Golf Foundation aims to welcome more children from all backgrounds into the game and provide them with valuable life skills, enhancing their confidence and well-being. The national charity also wishes to help more golf clubs to reflect their local community around them, boosting club membership. Both aims fit very well into the fun, encouraging and inclusive nature of GolfSixes League, which in 2022 attracted many more families completely new to the game.
After a strong year in 2021 despite the issues of Covid-19, the easy-to-learn six-hole team format, where beginner golfers play in a league with other local golf clubs, was expanded last year with 6,992 youngsters taking part across 93 local leagues (25.5% of the players were girls).
GolfSixes format
In squads of 12 (the Foundation requests that squads should be mixed whenever possible), the children could practise regularly with their PGA coach before playing their weekend fixtures in a welcoming atmosphere. Thanks to Foundation supporter Titleist, each young player receives two Titleist golf balls in encouragement as part of a player's welcome pack.
Parents new to golf were enthusiastic (41% of parents volunteered for matches, being team managers, chaperoning, making scorecards, baking team cakes and more!). Golf Foundation auditing showed that 77% of team managers said they would '10/10' be willing to be part of GolfSixes League 2023, while 90% of children would like to play more golf as a result of playing GolfSixes League.
In further direct feedback: 88% of players enjoyed playing on different courses; 83% loved being part of a team; 71% valued the opportunity to get better at golf; 81% described the experience as fun; and 61% of children "love golf" as a result of GolfSixes League – these figures perhaps underlining the confidence-inspiring nature of the format.
On this theme, one parent said: "It's a great concept and delivered really well. It has really helped my son into golf and to make new friends."
A young player said: "I loved being part of the team, playing with my friends and learning by making my own decisions with my team mate."
And a team manager said: "I think the format of golf is excellent and seeing young juniors on different courses interacting with players from different clubs is fantastic."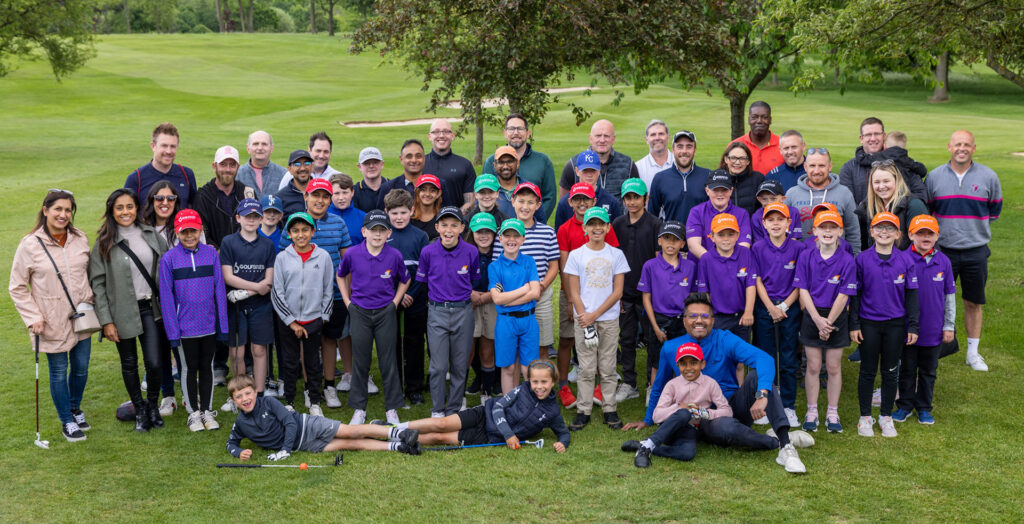 Plans for GolfSixes in 2023
GolfSixes is expanding in 2023, with plans in place to support more than 750 golf clubs in GB&I. There will be 117 inter-club leagues involving 524 golf clubs, with a further 230 clubs providing GolfSixes League within their own junior sections. GolfSixes League 2023 is expected to be launched in May.
'GolfSixes Mini League', a new innovation to take the format to regional community groups and festivals, will see 40 projects across GB&I delivering the easy to set-up mini version at specific events. Here, the Foundation's fun 'Golfway' equipment will offer easy access to starting in golf.
Meanwhile in Europe, the Confederation of Professional Golf (CPG) will be delivering GolfSixes League in around nine countries for the first time in 2023 (also in South Africa), supported by The R&A, with guidance from the Golf Foundation team.
Brendon Pyle, CEO of the Golf Foundation, said: "GolfSixes League started as a small pilot project in 2017 and grew steadily as new young golfers, parents and clubs saw the value of the fun, team-based format. Last year's encouraging and inspiring stories on the leagues just after the worst of Covid-19 made us very optimistic indeed about the huge benefits, especially in promoting confidence and a sense of wellbeing among the youngsters at this time, and also hearing about how much they welcome parental support.
"We could not have expanded GolfSixes League without the support of the Home Nations and in particular The R&A, which has been behind the concept from the very start and remains our charity's strongest supporter. Our team is now incredibly excited about what can be achieved with all our partners during 2023."
You can read and view the at-a-glance illustrated summary of GolfSixes League 2022 here.