We catch up with the latest talent in golf broadcasting - presenter Gabbie Partington to hear about her first year working in the golf industry
Gabbie Partington is a new face to golf broadcasting and presenting, taking on a major role at the new Aramco Team Series events that took place in London, Sotogrande, New York and Jeddah on the Ladies European Tour this year. We caught up with her to see how her first year in golf has gone.
How has the last year been for you working within the golf industry?
Quieter. A lot quieter than a football ground, which is the environment that I'm more used to but this year has really opened my eyes to how much there is to golf that I love. The people (fans), the players, the dedication and quite frankly the sheer difficulty of the sport, yet how it's made to look so simple. What other sport are you able to start a chat during a live tournament with a pro, mid-round, yet they continue to be so welcoming and down to earth. Zero egos, it is so surreal.
It's been a busy year, the longest I've spent at home is ten days but travelling up and down the UK through to Europe, the Middle East and the US has been the experience of a lifetime.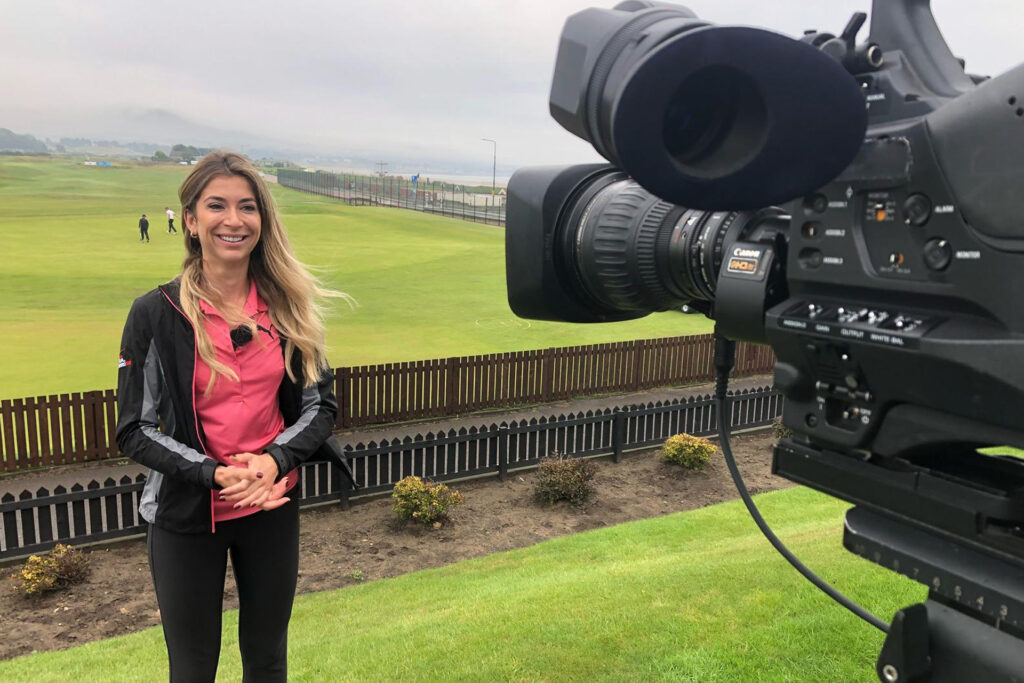 You have played in several Pro-Ams having just started learning the game, what has that experience been like for a beginner?
I will honestly throw myself into anything without much thought and a lot of people were surprised that I'd accepted invitations to participate in Pro-Ams when I only started playing a few months ago. But why on earth would I turn down the opportunity to play with some of the best pros out there, on the most pristine courses. Complementary lesson isn't it?!
You recently played with Ladies European Tour superstar Athaya Thitikul, how does your game rank against hers?! Can she become World number one?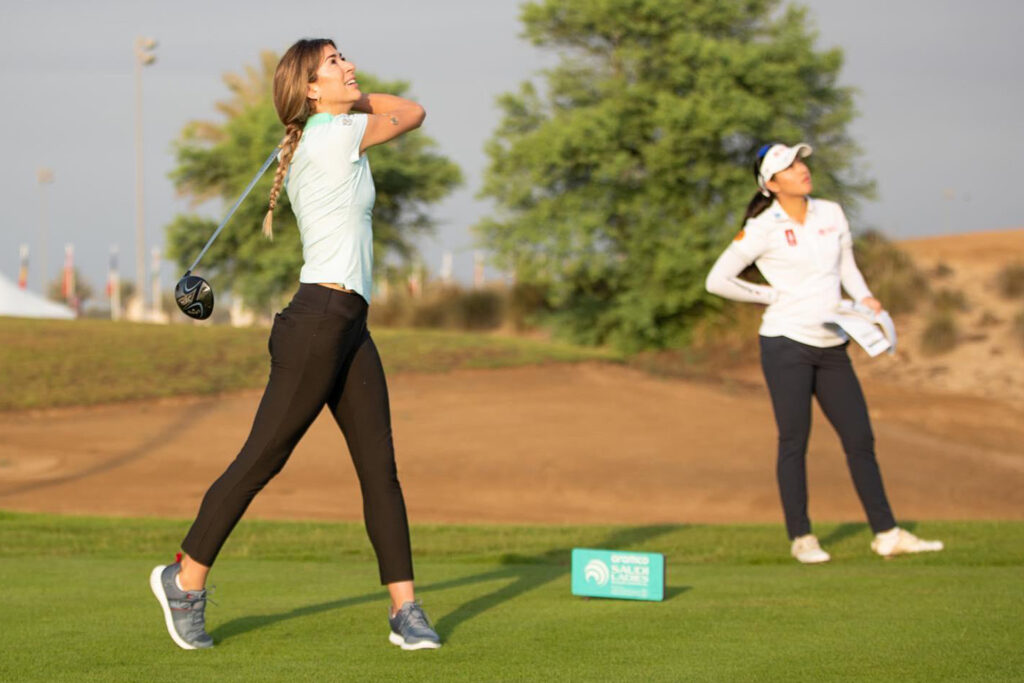 I said to Atthaya at the end of the round: "that went so fast today" and she responded 'Did it? That was very very slow…" I think that pretty much summed up the round. Her talent at 18-years-old is on another level. But the best thing I've witnessed about her game is her temperament. She's smiling/singing/laughing around the course, even in pressurised moments and reacts as if it was a practice shot. She is so mentally strong, but has the unquestionable talent to go with it.
The Aramco Team Series, a group of events that have helped project your career in golf. How much fun are the girls having on and off the course during these tournaments?
So much fun, it's like one big girls' holiday with a lot of golf, sweat and tears (happy tears). We've spent so much time together and honestly just get on so well, it's become a bit like a family. When the event ends, we genuinely miss each other. I've said to the girls that I'm gutted not to be a professional golfer and can't continue the season with them.
They're just all so dedicated to their game, but off the course are still capable of switching off and having a good old giggle. Maybe with a few more Pro-Am slots, I can join them on tour one day!
How have you dealt with the on-course interviews to help the players feel relaxed?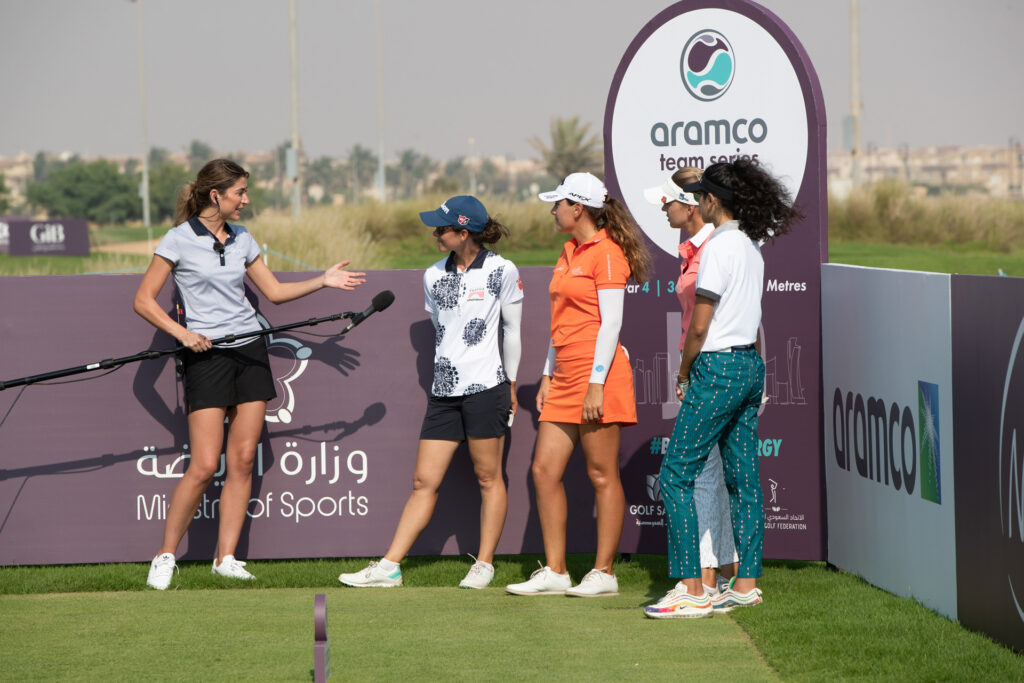 The players have enjoyed our interviews on course as they said they're not the conventional golf related or statistical interviews. I treat them almost as chats with my friends. By making people feel at ease, you get the best from them. Putting a camera in someone's face is usually unfamiliar territory so it's all about distracting them with a bit of light-hearted content so they forget about it being a televised interview.
Who has been your favourite player or star to interview whilst travelling this year?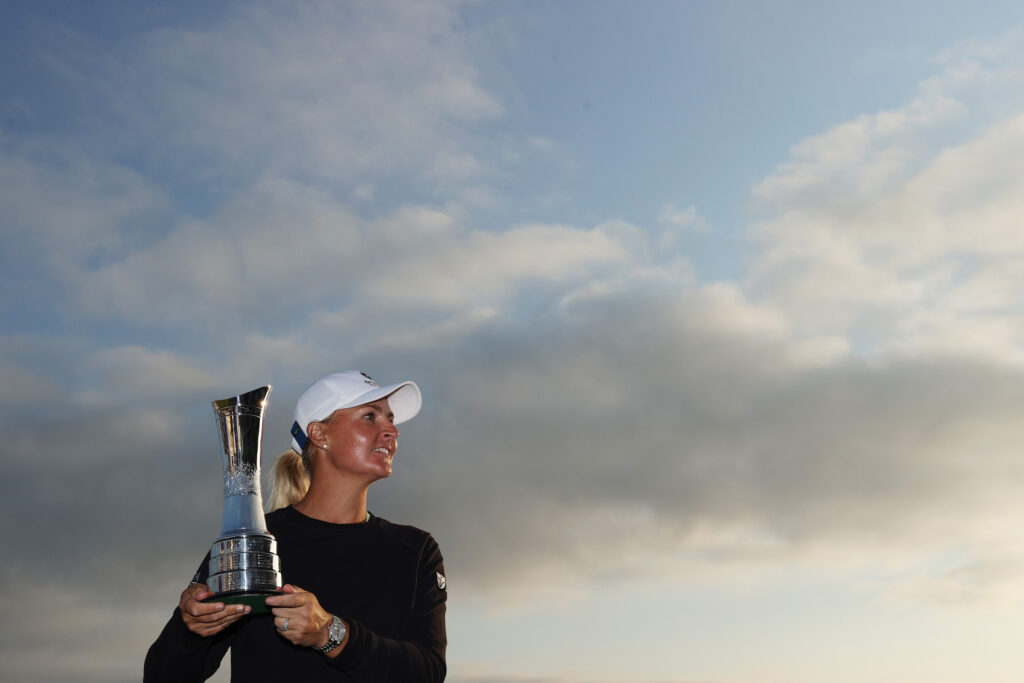 Anna Nordqvist. I've interviewed her a few times and each time she gives me an honest insight into her experiences, making me feel like I'm living through the moment with her. When she spoke about her AIG Women's Open victory this year, I was so engaged I actually forgot we were filming when she'd finished. She still manages to pull out genuine and powerful responses in all circumstances and gains the attention of the entire room.
Have you found that the team events excite you more than individual stroke play variations?
Definitely. The atmosphere is lighter and sharing is fun when it's not food you're having to share! I love the idea of being able to be a part of the experience with a team by your side every step of the way. Celebrating the highs but having support there for the lows. The Aramco Team Series is a brilliant concept, as you may be paired with players who you may not know as well but then by the end of the tournament you've made a new pal.
Don't get me wrong the pressure is still very much there in team events as you're trying to do well for yourself AND the rest of your team, not wanting to let the side down.
Looking forward, what are your career ambitions over the next few years?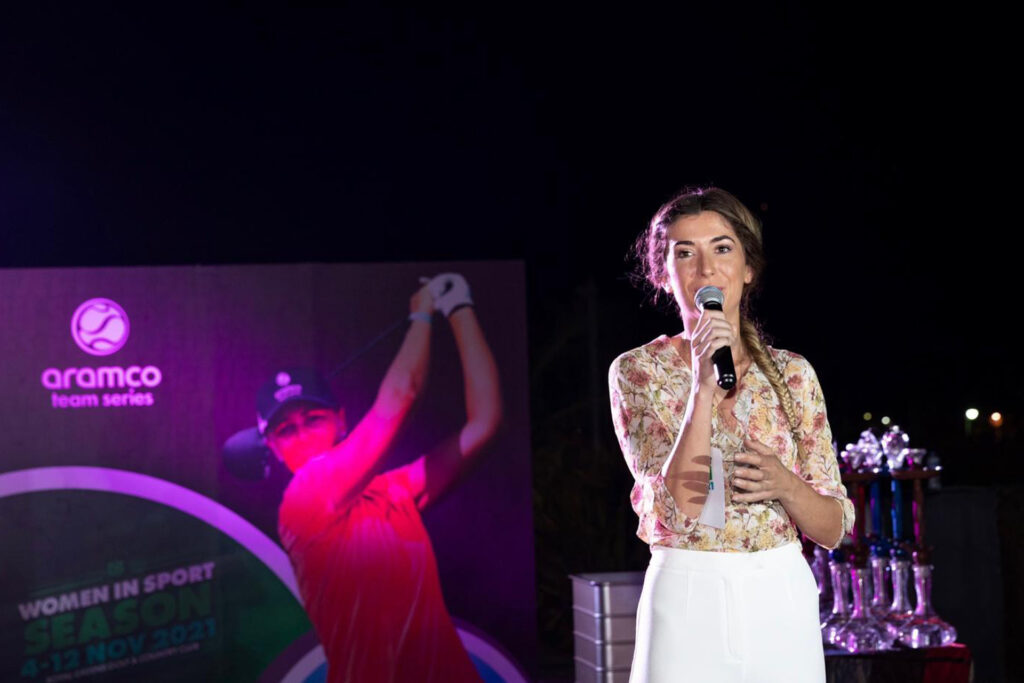 I've played a lot of sport at a competitive level and from early on I knew I wanted to be a presenter but I've never put together a specific time plan of where I want to be. I'm a laid-back person with a strong work ethic so after a tough couple of years as a freelancer during the pandemic, I'm just riding the work wave and embracing whatever opportunity comes my way.
Being completely honest, I never thought golf would be my path, more because it wasn't a sport I grew up playing, but I'm absolutely loving the ride and the 'bug' is certainly a thing. If I'm not working on a course, I'm now playing one.
Being freelance allows me to experience all sports and cover all areas so it means I have the opportunity to learn what I enjoy the most/what I feel my style is most suited to and go from there. Other sports I've covered include football, fishing, darts, esports and bowling; to name a few…so who knows what's around the corner.