A new state-of-the-art indoor golf coaching facility has opened in Jersey, run by Advanced PGA Professional Alex Mollin
There aren't many people that would decide to set up a new business during a global pandemic, let alone three businesses. But that's exactly what Alex and Nicola Mollin decided to do. In August 2021, they opened Green Goose Coffee Shop, Green Goose Golf & Leisure and AMP Golf Performance in St Peter on the Island of Jersey.
We caught up with Advanced PGA Professional Alex to find out how it all came about, what Green Goose and AMP Golf Performance have to offer, their Golf A-List patron and how they manage the day-to-day running of the businesses.
Tell us where it all started…
While I am still attached to the Royal Jersey Golf Club, I've wanted to do something for myself for quite a number of years. I've been teaching for 10 years and working outside I find the winters really hard. I was looking to create a next level indoor facility that had the technology and resources to hand to give people the best kind of teaching experience, something that we didn't have on the island previously.
I think Covid made a lot of people question things and I thought, I'm in my early 40s, if I don't do something soon, it almost felt like I am starting to run out of time. So, I looked at a couple of properties, and then this one was put in my direction and we went for it. That was October last year and the doors opened at the end of August.
Three businesses in one location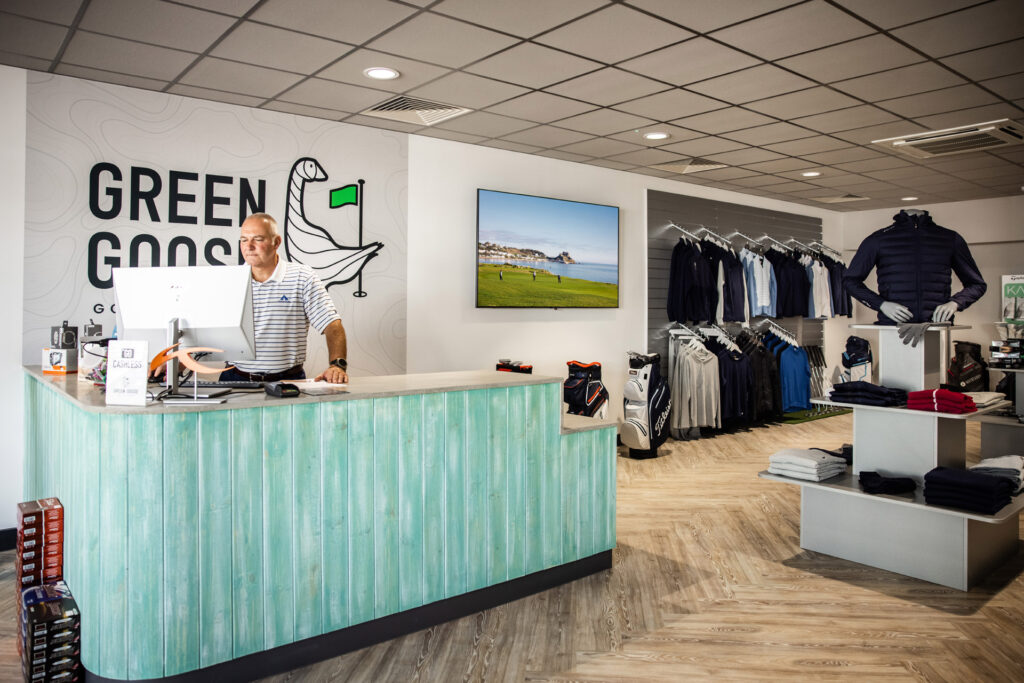 It's three businesses in one location, we've got the Green Goose Coffee Shop, which is an independent coffee shop where we've sourced some great coffee from Leeds called North Star. Then we've got Green Goose Golf & Leisure, which is obviously the golf side of things but also has leisure ranges. We've got a crossover location where walkers and cyclists go past and it was important to try and find the kind of clothing that people can wear on the golf course but would also works for other activities.
If you are wondering why 'Green Goose' – Our business is located on Goose Green Marsh and we wanted to include the identity of the location, along with links to golf – 'On the Green' so to speak! But also have that fun and informal twist on our branding to create a unique selling point.
Finally, upstairs, we have AMP Golf Performance Centre. This features a state-of-the-art academy with two indoor Trackman simulators. In the bespoke teaching bay we've also got GASP 3D Force Plates, high-speed cameras and all the extras. We also have an indoor putting green, with SAM Puttlab and Puttview.
Steve Gould from GASP, who came to fit out the Performance Centre for us said we probably have one of the best set ups in the UK which was really exciting to hear.
That's a lot of tech!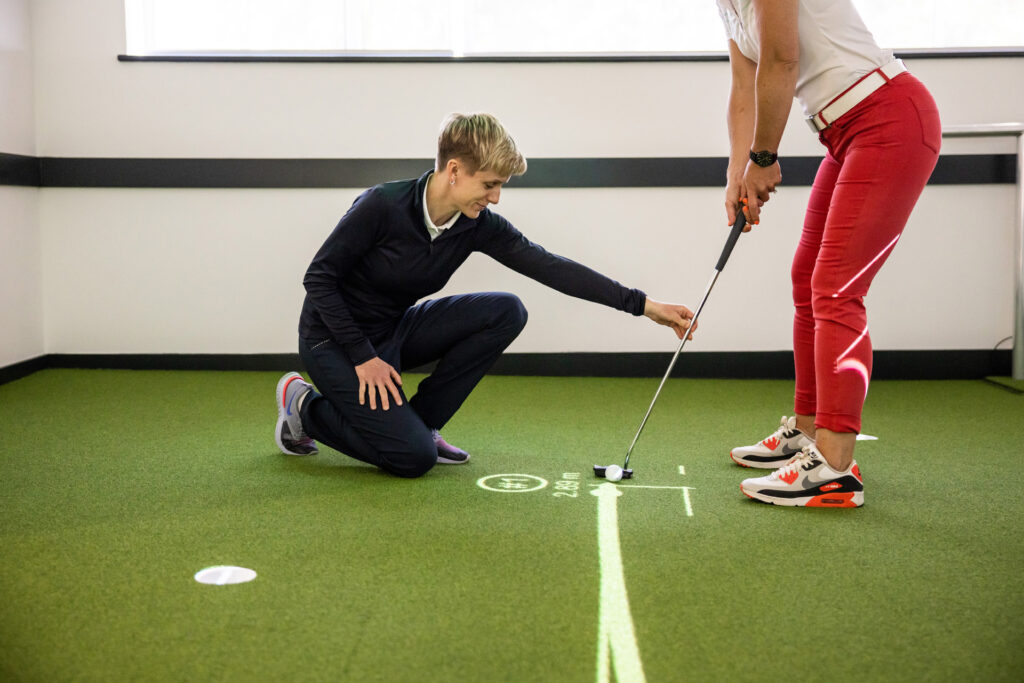 I don't want to blind people with science. But it's having that information to hand so you can give people the answers and accuracy, and also the comfort of being able to teach all year round. Jersey is generally windy much of the time and so being able to teach and not being restricted by the weather or light coming into the winter. This makes coaching opportunities much more consistent throughout the year.
People are also able to join as AMP Golf patrons, so they can come in and use the facilities for their own practice purposes and I am able to support people who are learning in their own practice sessions as well. Our slogan is Play, Practice, Perform!
When someone joins as a member, I take them through an induction – teach them how to use the equipment and understand what they need from their practice sessions. It gives me the opportunity to build that relationship with clients. Plus there are membership benefits.
Coaching has had to take a bit of a back burner for the last six months, but now I have a bit more breathing space to get back into my coaching routine and also the second year of my MSc in Sports Performance Coaching with the University of Stirling.
We hear you got a golf A-Lister as your first patron!
Our first honorary Patron is Butch Harmon! He's got his membership pack that has been shipped out to Vegas. And has also offered advice and support – and some signed photos for our walls!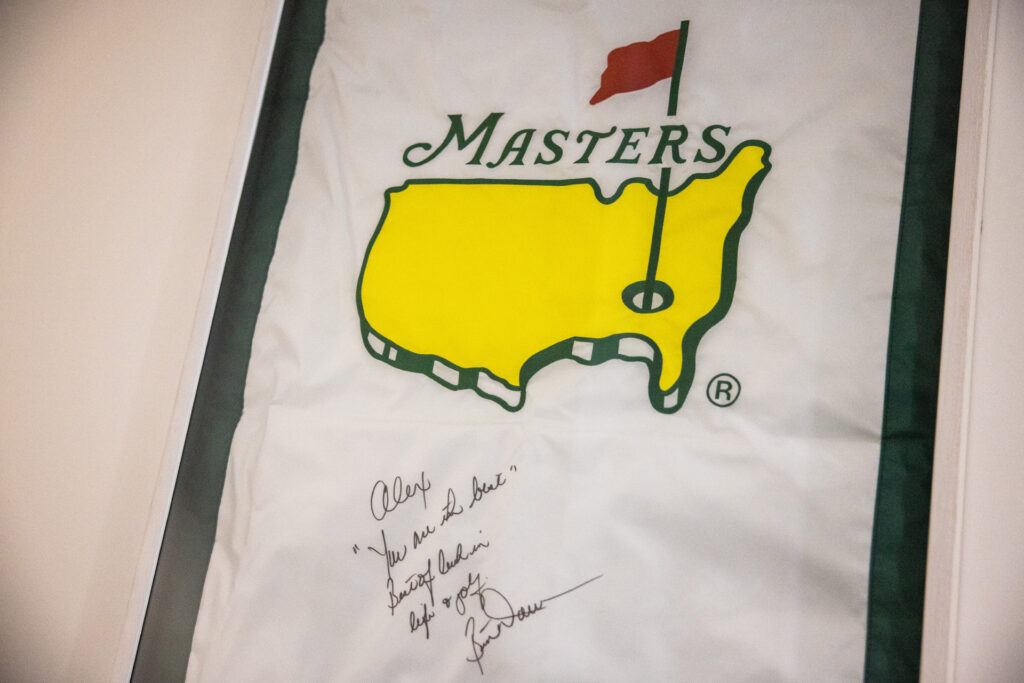 Are you and Nicola still speaking?
We looked at the building and thought that we were opening a business. What I guess we didn't really factor in was it's not just one business, we've opened three completely different businesses at the same time, during a global pandemic! I think the levels of stress were way beyond anything that we anticipated. An example would be the POS systems where we've had to install three completely different ones based upon their unique demands. So, all those things have just added a huge amount of extra work and but we are we are doing okay and we're still talking! It's definitely getting easier.
We've intentionally split the roles, I have nothing to do with the coffee shop, apart from drinking lots of lovely coffee. Nicola, who used to work in the prison service for 14 years, is managing the coffee shop. The golf and leisure side is managed by both of us but we have a shop manager who used to work with Nicola and then the upstairs AMP Golf Performance is my domain. So far so good!
You can find out more about the AMP Golf Performance Centre and book a lesson with Alex here.
Find out more about Green Goose Coffee Shop and Green Goose Golf & Leisure.