Women & Golf Editor Emma Ballard speaks to golf course architect Giulia Ferroni, one of only a handful of women who work in this area of the golf industry.
Giulia Ferroni is a Golf Course Architect and Director of LGD, Leeds Golf Design Architects and Consultants. We find out more about how Giulia became passionate about golf course architecture, what her job involves and hear about her commitment to the R&A Women in Golf Charter which centres around improving golf courses so that they are enjoyable for all golfers.
Tell us how you got into golf course architecture.
My background is in building architecture, that is what I studied and I was on the verge of designing houses and offices when I became interested in golf and landscape.
I decided to change job because I was not fully satisfied. This meant that I had to leave Italy and move to the UK. I entered the golf industry by joining the Hawtree Ltd firm and this is where I started my learning in golf course architecture.
At the time I was living in Oxford, so I joined Oxford Golf Club too. I was still a beginner and not a great golfer. It was this job with Martin Hawtree which really got me passionate about my work. We were based in Woodstock and I was there for five years until Martin closed down the limited company.
I then set up my own design company, Leeds Golf Design. My work is still based mainly in the UK, but I moved back to Italy when the pandemic hit. As a designer, I can manage to work remotely from Italy and will travel back and forth to follow the golf construction on site.
Do you have specific qualifications as a golf course architect?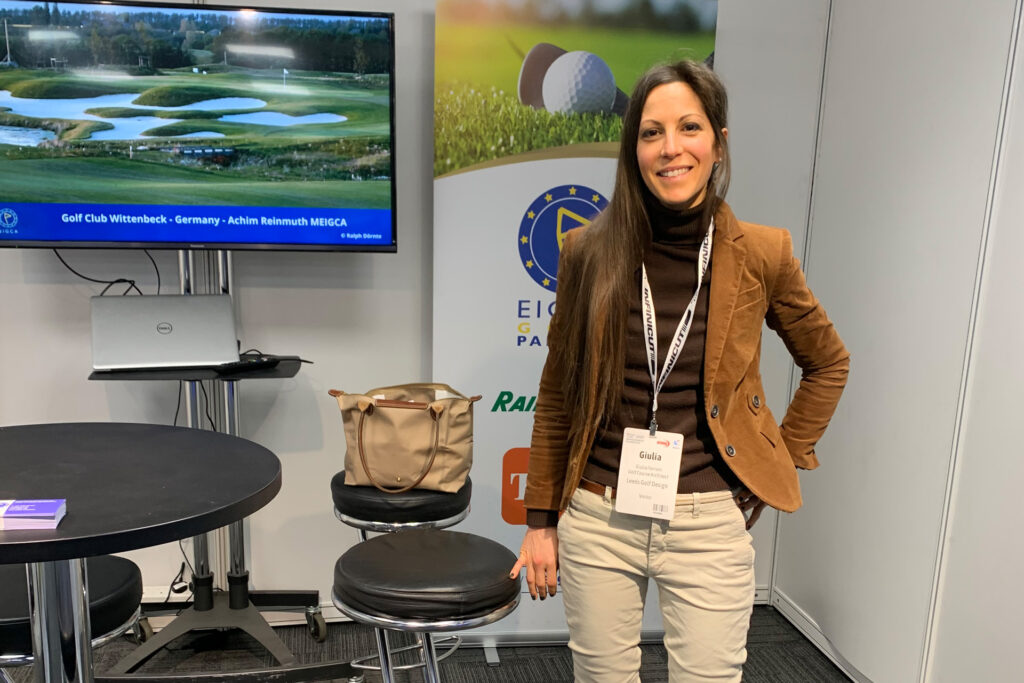 Martin Hawtree was my mentor and taught me everything I know, how to design courses, what to look at and how to solve problems. The firm taught me how to design and it made me so passionate that I decided to undertake a qualification and become a member of the EIGCA, that's the European Institute of Golf Course Architects.
They offered a two-year MSc Architecture course to help me complete my education. It was pretty intense, with a lot of presentations and exams where I had to prepare plans and drawings but I really enjoyed it.
Did you have concerns about entering such a male-dominated industry and as a new golfer?
I was not bothered by that, for me it was something that really interested me and I didn't see any limit to trying to enter this industry. In my mind, I could always go back to the building design industry if golf didn't end up being my path.
However, when I tried this industry and I saw how it worked. I found it really stimulating for my creativity and gained so much satisfaction that it really made me realize that this was what I wanted to do. No matter if it is a male-dominated industry, I really didn't feel that I was less than a man. The industry itself has never shown me that I am less professional because I am a woman, I have always been accepted and I haven't had any issues.
What courses are you or have you worked on?
I'm currently working at Cirencester Golf Club, Dartford GC and Richings Park among others. Plus, there are a few other projects that are ongoing. I am a member of the EIGCA sustainability committee following this front on behalf of the association. I am also part of the GEO certified verifier network, acting as an independent verifier for Golf Clubs that aim to get the GEO certification.
When I worked at Hawtree Ltd, I was a design associate. At that time we worked on a lot of golf courses. Sunningdale, for instance, as well as Royal Birkdale, Lahinch, Doonbeg, and some Scottish courses including St Andrews, Royal Aberdeen and Trump International.
My favourite so far is Sunningdale (pictured here), I enjoyed working on both the Old and the New courses. It's not just about the layout and design but the landscape. The heathers, the grassland and pine trees, everything is magic there.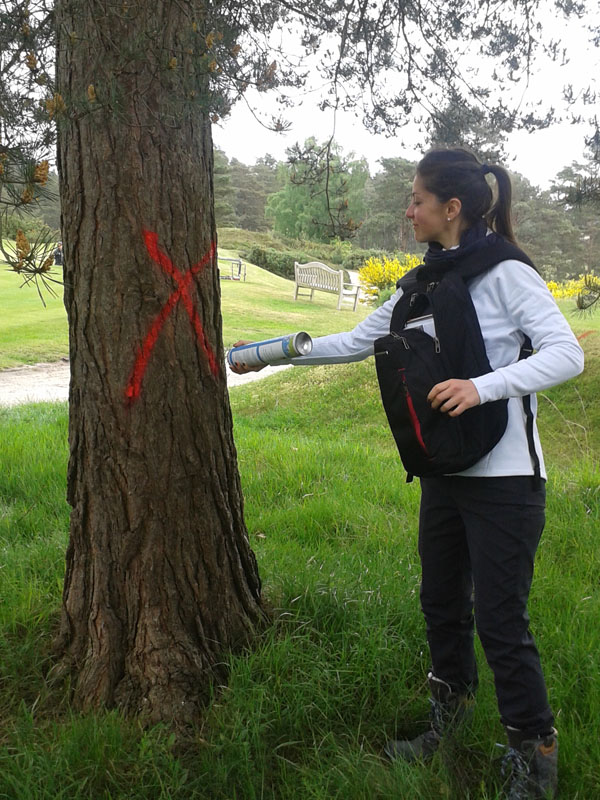 Is it all about renovating established golf courses?
As a design firm, we can do both new golf courses or the renovation of existing ones. At the moment, there is not very much need for new courses, so we are mainly renovating existing courses.
The process normally starts when a Club understands that the course needs renovation. An enquiry may come from the General Manager, the Club Secretary or the Greens Committee. At the first meeting the Club might flag that its bunkers need reshaping, or there are health & safety issues, or tee boxes or greens or drainage issues or the practice area needs some help.
By visiting the course, I will assess the problems and I will produce a report for discussion. The report will look at many things, such as greens and green surrounds, bunkers, teeing areas, woodland management, fairways, turf condition in general, drainage issues, water hazards, rough and surrounding vegetation. So, it may have started as an enquiry about bunkers, but then other issues will be covered.
From this initial report, we can start a pilot project immediately, budget dependant. For example, reshaping a couple of holes, or the practice area. After this phase, we can look at building a master plan which can be broken down into phases that are again budget dependant.
It's always a work in progress due to the course being a living environment. Depending on the weather conditions - and players usage - every five to ten years bunkers will need to be restored or reshaped. As do other areas of the golf course. So it's a continuous process.
Do you have a favourite part of your job?
I find it really interesting to improve a course. I like to work within the golf course constraints and find the best solution that fits the unique site conditions – environment, course heritage, landscape characteristic, players' needs, club's budget, etc. I love the first impression; I love to walk the course for the first time and get inspired. It's really nice to be out there and understand how you can get the golf course really better.
I think the best part of my job is being on-site, addressing the problems with the manager/greenkeeping team and when we are going down to the construction phase is really great to work close to the machines. You see how they can reshape the features of the course and how they can be so close to your idea, your initial vision of how the course can be improved.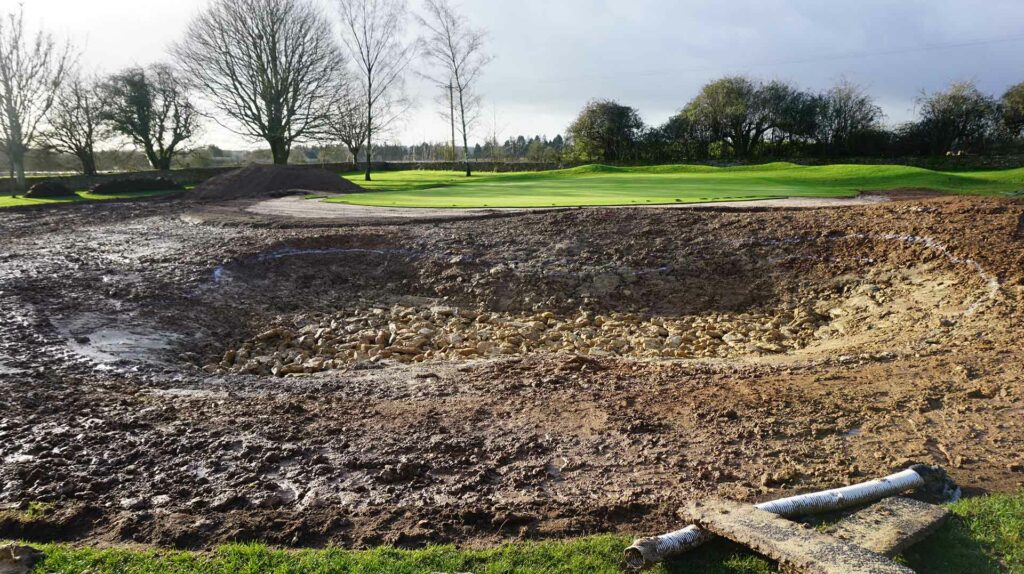 Tell us more about your commitment to The R&A Women in Golf Charter
My company Leeds Golf Design signed the Women in Golf Charter because as a designer, I'm very much committed to designing courses that are enjoyable for everybody. It is our mission. Golf courses should be designed for the widest range of users. We don't have just championship courses, but the majority of golf courses have average golfers that should not be penalized. We have juniors, ladies, seniors - and short hitters in general - too.
In particular, we supported the R&A initiative because I strongly believe that better designed courses would improve women's participation and retention. It's about creating a golfing experience that is enjoyable and an environment that is welcoming to them from the practice area to the course, to the club facilities too. This is something that I'm very much committed to.
If a Club wants to increase its female membership base should look at how they play the course and improve that.
One of my company's services is a report that specifically address the issues for women. I can visit a course and address the problems from the woman's point of view. Often the issues for women – and short hitters in general – are on the forward tee size/location, sometime the view is different, sometime the tee location has health and safety issues, often the carries are too long and hazards are in the wrong place.
What would you say to someone who is looking to get into golf course architecture?
The golf industry is a small world and it can be tough to enter it. My suggestion is to find the right people, expand your network. You should start by working close to somebody that is already in and learn as much as you can. Like for many other professions you should be determined and persist in reaching your goals. That is how it worked for me.
Being a golf course architect is a tough job, you get to work a lot before getting results. If you are not fully committed you can easily lose your way, so my suggestion is to follow your passion and if you feel this is your path, be dedicated, be tenacious.
You can find out more about Leeds Golf Design by visiting their website here or drop Giulia an email.