How what started as a company mission turned into a personal one for Slingsby Gin Marketing Director Clare Gibson.
Clare Gibson is the Marketing Director at Slingsby Gin, a proud sponsor of the BMW PGA Championship. For the past two years, the Harrogate based gin brand has been supporting the growth of women's golf through the Slingsby Golf Academy. The initiative sees four celebrities paired with a local PGA Professional to learn golf from scratch, with one celebrity claiming a spot in the popular BMW PGA Pro-Am.
At Women & Golf we were interested to find out how the whole campaign came about and why Clare took the mission so personally. Here Clare shares Slingsby's and her own golf story.
Where are all the women?
The idea to set up the Slingsby Golf Academy came in 2019 when we first sponsored the BMW PGA Championship. As we served gin and tonics on the 14th we wondered where all the women were, as we only saw maybe five or six competing all day in what is a very large Pro-Am field.
From that moment it became our mission to inspire women to take up the game of golf through the Slingsby Golf Academy. Our approach over the last two years was to work with celebrities, who had a large following, so that we could reach as many women as possible. The eight celebrities who have taken part have so far have a combined social media following of over two million.
Although this was our vision as a company, I wanted to make sure that I was also fully committed to it, so I personally took on the challenge too. I believed it was important for me to learn to play golf, to actually live and breathe it, so that I could talk to people genuinely about what we were trying to achieve.
I also learnt to play for personal reasons too, my husband is a really good golfer and I wanted to do something that I was going to really enjoy and take part in for a long time. From a corporate perspective I was also missing out as we would get invitations for lots of golf days and it was always the boys that got to go play.
Helen Skelton, who won the Slingsby Golf Academy play-off last year, got the opportunity to learn at Rudding Park in Yorkshire and as we live close I started to learn there too.
Now, 18 months later, it's safe to say I absolutely love the game and I'm completely converted. I even went on my first golf holiday this year to Portugal where I was really fortunate to play two courses.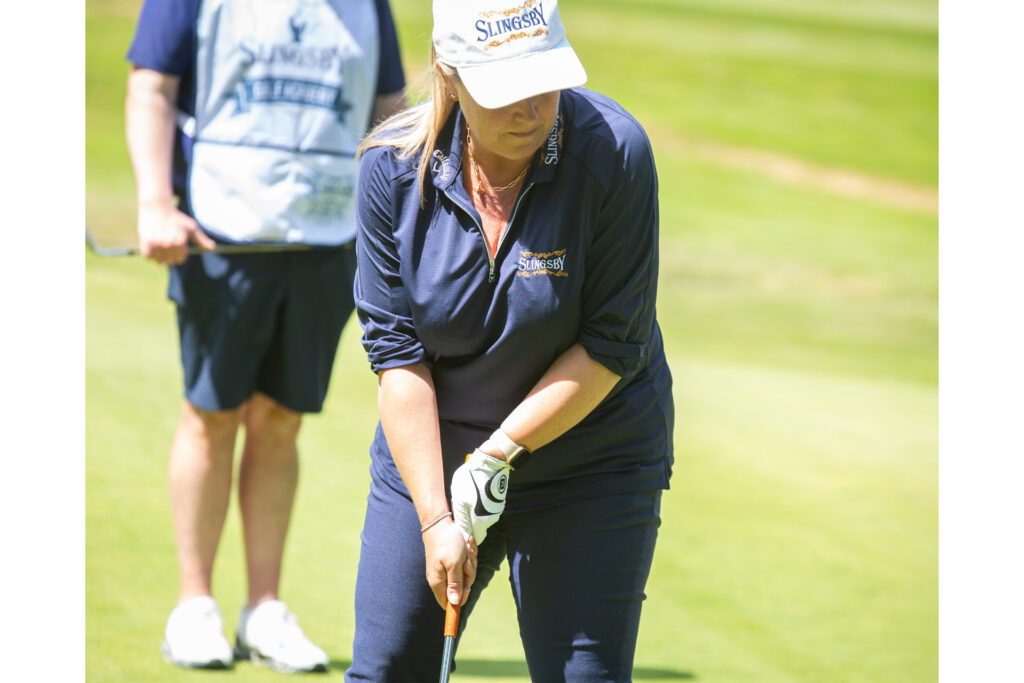 Making time for golf
There is a theme here. Being able to enjoy golf with friends and the whole social side is why Slingsby took on this initiative. You've got four hours or more on a golf course, you want to go out with people that you want to really get to know and you want to be able to chat with them.
I've heard a lot of people saying that golf takes up too much time to play. I believe you have to make time but also that it doesn't mean that you have to go out for four hours and play 18 holes. Golf can be playing a par 3 course, playing six or nine holes or maybe it's going to somewhere like Pitch or Topgolf. There are so many ways to get into and play golf without it having to take four hours.
Proud of what the Slingsby Golf Academy has achieved
I believe that the Slingsby Golf Academy has inspired women to play, which makes this whole mission so worthwhile. We've been lucky to work with like-minded partners – Callaway, England Golf and The PGA – who have also supported us over the last two years.
As for the BMW PGA Pro-Am, it's been fantastic to see the number of women playing increase year-on-year. I am personally in awe of how Helen Skelton and Judy Murray both competed after only playing for six months. Two moments that should really resonate with any golfer or even a potential new golfer. It's amazing to think what they achieved in such a short space of time.
I appreciate I am already talking to the converted but if not and you haven't given golf a try, then just do it, you might find you really like it! You can also revisit our videos across our social media channels to see the journeys of our eight cadets.
We're looking forward to continuing our support of women's golf, to inspire more women into a sport that lasts a lifetime.
Did you miss any of the 2022 Slingsby Golf Academy episodes? Then you can catch up with them all here.