From greenkeeping to Director of Golf at Penha Longa, Andreia Cunha has had a varied career. Here we get her insights into her life at the Portuguese resort
Andreia Cunha has been a long-standing member of the Penha Longa team since her career started in the greenkeeping team at the resort. 
Being one of the 48% of women within the Penha Longa Resort workforce, Andreia has progressed through various roles that have allowed her to develop her skill set and knowledge of the industry. 
Now Director of Golf, Andreia hopes to help provide opportunities to those girls and women who are looking to get into the industry through her role.
We caught up with Andreia after it was announced in May that Penha Longa Resort had become the first Portuguese golf resort to join The R&A's Women in Golf Charter.
You're currently Director of Golf at Penha Longa Resort, but your first role there was as a greenkeeper. How did you get into greenkeeping?
After finishing school and when deciding what to study at university, I chose to do a degree in Landscape Architecture. My time doing the degree went by so fast due the amount of work in different subject areas that I completed and following on from that I decided I wanted to complete a master's degree in the same area.
Following my master's (and the thesis that came with it!), I was provided with the opportunity to work with the team at Penha Longa Resort and it was an immediate "yes". The opportunity to apply everything I had learnt previously allowed me to learn more about golf courses and facilities, which was covered only slightly during my time at university and since then my curiosity in the field has grown.  
Have you had any other roles within the golf industry?
Penha Longa Resort opened their doors to me and allowed me to start my career in the golf industry. It was in 2015 that I started working as a Landscaper as a golf grounds maintenance apprentice. Two years after that, I transitioned into Assistant Director of Golf at the resort where I stayed until 2019. 
At this time, I had the chance to be in charge of the golf club operations team until beginning of this year, where after 6 years at the property I was promoted to Director of Golf, the role I still hold today.
What is the female greenkeeping landscape like in Portugal?
Despite only being a recent profession offered in Portugal, we have a lot of excellent female Landscape Architects. The degree is mostly chosen by girls and there are many successful females within the field, with many having extraordinary contributions within their respective roles.
However, greenkeeping is an area mainly dominated by males, not only in the greenkeeping roles but also in the business areas. Although within the Lisbon region, we do have a few courses where the females are heavily involved within certain greenkeeping elements.
Greenkeeping as a whole is quite underrepresented by women, do you have any ideas how that could change?
The way to change it is through the educational pathways provided as there aren't specific professions for a man or a woman. If we have the right tools, opportunities and collaboration as well as the ability to learn, evolve and succeed, I believe that we can continue to see a rise in the number of female greenkeepers.
What made you decide to change your career path?
Being customer-facing. The opportunity to offer an excellent service was always something which attracted me to the position and the opportunity to get to know new people in and around the resort is great for career progression.
The daily learnings I was provided with and the opportunities the role offered, gave me the confidence to make the change.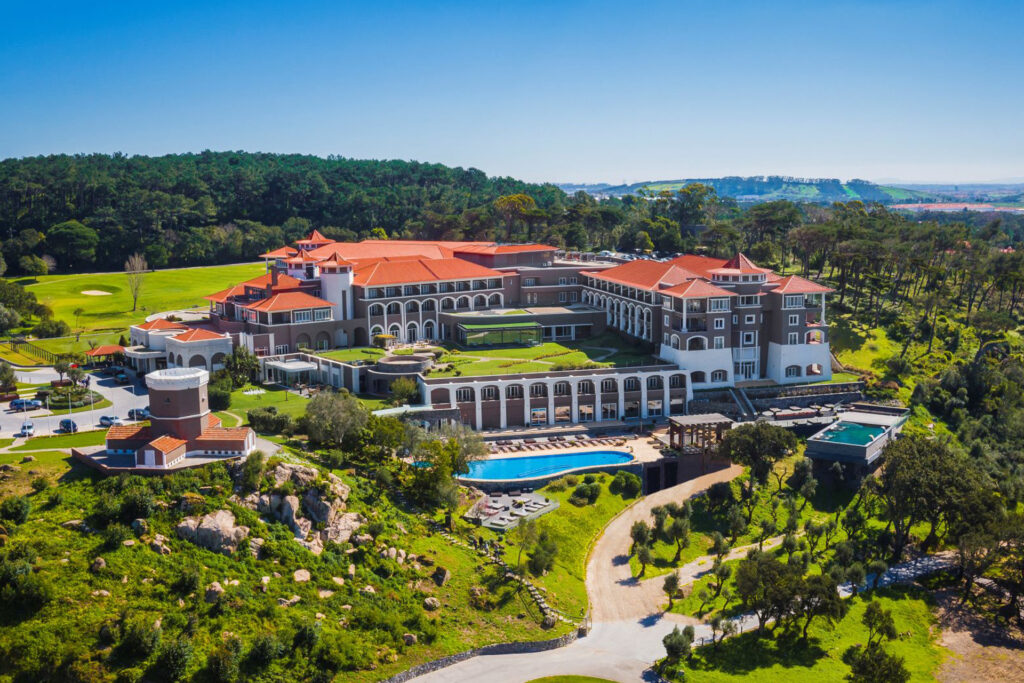 As Director of Golf what does a normal day look like for you?
As Director of Golf, no two days are the same. My tasks are diverse, and I embrace them each day: leading the team and understanding their needs, analysing numbers, defining strategies, and working through contacts, as well as the more customer-focused elements such as talking with members and golfers, walking the courses and hitting a few golf balls from time to time!
With female staff numbers at 48% at Penha Longa Resort, why do you feel it is important to strive for gender equality in the workplace, especially in golf?
Gender equality in the workplace brings a balance, and undoubtedly provides different personality traits to shine through and ways of working that complement each other. This results in a richer and more diverse work environment. Something that can only help further a business and something we've seen here at Penha Longa Resort.
Since Penha Longa Resort signed the Women in Golf Charter in May. What changes have you already seen at the resort?
The big thing for us is the number of offers and initiatives made available to members and guests in different areas, such as golf, spa and restaurants, which have all had an impact at Penha Longa, something that's set us apart from other neighbouring resorts. For example, the Ladies' Golf Academy has created a flow of golfers and beginners at the resort and has been regarded as a successful initiative by many of the members who see what's happening here.
How do you think we encourage more women to work in the golf industry?
The most important way is through promoting the advantages of the industry and how it can provide people with evolution throughout their careers. A positive work-life environment, diversity of workforce and the day-to-day tasks involved need to be highlighted to show women that there is an opportunity within golf no matter what specific field they are looking to get into.
About Penha Longa Resort
Surrounded by the soaring mountains and tranquil lakes of the stunning Sintra national park, Penha Longa Resort is one of Europe's most attractive and exclusive golfing resorts. Voted in Portugal's Top 10 golf courses, Penha Longa's championship course and nine-hole Monastery layout requires bold tee shots, courageous approaches, and well-thought-out putts, to truly score well.
Designed by world-renowned golf course architect Robert Trent Jones Jr, the impressive 27-hole layout presents a cultural story of the region, winding through one of Portugal's most inspiring landscapes.
Famous for its wide range of traditional and modern facilities, the championship course at Penha Longa Resort is complemented by a unique combination of five-star Ritz-Carlton accommodation, three Michelin star gastronomy, an award-winning Spa, and an abundance of premium experiences, creating an authentic Portuguese destination throughout the year.
A relaxing and tranquil environment, the resort is only minutes from the desirable town of Cascais, amorous Sintra and Capital City, Lisbon, offering a rare blend of European charm and modern accessibility.
For more information, please follow Penha Longa Resort via their Facebook and Instagram channels.