This March will see a celebration of women and girls' golf across Australia with the inaugural Women and Girls Month
Golf Australia, the PGA of Australia and the WPGA Tour are launching their inaugural Women and Girls Month.
This March, Australian golf's peak bodies will celebrate women and girls championing their participation in and contribution to golf for the entire month.
The action-packed month is headlined by The Athena, a two-day made for television tournament that completely breaks the mould of a standard golf tournament and showcases the talent and personalities of Australia and New Zealand's best young women golfers. The innovative 12-player format sees golfers compete in a series of challenges, before match play decides the winner.
The month is filled with a range of public events and WPGA and PGA Tour of Australasia events, concluding with the Australian Women's Classic at Bonville Golf Resort.
The final day of celebration includes the inaugural meeting of the Golf Leaders Network which will bring Women in Board Executive positions at Australian Golf Clubs together who are championing the national golf strategy. They will work together to challenge, inspire and support progressive women stepping into
volunteer senior leadership roles.
Golf Australia and the PGA of Australia invite all golfers to be a part of Women and Girls Month, whether that be by attending one of our events or taking the concept of Women and Girls Month back to their own club to celebrate there.
See below for the full schedule of Women and Girls Month events.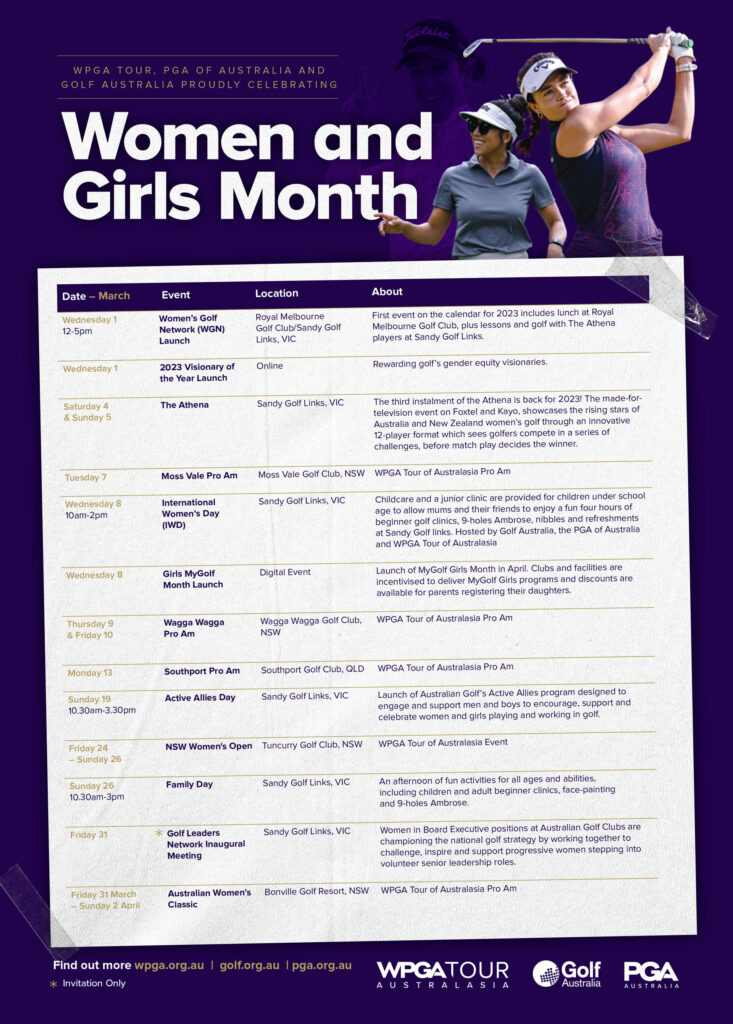 Head to the Golf Australia website to learn more and register to attend!
We're looking forward to seeing what comes out of the month's worth of activity after seeing such success with Women and Girls Golf Week here in the UK.