The Golf Foundation has launched the Dinah Oxley Spirit of Golf Award to recognise a young person who has made a significant contribution to junior golf.
The Golf Foundation has announced the launch of the Dinah Oxley Spirit of Golf Award – an award that recognises a young person who has made a significant contribution to junior golf.
Each year, national charity the Golf Foundation awards its Spirit of Golf Award to a leading world golfer to recognise their outstanding contribution to golf and for inspiring younger golfers to take up the game. Previous winners have included Paul McGinley (2019), Padraig Harrington (2017), Dame Laura Davies (2016), Justin Rose (2015), Tom Watson (2013), and Gary Player (2007).
Now the Golf Foundation will recognise a junior golfer who has made their own contribution to golf.
The award will be presented at this year's BMW PGA Championship at Wentworth in September at the Golf Foundation's junior stand in the Spectator Village (subject to Covid restrictions), in a dual presentation with this year's Spirit of Golf Award winner (to be revealed on the day). The BMW PGA Championship is taking place from 9-12 September but the presentation may be arranged for Wednesday 8th or Thursday 9th (the date is to yet be confirmed).
One of golf's most prestigious awards
In honour of the generous legacy donation made to the charity by Dinah Oxley, the Dinah Oxley Spirit of Golf Award will be one of the Golf Foundation's most prestigious presentations of the year. It will be awarded annually to a young person who shares the charity's values.
Dinah Oxley was an incredibly impressive golfer who started her golfing journey at West Byfleet Golf Club. She was crowned British Girl Champion twice (1963 and 1970), English Girl Champion three times (1965, 1970 and 71) and French Girl Champion in 1969. Dinah was Surrey Champion five times between 1967 and 1977 and competed four times between 1968 and 1976 as a member of the Curtis Cup team, and twice (1967 and 1971) in the Commonwealth Team. She dominated the amateur sport in this way for a number of years and was named British Golfer of the Year in 1970.
Dinah was meticulous, hard-working, conscientious and very modest about her golfing ability. She had enormous talent but never turned professional – like many women at the time, family commitments took priority. However, Dinah was always devoted and involved in golf throughout her life – she went on to become Secretary at Wentworth and then Worplesdon GC, and in her later years dedicated her time to encouraging youngsters into the game.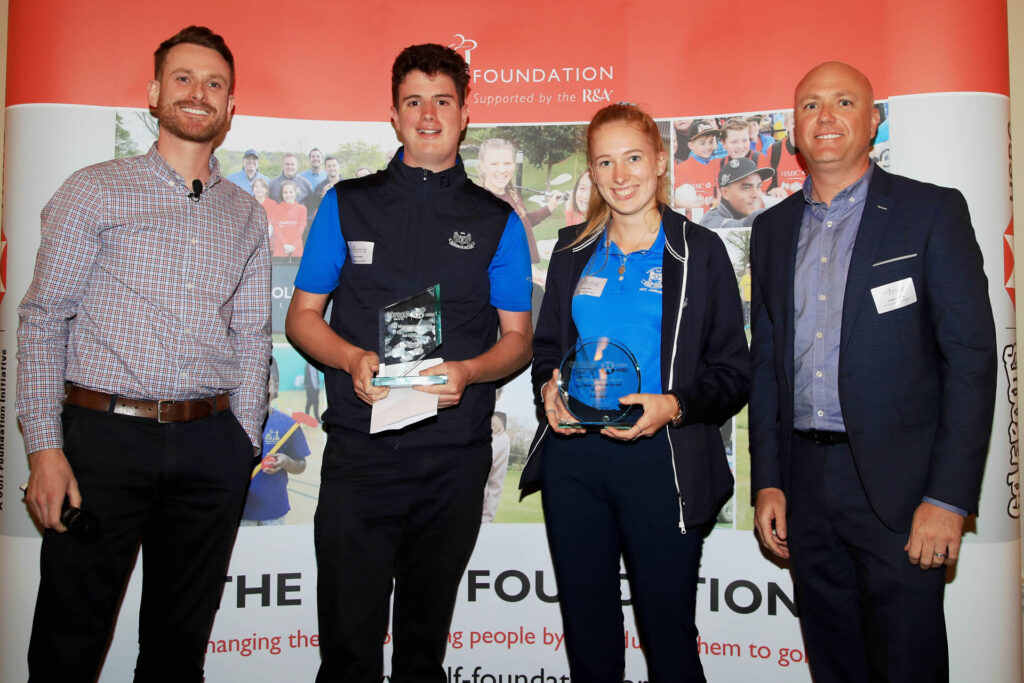 Nominate someone you know
The Golf Foundation is now asking for people to nominate a young person for the inaugural award.
"We are hoping to hear about individuals who may have supported other golfers, helped their PGA Professional or golf club and given back to the game. The winner might have overcome adversity, had a personal struggle, or supported their club or community in an innovative way," said Golf Foundation Chairman Stephen Lewis.
"We are particularly keen to hear about young people who have helped their golf club or even the wider community during the past challenging 15 months of Covid-19 restrictions, using 'Golf for Good', a positive feeling promoted by the European Tour. The winner will share Dinah's passion and commitment for golf and growing the game."
To nominate someone you know, simply complete the online form by Friday 13 August.