Editor Emma Ballard reflects back on two days spent at the Everything in Sport Women's Edition conference and gives five key takeaways
Last week Women & Golf headed to the Tottenham Hotspur Stadium for the Everything in Sport Women's Edition conference. It's not often that we venture out of our comfort bubble of the golf industry but I was really excited to hear from the experts across many areas of sport on a wide range of topics.
Whilst my phone was receiving emails and DMs about the state of men's professional golf (after the PGA Tour announcement) and I was having to use breaks to field questions, it almost seemed ironic that this all played out whilst I listened to how we can make women's sport thrive.
I wrote copious amounts of notes, took pictures and tried my best to digest everything that was being said. There was not one talk that wasn't useful in some way, even when the talk switched to Esports, Web 3.0 and NFTs (I know WTH)!
It is very possible that I could write thousands of words about the two days but in the hope that you will read on, I have condensed my thoughts into five key takeaways and made them relevant to the golf industry.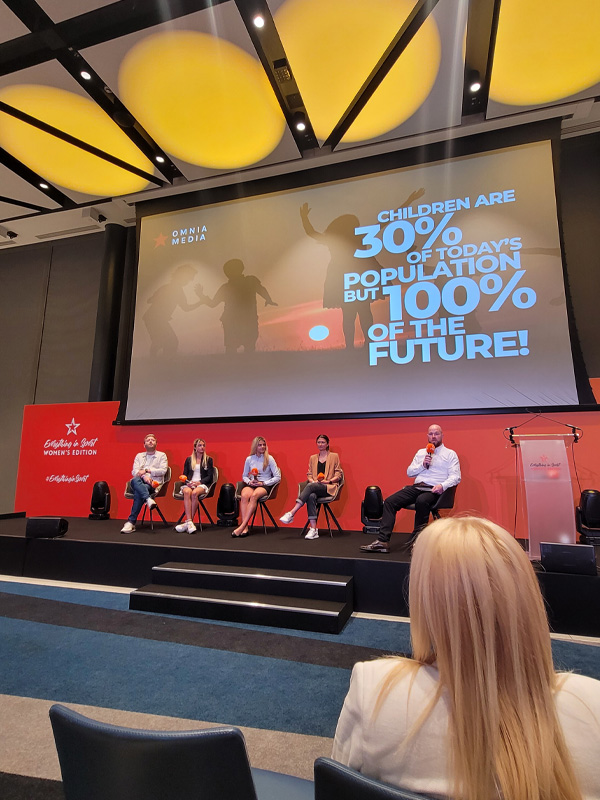 Challenging Stereotypes
A really interesting insight into challenging stereotypes came in the talk by Annamarie Phelps, CBE OLY, International Working Group (IWG) on Women & Sport. Her keynote was titled, Gender Equality after the Women's Euros - Are we nearly done?
Phelps touched on the fact that participation in sport is driven by stereotypes, women mainly use it for weight control whilst men see it as social time with their friends.
There was also talk around the use of language and how men are described as strong and fast whilst women's sport language focuses on their marital status and age. Language can have such an impact in golf, a simple change like ladies tee to forward tee will make a big difference.
In another talk we heard that gender stereotypes begin from birth, with girls' traits not aligning with being sporty, so they are often not given as many opportunities to play as boys.
We all know that golf stereotypes can play a big part in stopping women and girls from participating. My takeaway is that this is not just an issue in golf but we must still continue to challenge the outdated stereotypes associated with the sport.
Increasing Visibility
A point that continued to recur throughout the two days was the need to increase the visibility of women and girls in sport. This is from grass roots to elite level.
At elite level, if you can increase visibility, you can drive demand and by driving demand you can increase investment. I appreciate this is quite obvious but is something we struggle to achieve in the women's golf space.
Research from the Women's Sport Trust has shown that women's sport audiences are growing, in particular those just interested in watching women's sport. Take golf below, where 49% of those watching the AIG Women's Open last year only watched that event and not The Open.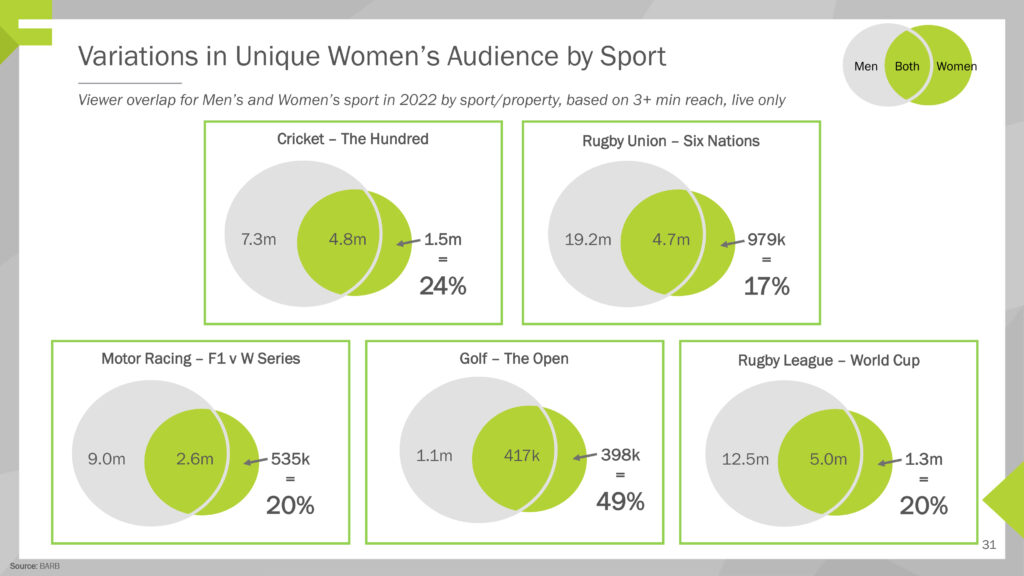 Sally Horrox from World Rugby said something that we should all take note of: "There is a difference between marketing sport to women and marketing women's sport."
As we continue to look to increase the visibility of women and girls in golf:
There needs to be a plan, it can't just be a one off campaign
You need to know the audience you are targeting
Storytelling is important
Whilst building excitement (around a particular event) is key to growth
Women's Health
How much do we as women know about our own bodies? As a woman, I thought I knew quite a lot. That was until I started to following The Well HQ. Through a resource-heavy website, free talks and new book, I realised I was woefully uneducated about my own body.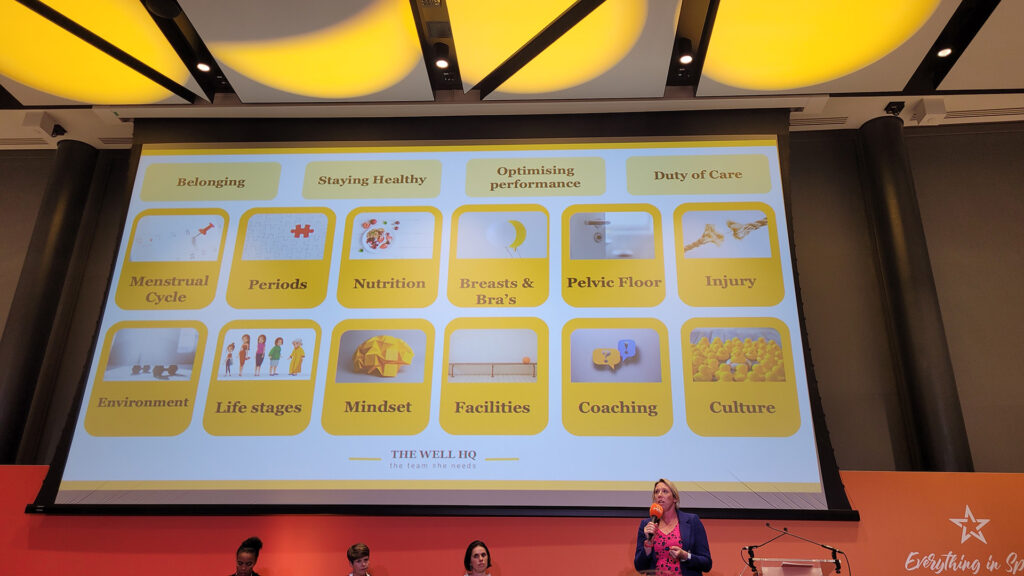 We focus so little on women's health in the golf industry. I would guess that most golf clubs don't ever really consider women's health as a topic for discussion. Of course there are debates around toilets, in most cases the lack of them, but do we ever get down to the nitty gritty?
Dr Emma Ross from The Well HQ gave a fantastic presentation on their mission to redesign sport for women and girls. They were joined by England Netball, who you would think would have women's health nailed due to it being a sport predominately played by women and girls. Yet as a sport they have experienced a 20% drop off of players who gave up after having a baby.
If netball has been losing 20% of players then what potential figure could golf lose at this life stage?
Together they have launched a website called NETBALLher which I highly recommend you visit as it covers so much about women and girl's health.
We need to talk more and take action around women and girl's health in golf. This is an area we are going to focus on more here at Women & Golf going forward, because if we don't who will?
Role of Men
The role of men in sport came up a lot at the conference. With sport as a whole being male dominated, the importance of having male advocates at all levels cannot be underestimated.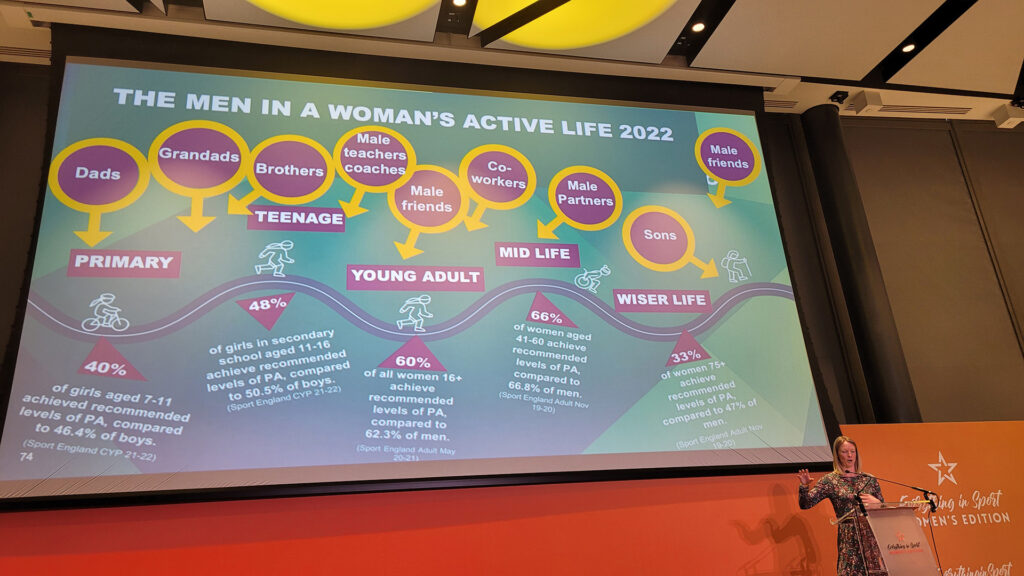 Women in Sport gave a talk on Why Men Matter for Women in Sport. As you can see from the above slide, men are pivotal along the whole of the sport journey.
Looking at the role that Dad's play in getting their children in to sport, their report found that 31% of girls are encouraged and supported by their Dads to be active in comparison to 50% of boys. Lisa West who was speaking on the day said that supportive Dads were key to keeping girls in sport.
I am all for women supporting women and raising the profile on women in golf but are we involving men enough in our discussions around women and girls' golf?
As a guess I would say that men made up about 25% of conference delegates and speakers. There would definitely be an argument to say that more men should be encouraged to attend these sort of conferences and as a male friend said to me:
"Women talking to basically just women doesn't seem the best way to real progress."
It's a reminder to keep men engaged in conversation around all areas of women and girls golf so we can keep seeing change at all levels of the game.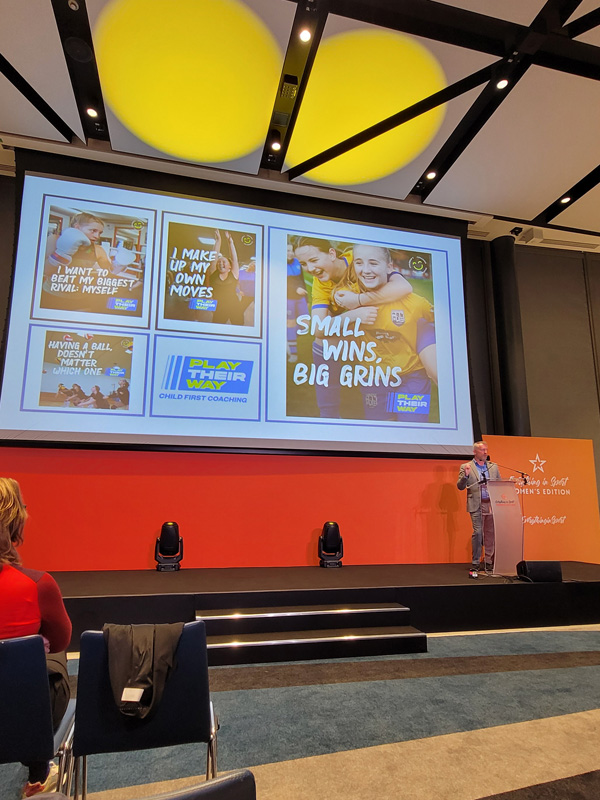 Embracing Technology
Talking of change, change has always been something that golf has often been criticised for...embracing and adopting it has proved difficult at times for men and women.
When it comes to embracing new technology, these talks were quite over my head. Apple's new Vision Pro, further insight into AI, Chat GPT, Web 3.0 and NFTs.
One thing is for sure, they're already well established and more is coming, as an industry we need to embrace them and women's sport has the opportunity to be at the forefront of this movement.
Is golf ready? I don't think so, but you can be sure that there are people in the industry embracing some, if not all these technologies. Of the above, I know little about Web 3.0 - so I have subscribed READY as their founder Lucy Mills was so passionate about what this new iteration of the World Wide Web could do for women's sport.
What could you try?!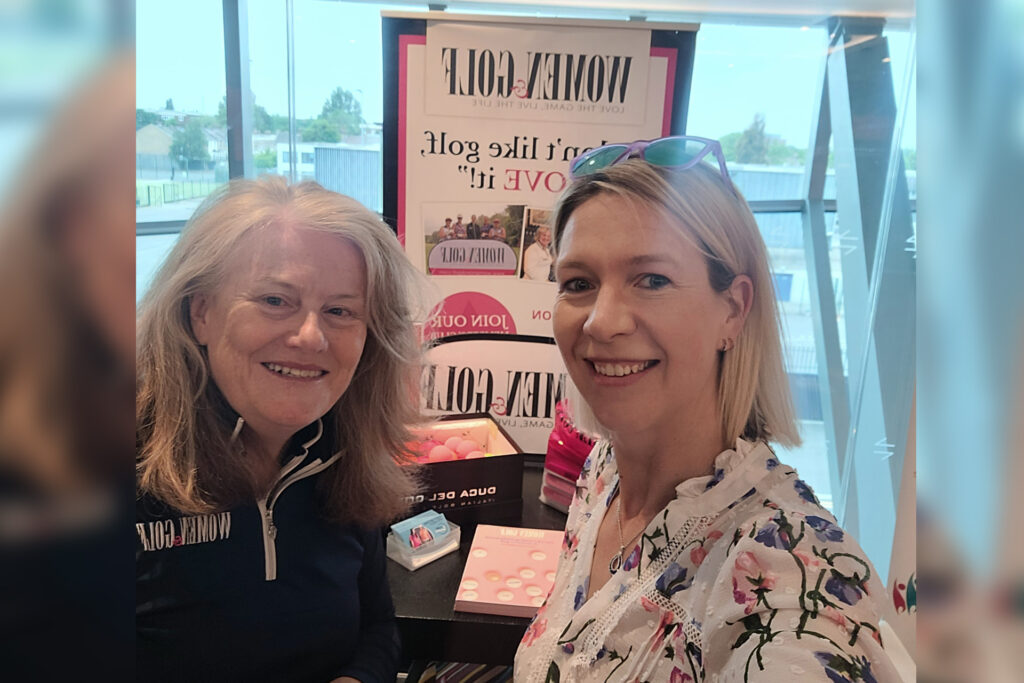 I mentioned about waffling on for thousands of words, I think I may have done just that anyway. I haven't even mentioned the great networking that was also available. I came away totally inspired by my two days at the Everything in Sport Women's Edition conference and hope this brief-ish insight has given you some inspiration too.
Find out more about future Everything in Sport conferences by visiting their website here.
Back in February 2023, Emma attended the Everything in Sport Women's Edition Golf Day - find out what it is all about how and she got on.