The legendary golfer has spoken out about how golf needs to make itself seem more cool and attractive to women.
Annika Sorenstam has voiced her opinion on what needs to change in order for more women and girls to take up golf.
Amongst other issues, she noted that many golf clubs need to improve things like their "small, very dated" ladies' locker rooms and make women feel more welcome when walking into a clubhouse.
She was speaking at the first ever Virtual Women's Leadership Forum hosted by the R&A and Mastercard, which I was lucky enough to attend on behalf of Women & Golf.
Designed to encourage change in golf and make it more inclusive, 200 guests attended (virtually) and guest speakers included 10-time major winner Annika Sorenstam and Renee Powell, the second African-American woman ever to play on the LPGA Tour.
A language issue
With only 16 percent of women currently playing golf in the UK, Annika voiced what she believes is putting women off the sport.
"I think there are a few things we can change to make people feel more welcomed and like they want to be there," she said.
"First of all, things like the 'Pro Shop'. If you are new to golf, you could think maybe it is only for the pro to go shopping. It's the language that's a problem."
It's true that there's a whole glossary of new words to learn when you take up golf, and if you don't have a pal or family member to guide you through and explain things, it can be daunting.
"Very dated" locker rooms
She also pin-pointed that a lot of clubhouses don't do enough to make women feel welcome.
"The ladies' locker room is often a last-minute thought – small, very dated. Today we all know there are so many things people can choose do with their time and money – we need to make golf attractive," she said.
"We want the sport to be fun and be more welcoming for women and girls."
"Let's start making it cool, preserve the history and tradition, but have modern thinking. We've got to get girls comfortable with the game of golf and chasing their dreams."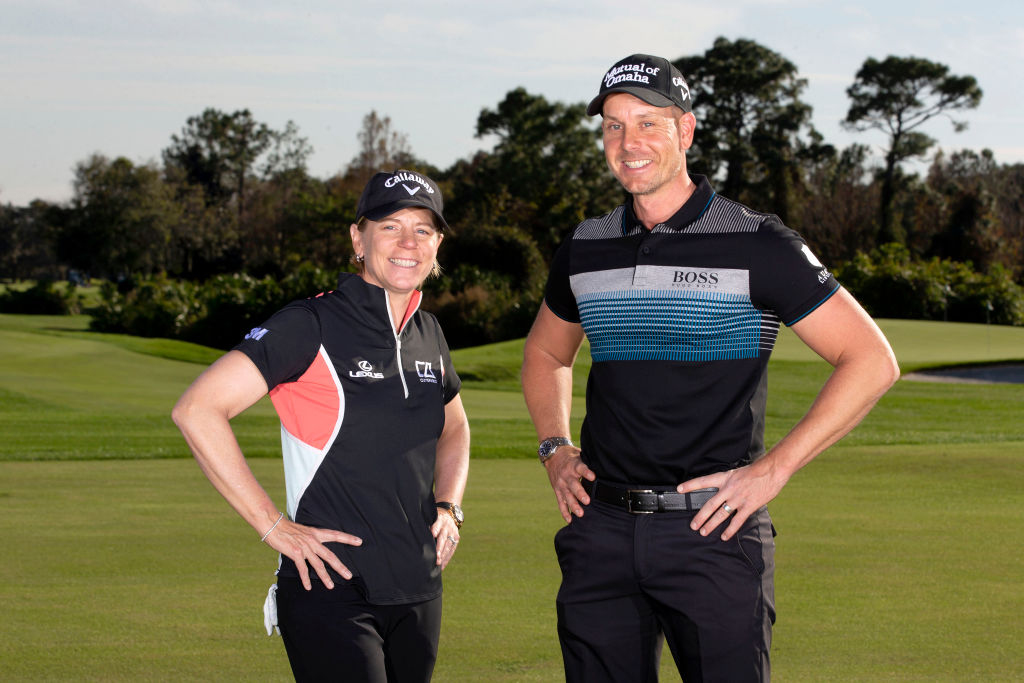 Inspiring the next generation
The much-loved golfer, who will host the Scandinavian Mixed event with fellow Swedish star and major winner Henrik Stenson next year, also stressed the importance of celebrating women's successes in the media and using the power of social media to inspire.
"It's all about a team effort from everyone," she said.
"The more I played the more confident I got and to challenge myself to be
better. That is the message I'm trying to share with the girls I work with in
the ANNIKA Foundation; we have 600 girls that play every year and over 60
different countries represented. It's important to give them that confidence
and let them know it is possible."
A positive start
Recent Datatech figures revealed that in the USA in July rounds played were up by more than 10 million versus 2019, and equipment sales have sky-rocketed too.
Also speaking at the forum, Renee Powell noted how encouraging this has been to witness.
"I have found many women wanting to take up the game of golf this year, with their friends or partners," said the legendary American star.

"The more programmes, clinics, events like 3-hole and 9-hole golf and going
into schools to talk to young girls is going to help grow the game. It's one of those sports that has so many virtues to it and I think very often
women don't realise it. When they start, they want to keep going and
get better."
There's more of a buzz around women's golf right now than there has been in ages, and we're very hopeful that it will just keep on building and building as we go into 2021.