Editor Emma Ballard speaks to Caitlin Farley - Manager, Product Marketing at Cobra Puma Golf about her career in golf and Cobra's women specific products
When you grow up with Torrey Pines in your backyard, it's sort of inevitable that golf will be part of your life. For Caitlin Farley, Product Manager at Cobra Puma Golf, her love of golf started when she was 10-years-old, she played throughout high school and college years and then looked for a way to combine her passion with a career.
Unsure of what career path to take, she used her contacts within the golf industry to find out what was available. When an opportunity came up at Cobra, she applied and started out in Customer Service. What started as a temporary 12-month contract has now been eight years where Caitlin has gradually worked her way into the product world working alongside Research and Development (R&D) and marketing. She has learnt about all the different aspects that go into product design and development.
On a day-to-day basis she works across various product lines from metal woods to irons. She is there every step of the way from conception to delivery, helping R&D make various decisions on design, colourways, branding, product naming, and pricing.
As well as being able to combine her passion with her job, one of the most rewarding parts of her job is being able to have a say and an ability to affect the products that Cobra bring to market.
We got five minutes with Caitlin to talk through Cobra's women's clubs, why they are designed the way they are and the benefits they bring to golfers of all abilities.
Looking specifically at the Cobra's women's golf clubs – what input did you have and what look and feel were the design team going for?
At Cobra, when it comes to women's products, it's not about using a men's head and a men's colourway and putting a women's flex shaft in it. We really want to understand the variety of women that are involved in the sport because it spans a broad range of golfers.
As a beginner, it's about getting over the hurdles, the potential intimidation factor and entering into a space that's generally thought of as a man's world. We need to understand what they're trying to get out of the sport, what their level of commitment is and their skill level and ability.
That's why we don't just offer one range to women. We have a wide-ranging set of product lines that are dedicated to the different types of women golfers we're trying to target.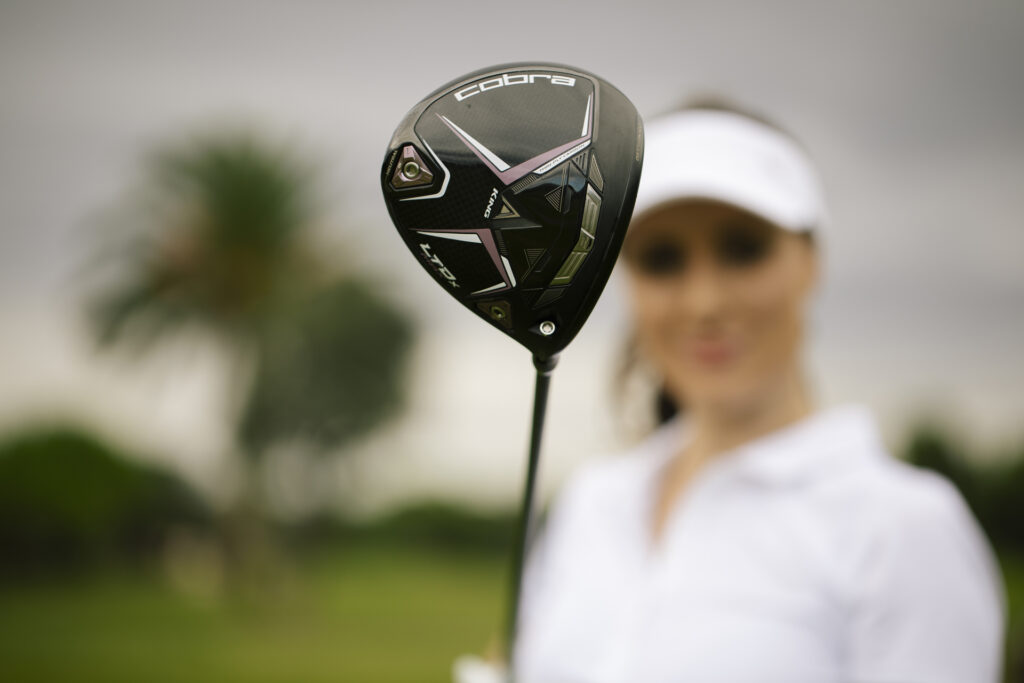 The LTDx line, which spans from woods to irons, is our higher price tier as it offers the level of technology and is a product that's designed for a woman who is more invested in the game. They may have a stronger swing speed and may have previously been custom fit for their clubs. This range offers more adjustability with different loft and weight combinations they can choose from and be fit for.
Then we have Air-X which is our entry level price point product line. It's designed to be extremely lightweight. This is specifically for women that have smoother swing speeds, that are looking for something that's easy to swing and easy to get the ball up in the air. The price point also means they may feel comfortable with investing in it early on when they're a beginner and developing their skills. The Air-X comes in woods to irons and also a complete set. The complete set makes it really easy if you don't want to try to figure out what clubs to piece together, it's an all-in-one set that has everything they need down to a putter and a bag.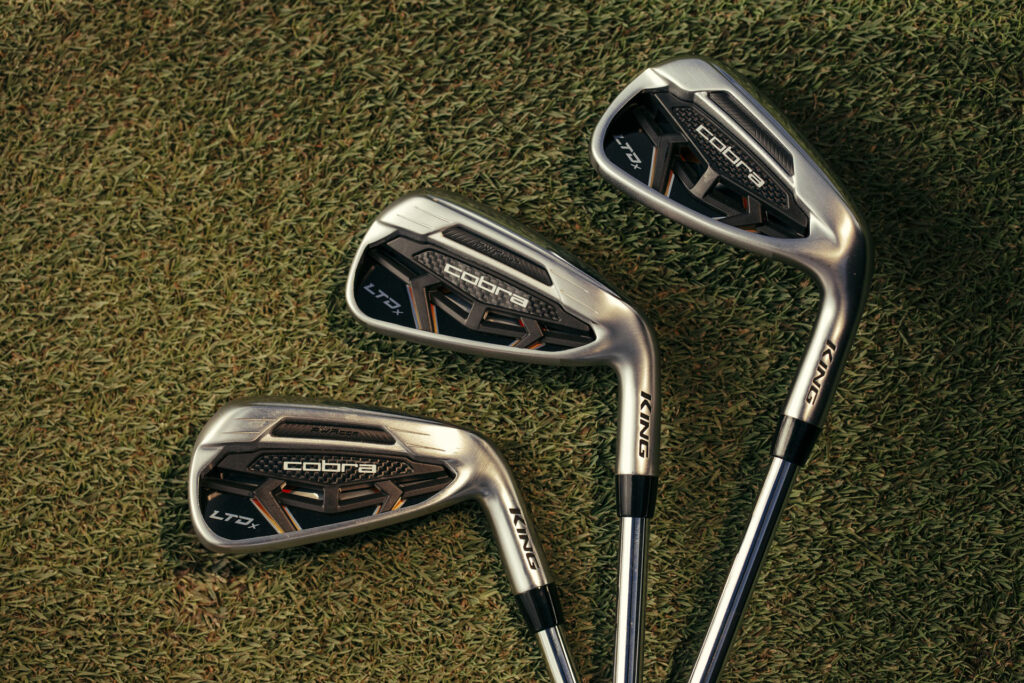 The last women's specific product line we have is T-Rail. When we do our research on women golfers, we see a lot of women using a range of hybrids in the set. This is due to most women having slower swing speeds compared to men, which means they find that can be more prevelent distance overlap in the longer iron end of their set. That's why we designed this hybrid iron set. The stock set makeup comes with two hybrids and five hybrid-irons that are shaped similarly to what a hybrid looks like. However, they have a lot of characteristics of an iron, like a flatter face to help the golfer get a little bit more control and accuracy as they go from their mid irons to their wedges. We look at this as a foolproof set that anyone of any ability, whether they're beginner or stronger golfer can use to get high launch and easy distance.
What about when it comes to the colour?
We don't just design the women's products with different weights and technologies, we also factor in the personalisation aspect of it, which includes the colour. We offer women's specific colours in each of the product lines that I just talked through in more feminine colours.
I'm not saying that women are stuck with playing pastel colourways, they also have the option of playing clubs that men choose, we just want to give them another colour option. So that they have plenty of options to choose from. And if they want to make a particular statement in their bag with a unique colour, they can do so.
Colour plays a small part in Cobra club designs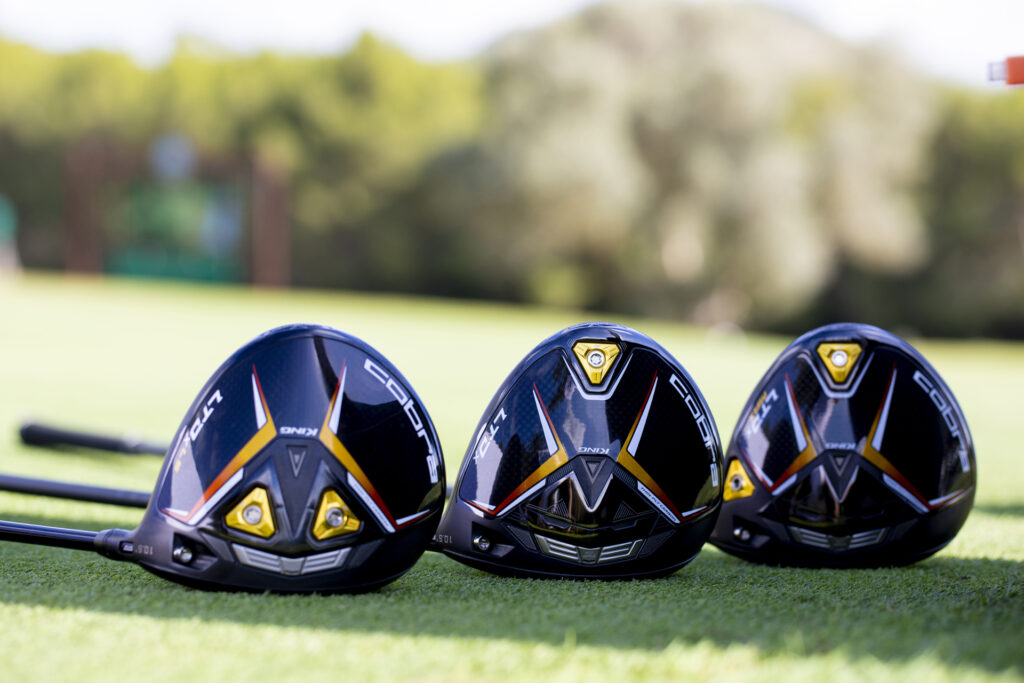 There are a lot of things to factor into the designs that we create. First and foremost, we design women's products to launch high, long and straight. This is a particular focus point for any beginner woman golfer, you can see how quickly they get frustrated or discouraged when they can't get the ball up in the air. That means we design the club heads, let's take the driver as an example, with a slightly weaker loft than the men's head. The higher loft with a slightly slower swing speed can help maximise carry distance. This will give the golfer confidence.
A lightweight shaft is used to help with a better feel through the swing and you can create speed more easily. We then use a smaller diameter grip that's going to feel better in their hands. So, it's not just a colour, it's all of these factors that go into creating a club that has better feel to help them get more confidence when they use those products.
It tends to be thought that there are two different types of golfer – men and women but we don't need to pigeonhole them all into one product types or another. That's why custom fitting is so important. For me that's the key thing, to encourage women to come along and to get fitted and to try it and understand. They're going to see the exact same benefits that a man would see, regardless of the colour of the club and we've got products to suit them and help them improve their game.
Are there many women that work in your role across the golf industry?
Overall, across the golf industry, I think the percentage is pretty consistent across the board, even among women participants in golf, not just women who work in golf, I think it hovers around 20 to 25% pretty consistently. When it comes to R&D, I definitely don't see a lot of women across the different golf companies I know. One of four, I want to say, in R&D. We do have a decent number of women in in marketing team that I work with too.
I think part of the reason that Cobra brought me on was to bring a different perspective to the way that we design products for women. It's good to have a woman's perspective when it comes to not just colour, but understanding what women want and need out of a golf product and the game itself. I can be a little bit more invested in doing focus groups and interviews and learning more about what women want and then bringing that to the table when we're making those decisions with colours and designs.
Find out more about the new COBRA KING LTDx range of drivers, fairways, hybrids and irons here.