Could you be a guide for a blind golfer or do you know someone who would like to get into golf? England and Wales Blind Golf are asking for your help.
When Lee Westwood tells you that this is the right golf club to join, are you going to argue with him?!
Frances Radford certainly wasn't when Westwood spoke to her after he had given a golf clinic at his home club Worksop in North Nottinghamshire. Frances's husband, Peter, was a member and Frances had gone along to keep him company.
The club that Westwood suggested was England and Wales Blind Golf (EWBG) due to her failing sight which had left her with only peripheral vision in her right eye. Frances got so much enjoyment from playing golf before osteoporosis forced her into retirement. Her only regret was that she had been the only woman playing in the association. Something that she is still passionate about changing today, as the EWBG looks to attract both women guides and golfers.
Recruiting more women into EWBG
Frances hopes that the lack of women at EWBG isn't anything to do with common stigmas around golf, she said:
"I can't understand why blind and visually impaired women don't want to join. Perhaps it is because they think that they won't be as good as the men or the men won't want to play with them. That's certainly not what I found."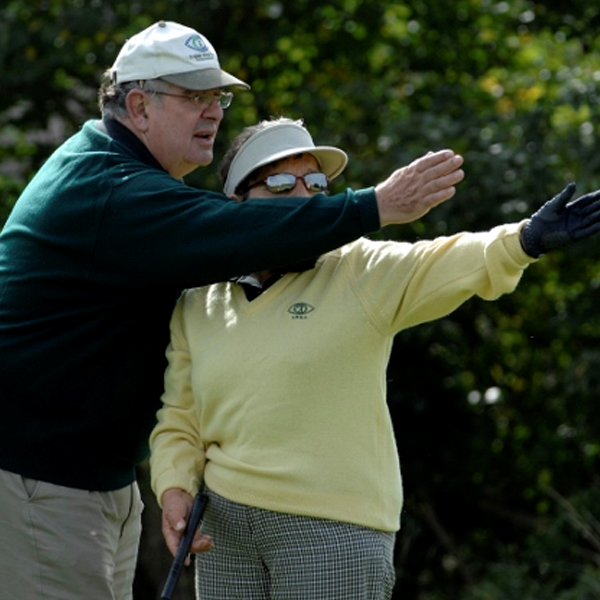 Frances recalls being asked by several of the EWBG male players to partner them in golf tournaments:
"A lot of the men would tee off at the first and hit their drives all over the place. They liked playing with me because I hit the ball straight down the middle."
Playing golf and being part of EWBG
Frances started to lose her sight when she was working at her local DHS finance office in Worksop and found that golf gave her the opportunity to make friends outside work as well as be with those who understood the problems that she was facing.
Her husband regularly acted for her as a guide, lining up her putts and making sure that her alignment was correct as well as locating the ball which was, as often as not, straight ahead of her on the fairway. Now in her mid-80s she only stopped playing golf five years ago.
On playing golf, she said:
"I really enjoyed it and was also able to play regularly at Worksop with my husband. I am sure that there are lots of women like me who would enjoy it too."
Barry Ritchie, chairman of EWBG, added:
"The biggest hindrance to playing blind golf is finding a guide. There are a lot of people who would really like to play who can't."
Which is why the drive is on from the EWBG to find women who are prepared to guide as well as for the blind who want to take up golf.
For more information on England and Wales Blind Golf visit https://ewblindgolf.co.uk or contact EWBG secretary Andy Gilford at [email protected]