Tandridge report back after their very successful trip to Spain to take part in the Annodata Golf Club Classic
Tandridge ladies entered the Annodata Team Matchplay tournament for the first time in 2022 spearheaded and captained by new member Adele Young.
Matches are played against local clubs first and then further afield as the team progresses.  With various Tandridge ladies taking part in the matches which began in March we won through six rounds to find ourselves in the quarter-finals playing away against Denham. 
Having never played there before and with the M25 to contend with for an early morning tee time it was decided that we should head over the day before, have a practice round and stay overnight.
We had a very close match with the Denham ladies.  With 4 matches finished the score was two-all with the final match all square on the 18th tee!  Both players were on the green of the long uphill par 4 for three leaving their teammates standing by on tenterhooks and trying not to put them off!  Ann Waite for Tandridge managed a magnificent 2-putt from a tricky position while her opposition left her second putt just a few agonising inches short!  Game, set and match to Tandridge and we were off to Spain for the semis and finals the following March (2023).
Around 400 clubs had entered this competition and we were down to the final 4!!
Annodata Team Matchplay Final in Spain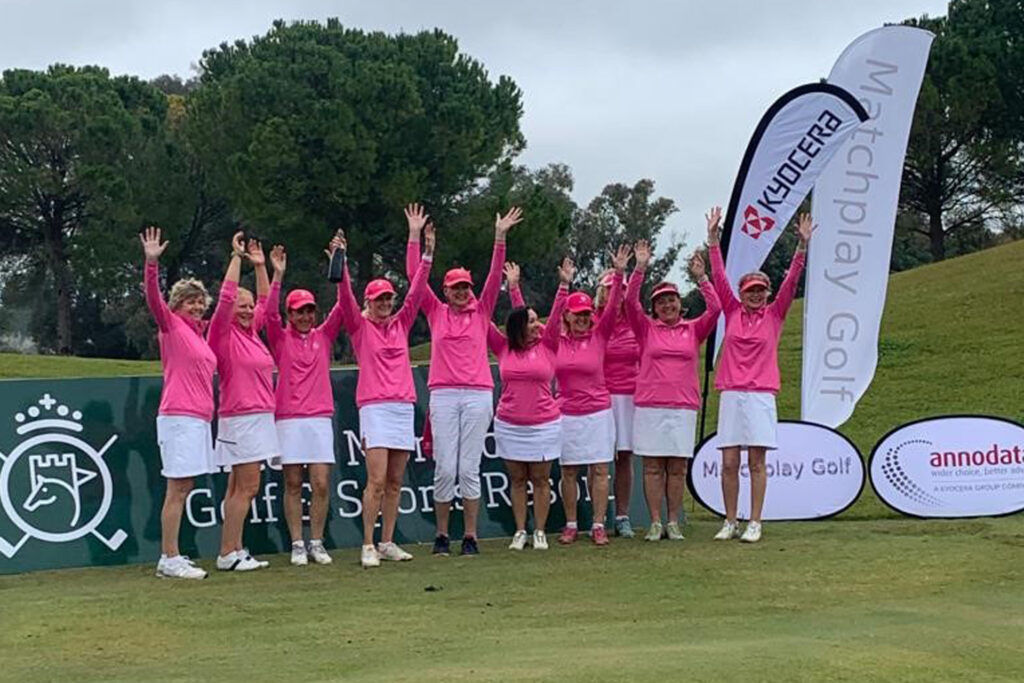 Fast forward to March 2023 and 10 excited Tandridge ladies travelled to the Montecastillo Golf Resort in southern Spain. Arriving in time for a couple of practice rounds we hoped the rather grey rainy weather would improve for the matches - sadly a vain hope!
We were drawn against Glenbervie ladies from Scotland in the semi-final.  Thinking they were a strong team we decided to play our lowest and most experienced players with the other five doing the probably harder job of caddying!
We had a great match with the delightful Glenbervie ladies and managed to win 3-2 with our 4th player Judy Houlden clinching a nail-biting win to get us through to the final.  Great celebrations ensued (we had not expected to win) and several bottles of Cava later we realised we had better calm down and prepare for the final the following day!
Deciding to stick to the winning formula the line up for the final with their caddies was Juliette Dunlop and Nikki Wood, Tara Easton and Val Howard, Sally Everest and Judy Steeden, Judy Houlden and Gerda Biggs and finally Adele Young and Rachel Newns. 
Again we had delightful opposition in Sandmartins but the weather was not particularly kind.  Tandridge won the match 3.5 to 1.5 in pouring rain and there we were - the champions!! 
What an exciting few days!!
The organisers put on a fantastic gala dinner and presentation evening that night for all four ladies and four men's teams so we had a chance to party the night away!
For anyone interested in the now Kyocera/Annodata Golf Club Classic, please visit the Matchplay Golf website.