A report from Puttenham Golf Club where Debs Sparham, a former headmistress, chose an appropriate theme for her Captain's drive-in
Puttenham Golf Club, in Guildford, Surrey, held their AGM on Monday 21st March, where the successful inauguration of the Lady Captian, Deb Sparham took place. Afterwards, preparations were made for the 'Captain's Drive-In' which was to follow at the weekend.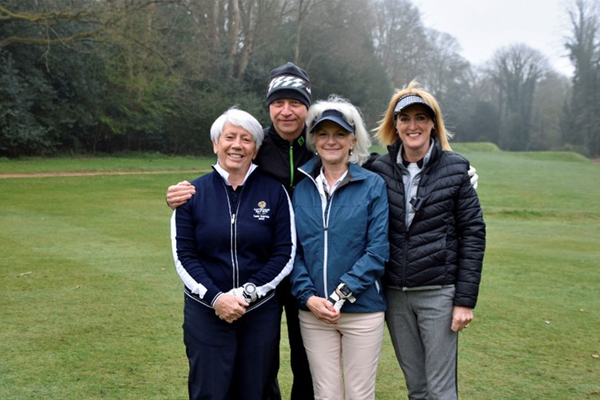 An early shotgun start at 8.00am was had by all with the clocks going forward and a drop of temperature of at least 10 degrees! However, there was a great turnout for the 'Pot Pourri – Bowmaker' competition with both Captains playing with the outgoing Captains, their Vice-Captains and one of the Club Professionals.
More members arrived to join us in the bar once the competition had finished to watch the Drive-in. Several of the ladies went round the bar and terrace to sell the pegs to guess where the Captain's drives were likely to come to rest.
Whilst all this was going on, the Ladies Committee were upstairs in the changing room preparing themselves for the Drive-in that was about to take place!
A school-themed drive-in
It's been customary for Lady Captains at Puttenham to have a theme and outfit for the Drive-in, so it seemed an obvious decision for Debs to choose school as her theme as she had previously been a teacher for 38 years.
The Ladies made a great entrance having waited till everyone was out on the tee box for the drive-in and then the Lady Captain marched out wearing mortar board, gown and cane with her naughty school-girl committee lined up behind her!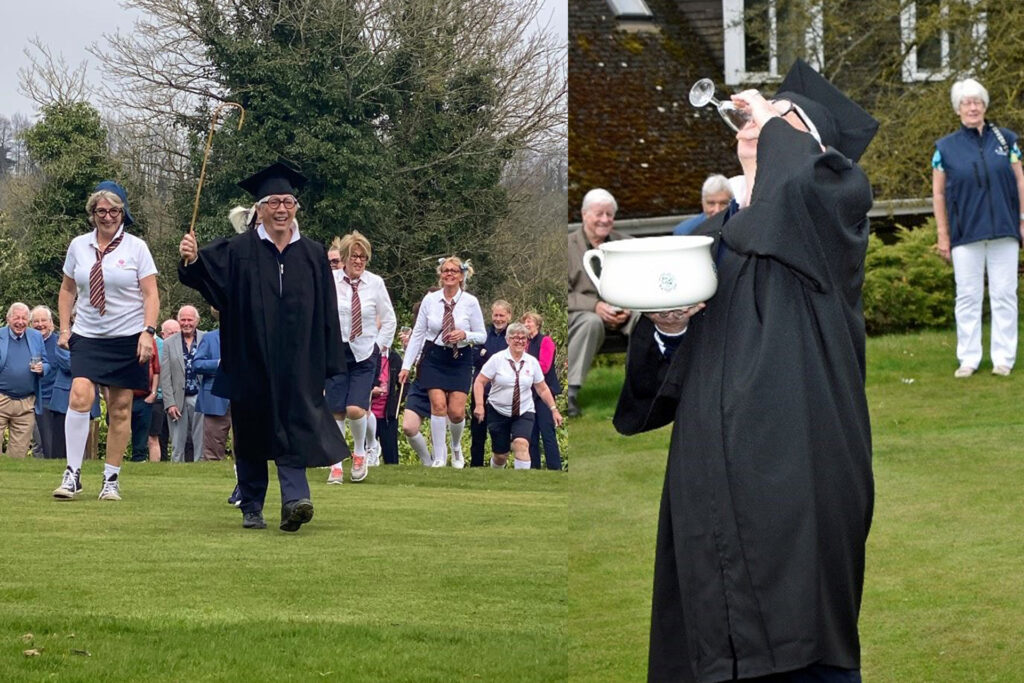 Luckily her lovely Vice Captain Karen Shanks, was kind enough to put prosecco in the 'Po' which then had to be downed in one go, prior to swapping the cane for the driver.
With a deep breath and concentration, Debs managed to hit the ball up the fairway in full regalia.
We raised over £400 for the Captain's Charities - Shooting Stars and Phyllis Tuckwell Hospices.
Ladies Golf 'House Competition'
At the AGM, Debs informed the ladies that as a bit of fun, she had decided run a Ladies Golf 'House Competition' for 2022-2023. The houses were named after famous lady golfers from the 20's and 30's with every Lady Member being allocated a House ensuring there was a balance of handicaps split across all four houses.

Four House Captain badges and appropriate coloured badges were issued on the evening. 
Over the year, the ladies can earn house points as an individual and for their team with results being announced at next year's AGM.   We are looking forward to an exciting year!!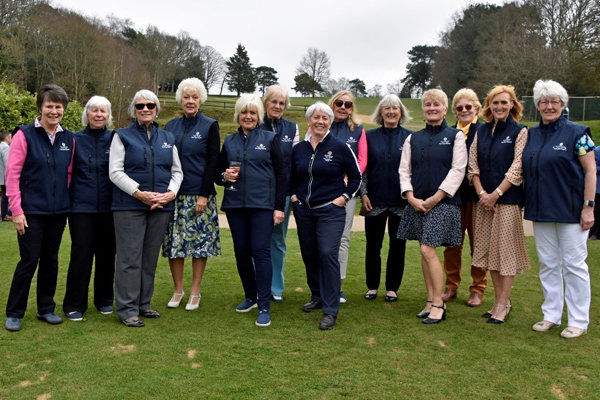 Lady Captain Debs Sparham with all of the previous Captains at Puttenham once the 'ordeal' was all over!
Thanks to the Ladies Committee at Puttenham Golf Club for sharing this fun Captain's Drive-In report.