The Caribbean Golf Society are actively trying to recruit more women into the society and the game. Captain of the CGS Eddie Wedderburn explains.
I had the pleasure of meeting the Captain of the Caribbean Golf Society (CGS), Eddie Wedderburn, back in February at bunkered LIVE. I have to confess that I had never heard of the society even though it is based in the Midlands like me. We had a really interesting talk about how the CGS is looking to recruit more female and junior members. So, I asked if he would put it into his own words.
Here Eddie explains what the CGS is all about, when he joined and their current drive to get more people from the African Caribbean community to play golf.
Tell us more about the Caribbean Golf Society (CGS)
The CGS started in the West Midlands 16 years ago to give people from the African Caribbean community a space to enjoy golf. Most of our members were not members at a golf club for various reasons so being a part of the society provided the competitive golf and friendship enjoyed by the wider golf community.
The inaugural event took place at the Lickey Hills Golf Club in Birmingham on Good Friday 2007. Fourteen golfers took part in our first event, which turned out to be a very sunny day for the time of the year. We have since held many events across the Midlands with our membership growing from those first fourteen golfers.
Our Mission:
Provide a networking outlet for people in the region
Utilise golf for personal growth and career advancement
Provide educational and mentoring programs to improve golfing skills and personable skills to the youth in the region
Increase the knowledge, self-confidence and enjoyment of the game of golf
We normally run one event a month from April through October, with the majority being held on a weekend day. Our first event is taking place on April 15 at The Staffordshire Golf Club – a poignant event due to the club being set to close in May.
At the end of the season, we hold an awards night for everyone which is always well attended by members and their families.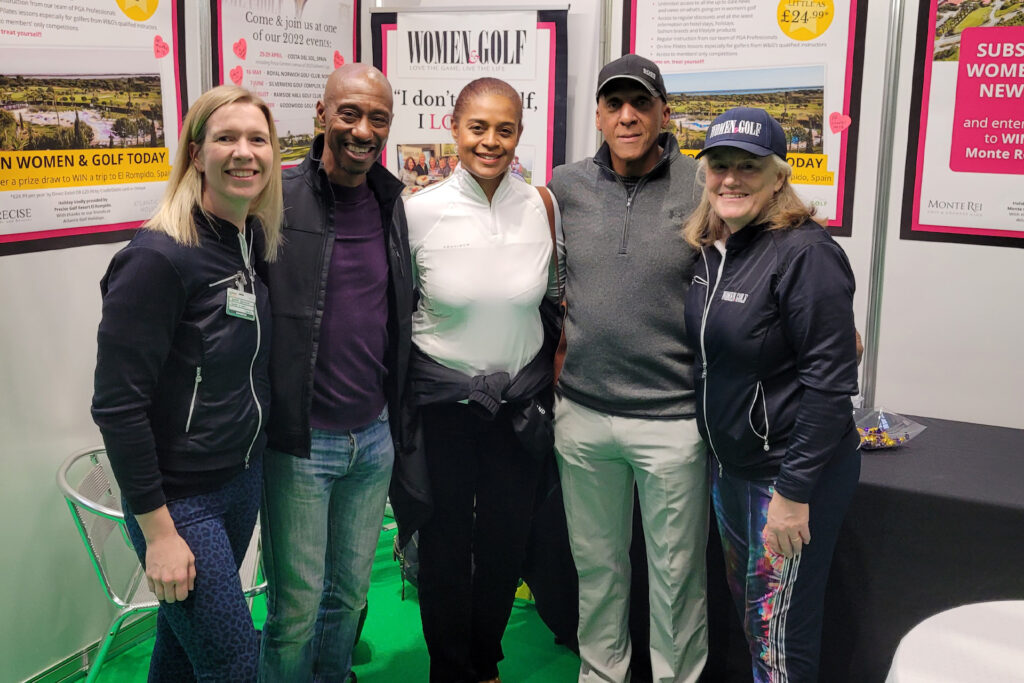 Finding golf after a career in elite sport
I personally have been a member of CGS for seven years and I am now the current Captain. My love for golf developed once I retired from elite sport as an Olympic Steeplechaser. I needed a sport that was competitive and a few of my peers introduced me to golf. I have grown to love the game and I'm keen to do my part in increasing participation within my community.
Growing the CGS community
Whilst we have a strong membership in the CGS, most of them are men and we are keen to see more black women and young people join and enjoy this great sport. Our committee is currently exploring ways that we can make our events more family friendly to make the golf days more accessible for everyone and we are working with our women members to support them as they run taster events focusing on black women.
Running taster sessions
We have four taster sessions for women running throughout April, which we have received a fantastic response to with all sessions now having a waiting list. It's been so encouraging to see that the demand is there, once we invited the wider community to join.
Taster sessions:
April 1 – Stonebridge Golf Club
April 8 – Edgbaston Golf Club
April 13 – Aston Wood Golf Club
April 22 – Oakmere Golf Club
All of these sessions are free and specifically designed to introduce black women to the game of golf.
Why join a society like the CGS?
There are so many benefits to joining a society. Not everyone will join a club so a society can be a good way to get involved with golf, especially now as England Golf facilitates handicaps for non-club members. Golf is a great way to build relationships and play on a variety of wonderful golf courses.
I look forward to the day when I can watch golf on my TV and see golfers both on the men's and women's tour that represent our community. We are doing our part to try and bridge the gaps that exist and provide opportunities for people from our community to experience golf in a way that suits them. With the support of England Golf and The Golf Foundation plus sponsors, I am sure we can achieve this.
After all, golf is for everyone.
For more information on the Caribbean Golf Society please visit their website here. Any women interested in women's only taster session should email [email protected]