A first of its kind tournament is coming to High Legh Golf Club in Cheshire this July - ALL FOR GOLF Inclusivity tournament
England Deaf Golf, in partnership with The Golf Group, are hosting the UK's first ALL FOR GOLF Inclusivity tournament bringing together able bodied and disabled golfers, from pros, amateurs and non-golfers, to experience a great day together to enjoy golf without any barriers or accessibility challenges.
So far, the tournament line-up includes George Blackshaw, an amputee golfer and American Golf ambassador, the Junior Captain of High Legh Golf Club and his non-golfer sister, women who have not played before and lapsed women golfers who haven't had the time to play. As well as golf pro Natalie Lowe and a plus five golfer. We have deaf golfers, grandparents and grandchildren, a full family playing and our youngest single entry into the tournament is five years old.
England Deaf Golf Chairman, Rod Oaten, said:
"We are delighted to be working with The Golf Group to help realise our ambition to raise the bar with events that engage our community. The event will be delivered with the support of a team of deaf-led golf Activators who work as inspiring role models to all participants in the form of performing and visual skills, and together with spoken or sign language."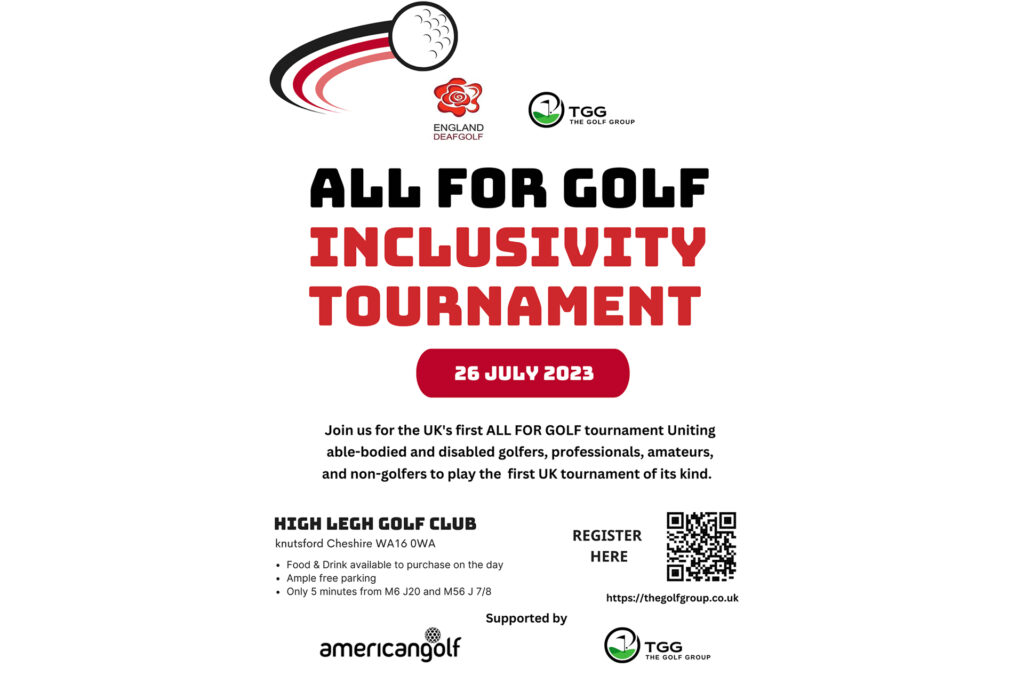 Commenting, Abi Owers, co-founder of The Golf Group said:
"We created The Golf Group to find new ways to bring people to golf. After meeting England Deaf Golf in 2022 and being inspired by their work with the golf community, we wanted to organise an inclusivity event to bring a range of golfers and non-golfers together to reduce barriers and accessibility to the game, and to have some fun."
We are encouraging entries from disabled golfers, non golfers, family teams with mixed golfing and non-golfing ability as well as wife and husband teams too.
The Club House at High Legh Park will be available during and after the event for everyone to come together.
For anyone wanting to sign up to the tournament you can register for free here www.thegolfgroup.co.uk