How the GolfSixes League helped junior golfer Erin Woolnough's confidence in her golf and she hasn't looked back.
'GolfSixes League' – the Golf Foundation's fun team format for juniors – is supporting young players in both the technical and life skills side of the game. Pictured is Erin Woolnough, a junior golfer from Felixstowe Ferry Golf Club in Suffolk, who says GolfSixes League gave her the first confidence to go for it with her golf, and from this introduction she has not looked back.
GolfSixes League is about six-a-side matches held between local clubs. The teams all play six holes in pairs wearing their coloured team shirts. Most teams are mixed – boys and girls who are new to golf, playing for their club for the first time. There are a number of girls' only teams too. The PGA Professional coach at each club plays a crucial role in coaching the kids to get them ready for this first go at competitive golf.
It's a major part of national charity the Golf Foundation's drive to get more boys and girls from all backgrounds enjoying a start in golf with their families and is supported by The R&A and the Home Nations, featuring more than 350 golf clubs across 72 leagues in 2021.
Erin's experience of GolfSixes
Erin Woolnough says of her early experience:
"GolfSixes League gave me so much confidence to trust my shot and to not worry about anything. Six holes, paired with a fellow junior against others who enjoy the game just as much as me; it's wonderful. I have met lots of friends as a result of it."
Later in her first summer of golf Erin won a club foursomes tournament with her father and was soon playing off a handicap of 28. Fast forward to October, 2021 and Erin is playing off 14, is an active volunteer at Felixstowe Ferry, plays for the club team, and was recently appointed as the club's Junior Captain.
Erin has gained further experience by caddying for the men's Stenson Team in competition and on the day of this year's Suffolk GolfSixes League final, where it had all started for Erin, she had to be elsewhere, playing for her club's team in the Suffolk Ladies County Golf Association Final, after winning through four matchplay rounds to get there.
Golf Foundation Regional Development Officer Stacey Mitchell said:
"Erin has become a brilliant young ambassador for her club and the Golf Foundation team is delighted that GolfSixes League played a significant role in her finding her way in the sport. We are sure all at Felixstowe Ferry Golf Club are very proud of Erin."
Erin's father David said:
"Erin will never forget what the GolfSixes League provided her, and now as Junior Captain she will support those who themselves are benefiting from what Erin did only a few years ago."
Erin added:
"I am so honoured to be the Junior Captain for the coming year, and have only really been given this opportunity after representing the club on many occasions, with the GolfSixes being where it all started and fuelled my love of golf. The team spirit of GolfSixes League has provided a foundation that I use when representing the club, and playing in competitions for the county.
"Whilst I am no longer able to play GolfSixes I cannot wait to support our team during my junior captaincy year and I am sure there will be future junior captains amongst them."
About GolfSixes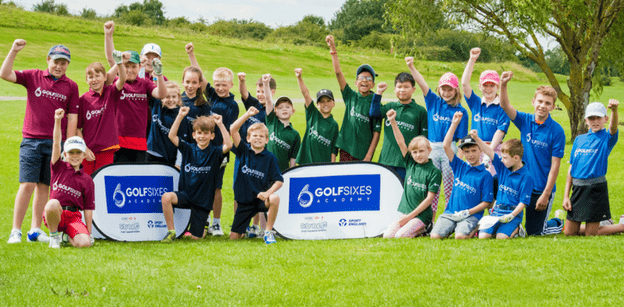 GolfSixes League is designed to be highly inclusive and great for confidence – the children play Texas scramble, which means both players hit from the same place and then they pick the best shot of the two, so there's not so much pressure that way.
Feedback nationally is that kids love it, watched by lots of parents who are supporting both as spectators and volunteers, from organising matches to baking cakes in team colours!
In England, pre-Covid, it was very good for increasing junior membership and the Golf Foundation expects the same this year. Clubs taking part reported a 49% average increase in junior membership in 2019 thanks to GolfSixes League. In all the GolfSixes Leagues in 2019, 28% of the players were girls, a ratio that the Foundation is hoping will have grown when monitoring is completed for the 2021 season.
At each GolfSixes League fixture, 'Skills for Life' medals can be earned by the team which demonstrates their spirit and resilience in playing, and their respect for other players, part of the life skills learning that underpins all the Golf Foundation's work as a charity, as its team believes golf can change lives for young people from all backgrounds.
The Golf Foundation wants to help all children of all abilities to try golf for themselves. Find out more at www.golf-foundation.org