Seventy two ladies from 25 golf clubs came together to celebrate the 80th Anniversary of the Greenlees Trophy
On Tuesday, August 31, East Renfrewshire Golf Club was delighted to host the Tri-Am event and lunch to celebrate the 80th Anniversary of the West of Scotland Ladies Inter-Club Leagues that compete for the Greenlees Trophy.
Seventy-two ladies from 25 different golf clubs in the West of Scotland were represented, with all teams ideally having a player from each of the three divisions.
The weather was calm and mild, with the sun appearing intermittently, resulting in almost perfect playing conditions. The golf course was at its best, having recovered its lushness after a long dry July. 
80th Anniversary celebrations at East Renfrewshire Golf Club
After their round, everyone enjoyed a lovely lunch in the club lounge which had been decorated with balloons and bunting and were able to chat and catch up with old friends.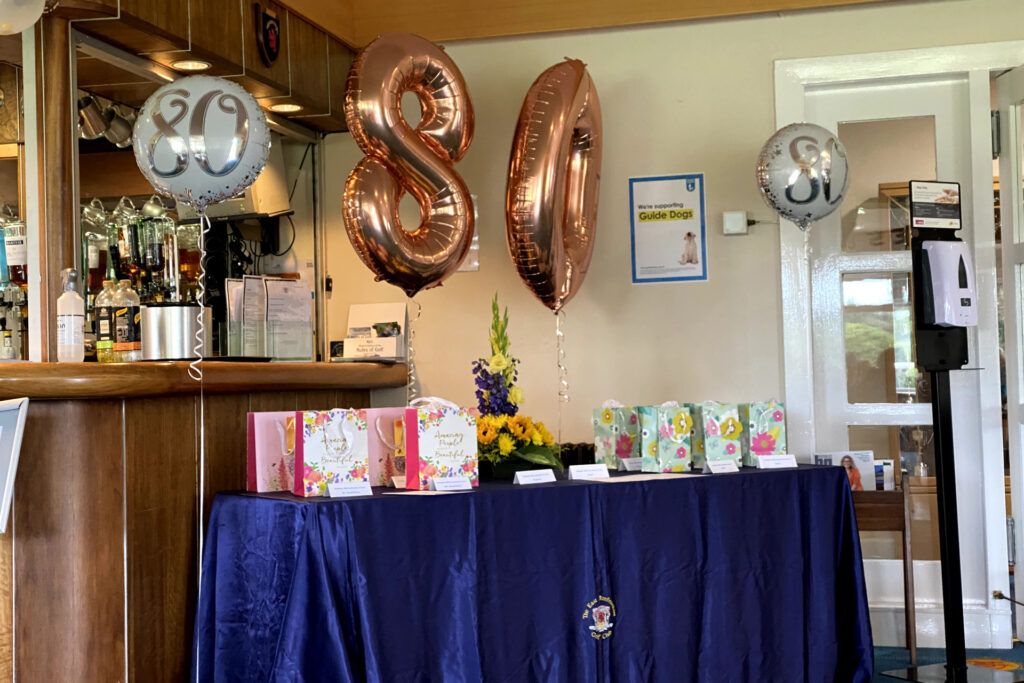 East Renfrewshire Golf Club Lady Captain, Carole Spy spoke before the prize-giving and welcomed everyone, expressing her hope that they had all enjoyed their day. She also gave an insight into East Renfrewshire Golf Club's history of involvement in the Greenlees Trophy leagues.
Carole Spy said:
"I hope you have all enjoyed playing East Ren in perfect golfing conditions and had fun with the bendy driver and left-handed putter on 18th. Watching on, there certainly seemed to be a lot of laughter, there were even several offers to buy the putter."
Val Crawford who organised the day's event had left information leaflets on the history of the Greenlees. What most wouldn't have probably known was East Renfrewshire's involvement.
East Renfrewshire and the Greenlees Trophy
They were invited to take part in the Greenlees Trophy in 1952. It took them four years to win the second division and were then promoted to division one, where they stayed until 1965. The ladies of the day were obviously not satisfied with the demotion and promptly won Division two in 1966 followed by Division one in 1967 where the team remained until 1976.
There was more success in winning division 2 in 1978. Since those 'glory days' East Renfrewshire has had experience of all three divisions taking advantage of playing at a variety of great courses over the years.
We're told that no matter which division a team is playing in or wither a player is number one or number nine or even seven, when they represent their clubs in a Greenlees match, they do it with pride and great determination to get that point for their club.
Prize presentation
The prizes were then awarded by Carole, with Val Crawford, the club's Greenlees Secretary announcing the various winners.
A final vote of thanks was given by Maureen Mitchell, West of Scotland Greenlees Convenor.
Prizes were awarded to:
Winning Team: Anne McGillivray - Prestwick St Nicholas, Susan Griffin - Douglas Park and Kay McColl - Hilton Park 
Runners-up: Pauline Warlow - Cathkin Braes, Irene Boyd - Bothwell Castle and Barbara Aird - Cathkin Braes 
Nearest the pin on 4th – Catriona McHarg – Cathcart Castle
Nearest the pin on 13th – May Hughes – Lanark Golf Club 
Longest drive on 18th – Debbie Watt – Ayr Belleisle 
Longest putt on 18th – June Kerr – West Kilbride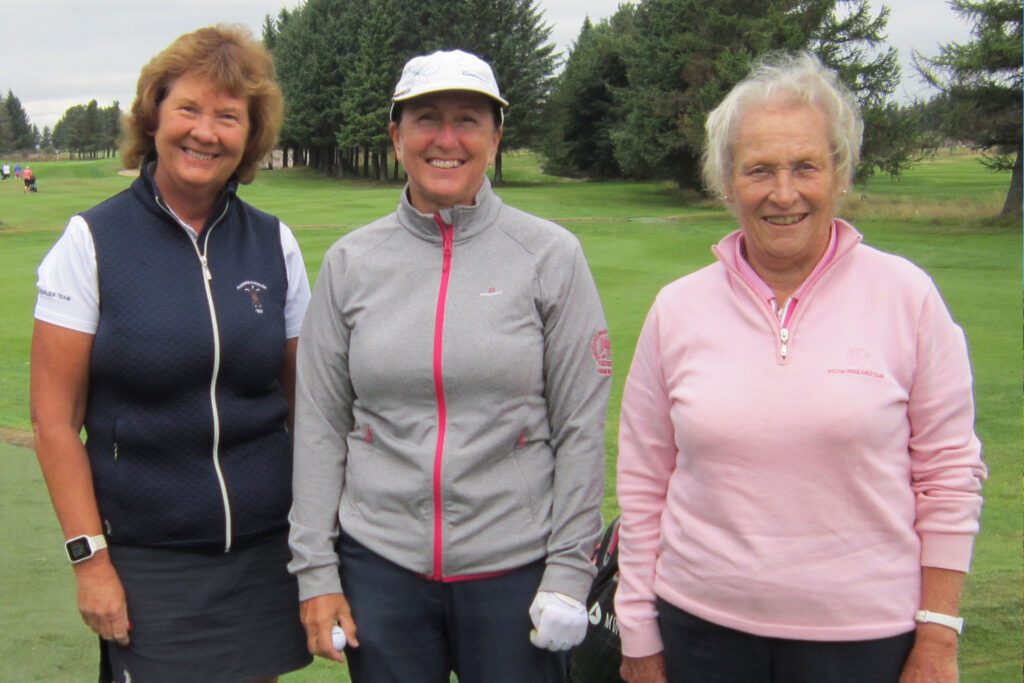 This report was written by Val Crawford – you can read the full report here.
Thanks to Carol Fell for providing us with all the information about the 80th Anniversary of the Greenlees Trophy. You can follow her regular blog Ladies Golf News in Scotland, the West of Scotland and Renfrewshire here.
Find out more about the Greenlees Trophy
What is the Greenlees Trophy?
The Greenlees Golf Trophy is competed for annually by the member golf clubs of the West of Scotland Ladies Inter-Club League. The league has three divisions, currently of nine clubs each, and each club team comprises nine players. It is a match-play competition where handicaps are ignored, and game points are gained by clubs. All the clubs are affiliated to Scottish Golf.
Division 1 winners are awarded the Greenlees Trophy, donated in 1931 by the husband of the League's founder Ysobel Greenlees, Division 2 winners receive a Greenlees Cup awarded by Ysobel Greenlees in 1954 when that division first played, and Division 3 winners receive the Greenlees Shield, first played for in 1986.
About Ysobel Greenlees
The Greenlees Trophy league was founded by Ysobel Greenlees who was a member of the Greenlees Scotch Whisky family to encourage competitive golf for ladies on a scratch basis, and the first year 1930/31 was won by Prestwick St Nicholas. Ysobel Greenlees (née Findlay) was born in Glasgow in 1902 and brought up in Troon. She learned golf at Prestwick St Nicholas Golf Club, becoming Ladies Champion, before moving to Troon Ladies Golf Club.
Ysobel Greenlees became West of Scotland Ladies Champion in 1932, and became a regular member of the Scottish Ladies Team. She was a leading member of the first-ever international British Ladies Team which toured Australia and New Zealand in 1935, playing en route in India; and captained Britain playing France in 1938. From 1939, due to World War II, the League was suspended for ten years until 1949, when Troon won. She advertised in the Glasgow Herald inviting more clubs to join in, which created a second division in 1954, and a third division followed in 1986. She was a vivacious, powerful golfer, and when playing in the Open competitions newspapers reported "her golf gives more aesthetic pleasure to the spectator than any other of the competitors."