Chesterfield Golf Club juniors become the first all-girl golf team to enter and win the Derbyshire County Junior Championship.
Chesterfield Golf Club players Olivia Barker-Sabido, Lucia Maturi, Olivia Streets, Gabby Auld and Eva Myer, whose ages range from 12-15 years old and have handicap indexes from four to 11, claimed the victory in the handicap final at Kedlestone Park Golf Club at the weekend.
The idea to enter an all-girl team was down to Chesterfield's Junior Organiser John Barker. He said:
"We have a strong junior section within the club with some very capable girls who have progressed through our academy. The girls are all good friends and really enjoy playing together so I thought instead of mixing it up with entering an A team and a B team, this year we would have a boys and a girls team".
In their quarter-final, the Chesterfield team had a narrow victory over Burton Golf Club where Eva Myers won her match on the last hole. The semi-final was against Breadsall Priory B team, with home and away fixtures, honours were even after the away match but it wasn't long before the team took control in the home leg with Olivia Barker-Sabido sealing a 6-2 overall match victory.
Derbyshire County Junior Championship final
The final at Kedlestone Park was against the all-male Breadsall Priory A team. It was a wet and blustery day and by the halfway mark the Chesterfield team were losing in three of the four games but the fighting spirit, which has been key to their success this year, came to the front on the back nine.
Lucia Maturi led the way posting the first point on the board with a 3&2 win. Captain Olivia Streets then claimed a half to edge the team closer to the finishing line. The drama then all played out on the 18th green with the Chesterfield team needing to win the hole to guarantee the result. It was down to 14-year-old Gabby Auld to withstand the pressure and drain a very tricky 12-foot putt to clinch a unique victory in county golf.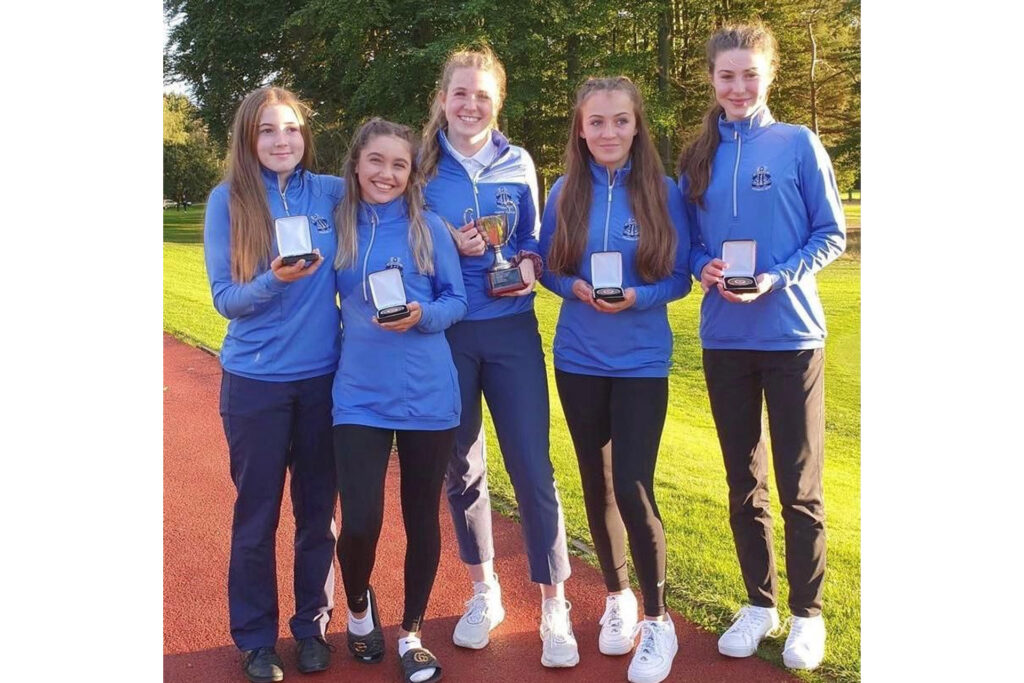 A proud moment for Chesterfield Golf Club
Team manager Steve Myers was delighted, he said:
"They are just a great group of girls, so well motivated that my job has been very easy. I'm so proud of not only the way they have played but also how they have conducted themselves throughout the competition especially as they were a lot younger than the majority of the other teams. The challenge of playing older more experienced golfers just never daunted them at all.
"The average age of the team is only 14-years-old but they coped with the pressure like experienced professionals. They have a fantastic team ethic, side before self all the time. They are great golfers but also great friends and it's been a pleasure to watch them having so much fun."