Trophy triumph for England's Chloe Tarbard & Spain's Adriana Terol at the English Girls' U16/U14 Championships
England international Chloe Tarbard carded four rounds of 75, 69, 73 and 69 to finish on six-under par with an overall total of 286 to win by five shots from Maisie Whittall (Gaudet Luce) at Shifnal Golf Club.
Adriana Terol took home the prize in the under-14 section, completing the 54-hole championship with a final round of 75 for a winning total of 217 (-2) as she became the first Spanish player since Cayetana Fernandez Garcia Poggio in 2019 to win the event.
English Girls' U16 Championship
Tarbard started the day five shots behind the under-16 overnight leader, Axelle Martin, who had led through rounds one and two.
However, the 15-year-old from Royal Norwich thrived under the pressure and dealt well with the ever-changing British weather to overtake Martin and push for her first national title after finishing fifth in the same event a year ago.
By the end of round three, Tarbard had moved onto two-under par and had a three-stroke cushion over Whittall and playing partner Roisin Scanlon.
Then, as the fourth and final round got underway, Tarbard began the way she finished in the morning, with two consecutive birdies to open on holes one and two.
By hole seven, the Royal Norwich golfer had extended her lead further. As she made the turn, Tarbard was four-under for her final round and had five birdies and just one bogey to her name. She showed great consistency to par the remaining nine holes and despite the best efforts of Whittall and Scanlon to reduce the deficit, the England player was able to close out for a four-under par round of 69 and seal a five-shot victory.
Whittall finished second on one-under par following a final round effort of 71, whilst Scanlon (+1) completed the top-three. Matilde Santilli (+4) was fourth ahead of Saskia Owen (+5) in fifth.
Speaking after her win, Tarbard said:
"It means so much, I've been playing well recently, so to get the win feels great. It's exciting to see my game go in the right direction.
"The rain definitely changed the conditions of the course. The greens were quick and I struggled with my putting during the first couple of rounds, but today was a lot better.
"I hit the fairways and the greens and holed some great putts. I holed two 3-footers in a row which boosted my confidence going into the back-nine."
English Girls' U14 Championship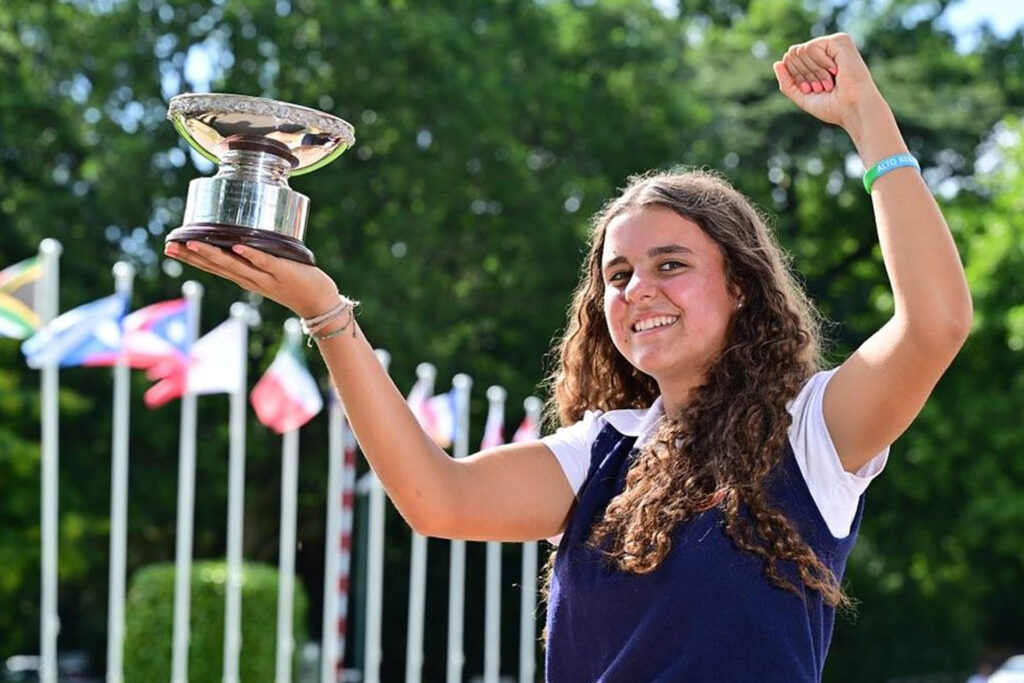 The competition was just as exciting in the under 14's category. Heading into the final day, Terol held a six-shot lead over Annabel Peaford, Anita Marrone and Hannah Lee-McNamara.
The high-flying Spaniard was determined not to let her lead slip as she maintained her presence at the top of the leaderboard through the front-nine, despite having the advantage cut to four shots by the surging Lauren Crump and Anahie Lohner Hutli.
As the chasing pack made their way through 15 looking to pick up shots and pile the pressure on Terol, the Spanish golfer kept a level head and continued to play great golf to keep the lead intact.
An impressive birdie came on the par-five 16th, and despite back-to-back bogeys to close out her round, Terol was able to hold on to win by three shots from her nearest challengers.
This was the Spanish golfer's maiden event in England and she was delighted to emulate the success of one of her favourite players, Fernandez Garcia Poggio.
Speaking after receiving the trophy, Terol said:
"I feel very excited, I've played very well these past three days and it's awesome! It's amazing that the first time I play in England, I win this championship and for me, it means a lot. It means a lot also because Cayetana is my favourite player."
When talking about having her mum watching on to support her, Terol added:
"It was very nice because my mum is my favourite person. She brings me a lot of peace and I love her!"
Switzerland's Hutli (+1) came second after posting the joint-best score of the day, a two-under par round of 71. Terol's playing partner Peaford (+2) was third ahead of Marrone (+3) and Eleanor Lichtenhein (+4).
View the final English Girls' leaderboard here.