A new women's pairs tour has launched in England - who will be crowned the inaugural Women's Pairs Golf Tour champions?
The Women's Pairs Golf Tour is the brainchild of golf enthusiast Morgan Peterson, who is an avid golfer and has been playing the game for 13 years. Like a lot of us, during the pandemic, Peterson witnessed the increase of women taking up golf. As a fan of entering pairs tournaments over the years, she was inspired to set up her own version in 2021 and the Women's Pairs Golf Tour (WPGT) was born.
The WPGT offers golf tournament experiences for female golfers in the UK. The events offer, great courses, a bubbles break halfway through your rounds, a WPGT goody bag, live leaderboards and the chance to meet and play with like-minded golfers.

In 2022 there will five events across England and a final in Oxfordshire, where the top two pairs from each event get to pit their wits against each other to take the title of The WPGT Champions 2022.
Based on the success of year one, the hope is to expand the tour, by at least doubling the number of events in 2023.
The WPGT format
WPGT events are played in pairs, 4BBB (four ball better-ball) format over two days. Where your Stableford score from day one is added to your Stableford score from day two for an overall points score.
The organisers will do the order of play for day two following the completion of the first day. The leading pair from day one will tee off last on day two, like most professional golf tournaments. We will email all of day two start times in the evening when the order has been completed.
The handicap allowance for all players is 85%.
The WPGT venues
Here's where the WPGT will be heading in 2022: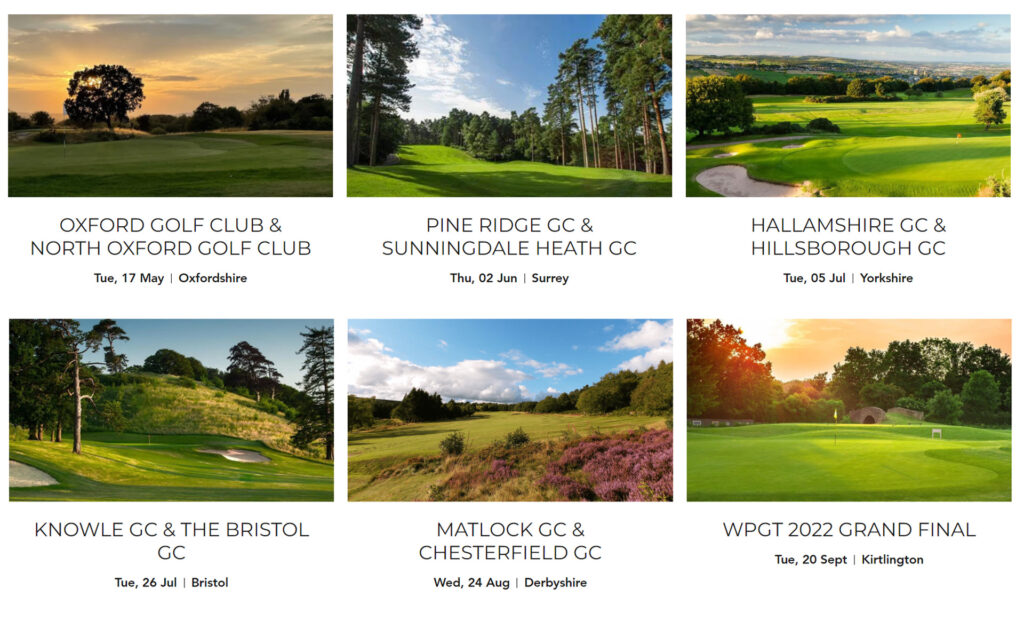 What's included in the price?
Each event costs £215 per pair. Tournament entry for the WPGT events includes all of the following:
- Tea/coffee and bacon roll or Danish pastry/fruit on arrival on day one
- WPGT goody bag for each player
- two rounds of tournament golf
- meal after 18 holes on day two
- prizes for 1st, 2nd and 3rd
- PGA Professionals on hand to assist
- Nearest the pin prizes
- FUN!!
And obviously the chance to be crowned the inaugural WPGT Champions.
Group discounts
If you have a group of friends that would want to take part, then WPGT can offer a discounted rate. Twelve places – pay for eleven get one free. If you have a bigger group, then that's OK too. Just get in touch.
If you haven't got a partner to play with, then you can still enter as WPGT will match you with someone else to play with.
How to book
Head to the WPGT website to find out more information and to book your place.
​