Royal Deeside Golf Week welcomes 260 international golfers and crowns two new champions
The 'Royal Deeside Golf Week' (RDGW) saw a sell-out field of 260 players from eleven different countries compete last week over the four Aberdeenshire courses of Aboyne, Banchory, Ballater and Braemar.
Playing off a 9-handicap, winner of the Men's stableford competition was first time visitor Matthew Mills of Muckhart GC near Edinburgh. Matthew posted a 4-round aggregate of 153 to win on countback in the 148 strong field.
A record entry of 112 Ladies vying for their title saw newcomer Karina Matson of Pumpherston GC near Edinburgh lift the trophy. Karina scored a cumulative 150 stableford points over the four rounds playing off 9-handicap.
20th Anniversary
RDGW Co-Ordinator Nigel Bradburn said, "In our 20th anniversary year we were delighted to welcome golfers from across the UK and competitors from Holland, Switzerland, Italy, Spain, the USA and
Western Australia to beautiful Royal Deeside. The event continues to grow and is a wonderful way not only to showcase the courses situated on mid and upper Royal Deeside, but also the wide range
of other recreation and tourism attractions in the area".
New Champions
Matthew Mills, 2023 Men's Champion
Winner Matthew Mills said "I am delighted to follow in the footsteps of another Muckhart player Grace Hepburn who won the women's title last year.
Congratulations to the Royal Deeside organisers for a first-class run competition with everybody being so friendly. We really enjoyed the hospitality at every golf course we played during the week".

Matthew added "This is the pinnacle of my golfing career to date, and I look forward to coming back to defend my title next year."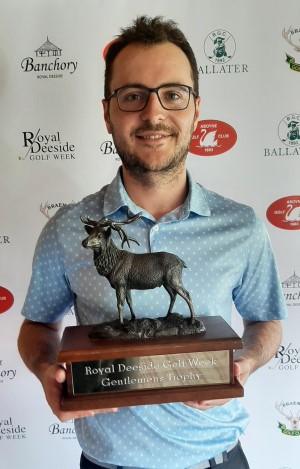 Karina Matson, 2023 Women's Champion
Karina Matson commented "I am delighted to have won the RDGW trophy for the ladies section on my first visit to this competition. I would like to thank all who were involved in making this a truly memorable occasion.
The four courses were stunning and the hospitality at each and around the Royal Deeside area was unrivalled. Thanks also to the lovely people I met and played with. I look forward to returning next year to try to defend my title."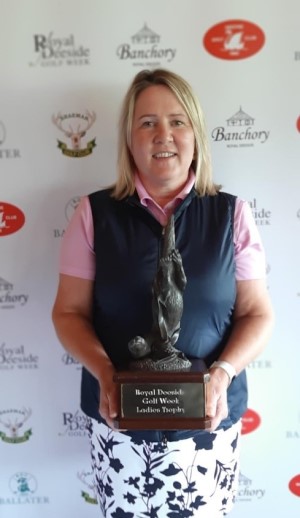 Wonderful sponsors & support
Nigel added "the successful running of the RDGW would not have been possible without the support of our sponsors: Loch Lomond Whiskies, Belhaven Brewery, The Fife Arms, and Women & Golf.
In addition, we also received fantastic support from leading courses in Scotland who generously donated prizes.
The appeal of Royal Deeside as a golfing destination continues to grow. We are already seeing strong demand for places at the RDGW from players keen to return for the 2024 tournament".
-ends-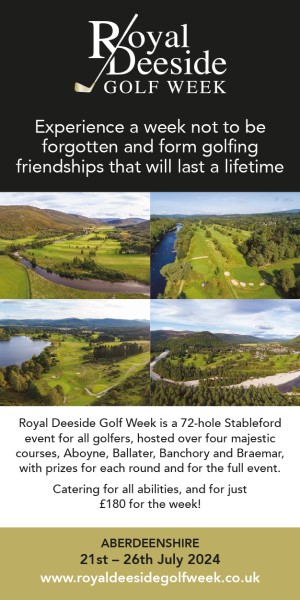 Press Contact: Nigel Bradburn, RDGW Co-Ordinator
Mob: 07899 066392 | Email: [email protected]

For more information visit royaldeesidegolfweek.co.uk