Six new players are added to the England Golf Girls' squad for 2022 - here's the full line-up
Ten of England's brightest golfing prospects have been named in England Golf's girls' squad for 2022. Four players retain their places from last season's set-up with six newcomers added to the roster.
Northumberland duo Rachel Gourley and Maggie Whitehead, Patience Rhodes from Somerset and Surrey's Lottie Woad are back to train at a national level for another season.
All four enjoyed outstanding wins in 2021.
Gourley claimed victory in the Justin Rose Telegraph Junior Golf Championship at Walton Heath GC and broke the course record at Fulford GC in The R&A Girls' Amateur Championship.
Whitehead claimed her first national title with victory in the English Girls' Under 16 Championship at Morecambe GC.
Rhodes was crowned English Under 18 Girls' champion thanks to fabulous win at Malton and Norton GC.
Woad, meanwhile, impressively stepped up a level to win the Welsh Ladies' Open at Newport GC in September, clinching both the England Golf Women's and Girls' Order of Merit titles in the process.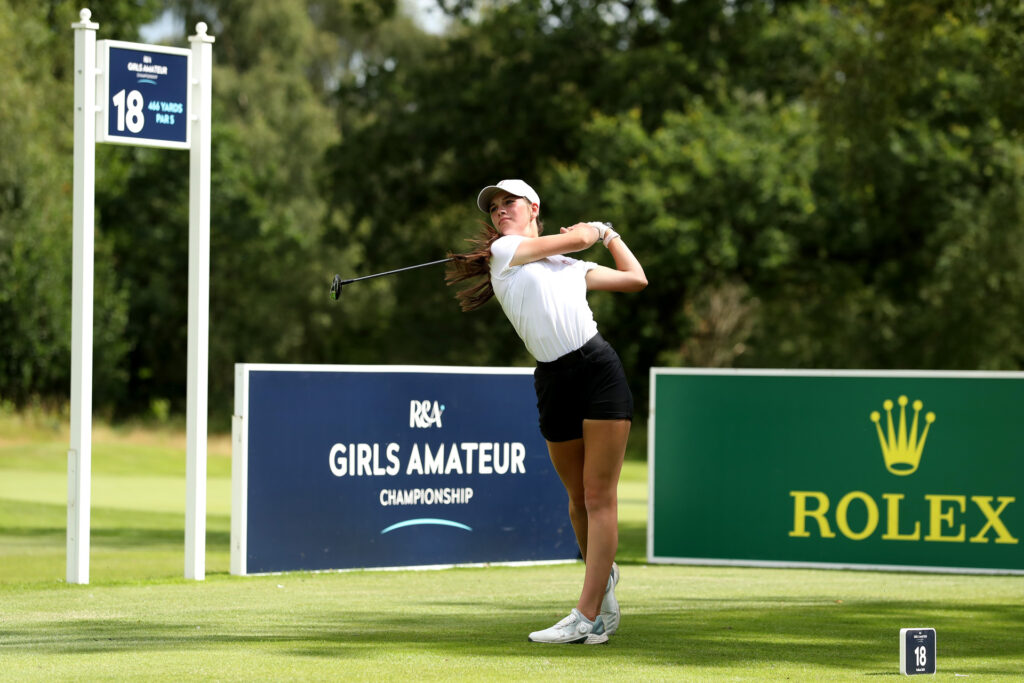 This talented quartet will form the experienced backbone of the squad with six newcomers adding fresh energy and impetus to the group.
Buckinghamshire's Rosie Bee Kim (main picture) and Olivia Lee join up with the full squad after impressive form in 2021.
Kim won The R&A's Under 16 Girls' title and the English Girls' Under 14 Championship in 2021 while Lee helped England's juniors win the Home Internationals as well as lifting the Peter McEvoy Trophy.
Shropshire's Isla McDonald O'Brien comes into the squad for the first time having been named previously at under 16 level alongside Lincolnshire's Ellise Rymer.
Ellen Yates from Surrey makes her debut in England colours while Nottinghamshire's Amelia Wan completes the line-up having helped England's Under 16 girls beat Switzerland last year at Heswall GC.
In addition to individual successes, three of the squad (Maggie Whitehead, Rosie Bee Kim and Ellen Yates) represented GB&I at the Junior Vagliano Trophy.
A larger squad than previous years
Jennifer Henderson, England Golf's assistant performance manager, said:
"We are privileged to work with such a talented group for the 2022 season.
"Whilst the 10 players selected represent a larger squad than previous years, this is testament to the great work going on in our regional network – it's fantastic to see more and more younger players coming through at a national level.
"As part of the national squad, these players will have access to world class coaching facilities at Woodhall Spa throughout the year and the opportunity to work with a number of leading coaches.
"Talent development is all about embracing individuality whilst providing challenging sessions both on and off the course.
"Players can expect technical, psychological, strength and conditioning, nutrition and performance management support.
"With under 18s having perhaps suffered the most in terms of Covid-related disruption, we are looking forward to a year of international competition.
"The European Team Championships, Home Internationals, and World Junior Championships remain our team focus for the year.
"I'm confident this group of players will shine representing England either in these team events or at an individual level in national and international championships."
England Golf 2022 Girls' Squad
Rachel Gourley (aged 17) Arcot Hall Golf Club, Northumberland
Rosie Bee Kim (14) Buckinghamshire Golf Club, Buckinghamshire
Olivia Lee (17) Gerrards Cross Golf Club, Buckinghamshire
Isla McDonald-O'Brien (15) Shrewsbury Golf Club, Shropshire
Patience Rhodes (18) Burnham and Berrow Golf Club, Somerset
Ellise Rymer (16) Woodhall Spa Golf Club, Lincolnshire
Amelia Wan (15) Hollinwell Golf Club, Nottinghamshire
Maggie Whitehead (15) Close House Golf Club, Northumberland
Lottie Woad (18) Farnham Golf Club, Surrey
Ellen Yates (15) West Hill Golf Club, Surrey
We're looking forward to what lies ahead for this talented group of players in 2022.