Day One of the 42nd Curtis Cup went Team USA's way as they take a substantial lead into Day Two at Merion Golf Club
Team USA have the early advantage after Day One of the 42nd Curtis Cup at Merion Golf Club. They claimed five of the six points available, including all three points in the afternoon foursomes. The Americans are looking for a third consecutive victory against GB&I.
USA needs just five more points to the retain the Cup with three more four-ball and three foursomes matches scheduled for Saturday, and eight singles matches on Sunday. GB&I needs 9½ points to regain the Cup and win for only the second time on foreign soil in an event that dates back to 1932.
It's a big target for GB&I but not impossible. Last year GB&I led the USA, 4½-1½, after Day 1 at Conwy Golf Club, only to see the American side roar back for a five-point victory. That result is not lost on USA captain Sarah Ingram:
"I was hoping for that [strong start]; I'm very happy about it. We are definitely better positioned today than we were last year at the same time."
Rachel Heck and Rachel Kuehn were both part of that comeback, and the two college All-Americans, along with team rookie Amari Avery each went 2-0 on a gorgeous day in suburban Philadelphia.
"I think we can learn from it," said Kuehn. "Just because you're not winning doesn't mean it's over. Luckily, we're on the flipside of it this year and leading after the first day, but I think we have got … to stay motivated, we've got to keep the pedal down, because if last year showed us anything it's that you can come back, and we don't want to give GB&I that chance."
GB&I veteran Louise Duncan said:
"Obviously we're disappointed about the afternoon results, but we weren't in this position last year. We're not feeling too disheartened and we're looking for a big day tomorrow and hopefully come back and make a good fight for the singles on Sunday."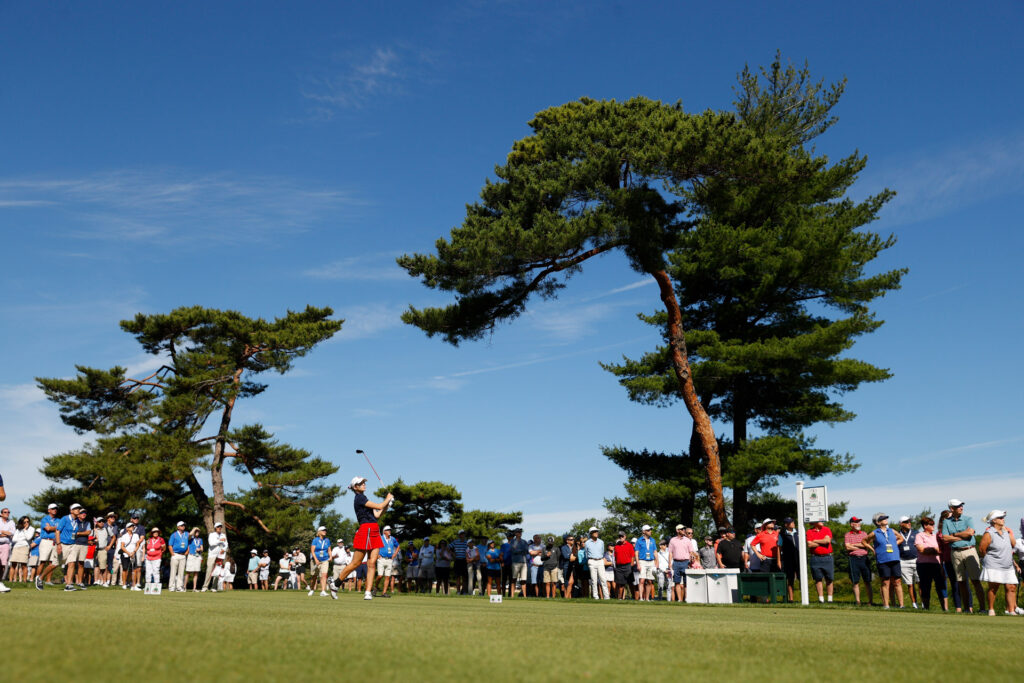 Curtis Cup Day One afternoon foursomes
Leading 2-1 after the morning four-ball session, the Americans came out on fire after lunch in foursomes. Reigning U.S. Women's Amateur champion Jensen Castle and Latanna Stone, who both sat out the morning session, didn't lose a hole in their 5-and-3 victory over the Scottish tandem of Duncan and Hannah Darling.
Jensen and Stone, standouts at the University of Kentucky and Louisiana State University, respectively, built a 3-up lead after five holes, then played even-par golf over the next 10 holes to close out their opponents.
That victory set the tone for the afternoon.
Rose Zhang and Heck, who helped Stanford win the NCAA title three weeks ago, overcame an early two-hole deficit to beat Florida State teammates Charlotte Heath and Amelia Williamson, both of England, 4 and 2. Zhang, the No. 1 player in the Women's World Amateur Golf Ranking and the 2020 U.S. Women's Amateur champion, avenged her Friday morning four-ball defeat, her first in six Curtis Cup matches.
When asked about the comeback, Zhang said:
"I feel like both Rachel and I were just very consistent and were really good at self-talk. We've played with each other so much that we know each other so well. We really made ourselves more aware of just trying to play the best we can and actually playing for each other. After we had a putt drop, we just kept that momentum going."
Zhang and Heck took control of the match with three consecutive birdies from the seventh hole, going from 1 down to 2 up.
As far as birthdays go, Kuehn enjoyed her 21st on Friday. After gaining a point in the morning, the rising Wake Forest senior teamed with Avery, a rising sophomore at the University of Southern California, to defeat Caley McGinty and Emily Price, 3 and 2. The Americans never trailed, but when Price holed out from a greenside bunker for a winning birdie on 11, the USA only led by one hole. Winning pars on 12 and 13 put the USA side back in control.
Curtis Cup Day One morning four-balls
For Friday's opening four-ball session, Ratcliffe put out all six of her returnees from the 2021 Match, meaning rookies Williamson and Price would sit out. Ingram, the USA captain, countered by playing four of her five returners – only Castle sat with Stone.
A big USA point came from rookies Avery and Megha Ganne, who grabbed a 1-up lead on the first hole over Lauren Walsh and McGinty, at 10 in the WAGR, the highest ranked player on GB&I's side, and never looked back in posting a 3-and-2 win. The two 18-year-olds played three-under-par golf – with the usual match-play concessions – over 16 holes.
Kuehn and Heck provided the second point with a 1-up win over University of Florida standout Annabell Fuller and Darling. Neither side held more than a one-hole advantage, and Heck's birdie on the 107-yard, par-3 13th provided the difference as the teams tied the final five holes.
GB&I avoided a session sweep when Heath, partnering with 2021 British Women's Amateur champion Duncan, rolled in an 8-foot birdie on the 189-yard, 17th hole to secure a 2-and-1 win over Zhang and Emilia Migliaccio, of Cary, N.C. Although they played in last year's Curtis Cup, Heath and Duncan had never been paired together. Ratcliffe had a hunch the two would gel in four-ball.
"We're both very easy to get along with," said Duncan, who tied for 10th in last year's AIG Women's British Open. "And we both played well.
"We need to keep our chins up, stay positive, stay patient, and just go out and enjoy ourselves and do what we do best. We're all here for a reason, and we know that we can do it, and we'll hopefully flip the tables tomorrow."
GB&I Captain Elaine Ratcliffe knows exactly what the team need to do, she said:
"The Americans played some great golf today. I don't feel that they left anything out there. Everything went in. They holed out beautifully. We saw chip-ins, we saw a number of things. But all credit to them; they're world-class golfers. We need to do the same thing tomorrow. We need to hole out well, execute our game plan, and actually, you know what, I wouldn't mind a few chip-ins."
GB&I will need that kind of effort on Saturday to get back into this Match.
Results from Friday's First Day of the 2022 Curtis Cup Match, played at 6,130-yard, par-70 Merion Golf Club.

FOUR-BALL
7:30 a.m. - Rachel Heck and Rachel Kuehn, USA def. Hannah Darling and Annabell Fuller, GB&I 1 up
7:42 a.m. - Amari Avery and Megha Ganne, USA def. Caley McGinty and Lauren Walsh, GB&I 3 and 2
7:54 a.m. - Louise Duncan and Charlotte Heath, GB&I def. Rose Zhang and Emilia Migliaccio, USA 2 and 1

FOURSOMES
1:40 p.m. - Jensen Castle and Latanna Stone, USA def. Hannah Darling and Louise Duncan, GB&I, 5 and 3
1:51 p.m. - Rachel Kuehn and Amari Avery, USA def. Caley McGinty and Emily Price, GB&I, 3 and 2
2:02 p.m. - Rose Zhang and Rachel Heck, USA def. Charlotte Heath and Amelia Williamson, GB&I, 4 and 2
View the live scoring for the 42nd Curtis Cup here.
View Saturday Pairings and Tee Times here.
Watch live coverage from Day Two via Sky Sports Golf YouTube here - coverage starts at 3pm BST.