The 2022 Junior Masters is set to be the biggest and best to date, with qualifying events in eight counties across the UK
The Junior Masters began in 2017 in conjunction with the British Masters that was hosted at Close House, in Northumberland. Since then, Close House, with the support of their attached professional Lee Westwood and PING Europe have developed and grown the event to make it as accessible and exciting as possible for many more junior golfers across the UK.
Westwood played a big part in the initial development of the Junior Masters, with the vision to help grow the game and create more competitive opportunities for keen young golfers. Successful events have since ran in 2017, 2018 and 2019 – with 2022 set to be the most successful year yet.
Westwood is a proud supporter of the Junior Masters, he said:
"They are great events to grow the game and are played at some top courses in the UK. Providing young golfers with competitive opportunities is invaluable, and everyone involved in these events is extremely committed to growing the game – it is a privilege to be involved."
Nine Junior Masters qualifying events
There are now nine qualifying events spanning across eight counties in the UK. Some of these locations include the well-known Lady Bank in Fyfe, Scotland, and Worksop in Nottinghamshire. Each qualifying event will be run off nett scores which will give a broader range of junior golfers the opportunity to reach the grand final played at Close House, in October.
From each of the qualifying locations, there are three age categories: 12 and under, 15 and under, and 18 and under. One girl and two boys from each age group will qualify for the final at Close House – where they will be offered a tour experience on the fantastic Championship Colt Course.
Junior Masters supported by PING Europe
The 2022 events see PING Europe continue their support of the event, providing all the prizes at the grand final with the aim of giving the next generation of golfers a special and unique experience.
Dave Fanning, European Marketing Director at PING Europe, commented:
"We are delighted to be supporting the Junior Masters events this year. For those junior golfers who are striving to improve, these events are excellent to get involved with. We are looking forward to watching all the talented young golfers compete across the UK."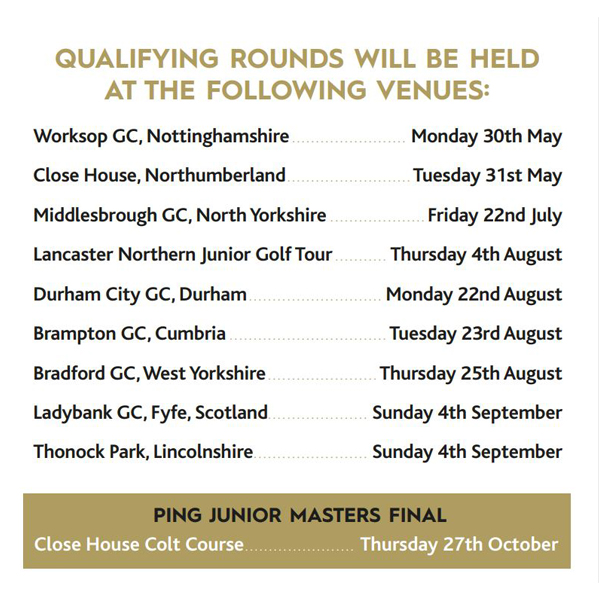 In addition to hosting a qualifying event and the final, Close House is also offering free school coaching to local schools to further develop the younger generation of golfers. With the support from Close House, Lee Westwood, and PING Europe, the 2022 Junior Masters is an exciting prospect for any junior looking to take their game to the next level.
For those interested in competing at one of the qualifying events, please contact your preferred qualifying location directly for more information on the event and entry.