Two young Perthshire golfers claimed a memorable victory at St Andrews in the Grand Final of the R&A Coronation Foursomes on Monday, September 20.
Isla Johnston, aged only 14, and Lauren Cameron, 22, from Pitlochry Golf Club posted a winning score of 39 points in the handicap stableford foursomes format to emerge as the successful team from 16 pairings at the Eden Course.
Fellow Scottish pair Elizabeth Anderson and Andrea Johnstone from Swanston Golf Club finished runners-up on 38 points in the popular event.
Over 17,000 competitors from 850 golf clubs
After the Coronation Foursomes was cancelled last year due to the Covid-19 pandemic, over 17,000 women and girls from more than 850 clubs across Great Britain and Ireland competed for the right to contest the showpiece final at the home of golf in 2021.
On a beautiful day, toughened with a challenging wind, Johnston and Cameron thrived in the friendly and fast team format over the renowned links. Cameron, a 19-handicapper, only returned to the sport last year while 22-handicapper Johnston has been playing at Pitlochry since the age of six. They are one of the youngest ever pairings to have competed.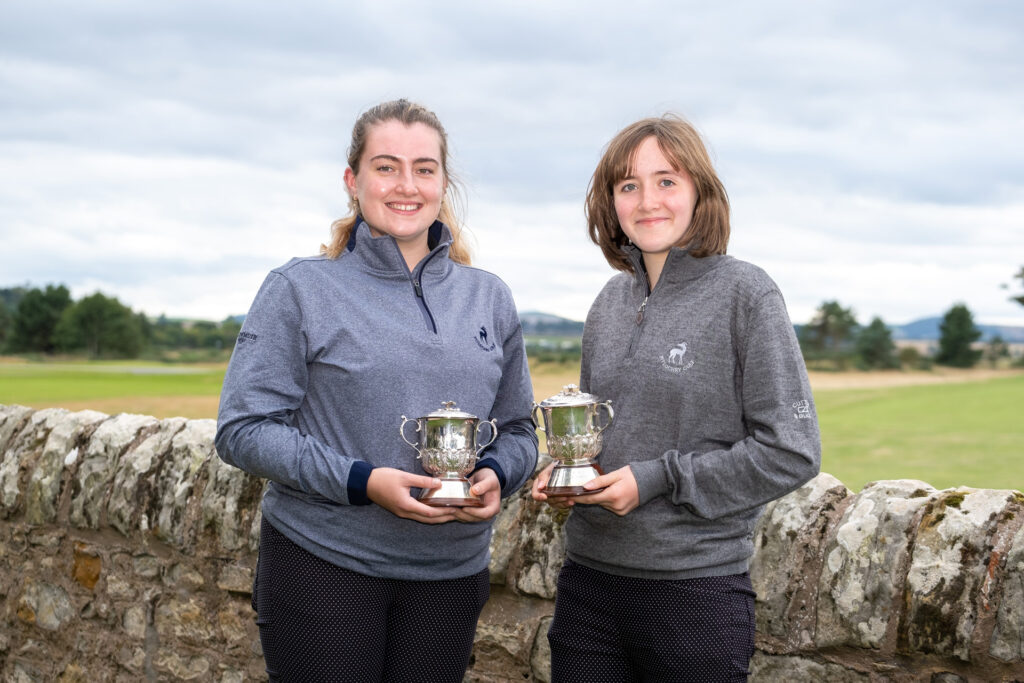 Fourteen-year-old Johnston said:
"We're so happy, it's amazing to win. "I've been playing for eight years now as Pitlochry has a really good junior policy. I like going to new clubs as I play a lot of Pitlochry, so getting a change of scenery is really nice."
Cameron, who celebrates her birthday on Thursday, added:
"I think we knew we had a chance today, but I don't think we would do it. It was great just to reach the Grand Final.
"I played golf when I was younger, then took 10 years off, and I only started again last year. We both come from families of golfers as well, so that really helps. It's a great team event and we've loved competing in St Andrews and being part of this final."
Heading to the AIG Women's Open Pro-Am
The winning duo can now look forward to competing in the Pro-Am for the 2022 AIG Women's Open at Muirfield thanks to their victory.
This year's 32 finalists also enjoyed staying at the prestigious Old Course Hotel Golf Resort & Spa as part of the Grand Final experience.
Ahead of competing at Muirfield, Johnston added:
"We've never played Muirfield before and I think I'm going to be speechless! I like Lydia Ko, Brooke Henderson, Georgia Hall and Carly Booth, so hopefully they are all there playing next year."
Cameron said:
"It's incredible to think we're now playing at Muirfield. I don't think it will be real until we get there."
What is the Coronation Foursomes?
As part of The R&A's drive to encourage more women and girls into playing golf, the Coronation Foursomes continues to attract all ages. The unique team competition saw local qualifying at clubs throughout the summer, with players coming through one of 16 Area Finals to seal their spot in St Andrews.
Established in 1953 to celebrate the Queen's Coronation, the Coronation Foursomes is open to all female members of affiliated golf clubs in Great Britain and Ireland who hold a hold a current World Handicap System (WHS) Index of 40.0 or under. For final scores, please visit: www.randa.org/championships/coronationfoursomes