Rosie Bee Kim adds the U16 title to last year's U14, whilst Charlotte Naughton wins her first English Girls title.
Rosie Bee Kim and Charlotte Naughton celebrated victory in their respective age groups at the 2022 English Girls' Under 16/14 Open Championship.
England girls' squad player Kim won the under 16 event a year after success in the younger age category.
In doing so, she became the first player since Lily May Humphreys in 2015 and 2016 to win back-to-back titles across both age categories.
The Buckinghamshire golfer carded four impressive rounds of 67, 67, 68 and 69 to finish on -13 and win by six shots in the 72-hole under 16 stroke play event staged at Formby Ladies' Golf Club.
Naughton took home the prize in the under 14 section, completing the 54-hole championship with a final round 73 and posting a winning total of 219 (+6).
In the nett event for the under 14's, Serena Manduca from Wentworth came out on top with a winning score of -9.
Wire-to-wire victory for Kim
Kim started the day with a one-shot lead. However, at the end of round three, the 15-year-old had stretched her advantage further despite impressive five-under par rounds of 66 from Amelia Wan and Lynn van der Sluijs.
However, it was to be Kim who held her nerve to claim a wire-to-wire victory. After collecting the trophy, she said: "I feel fantastic about the result. It means a lot.
"After taking the trophy in the under 14's event last year, to come back and take the big trophy is really good."
The England girls' squad player succeeds fellow England teammate Maggie Whitehead as the champion and joins an established list of players that includes Georgia Hall and Humphreys to have lifted the trophy.
"It's a great honour. Hopefully, I can continue their sort of legacy," she added.
Dutch golfer, Sluijs closed with a score of 73 to finish as the runner-up on seven under par, whilst Isla McDonald-O'Brien and Denmark's Johanna Axelsen tied for third a further three shots back.
English Girls' U14 Championship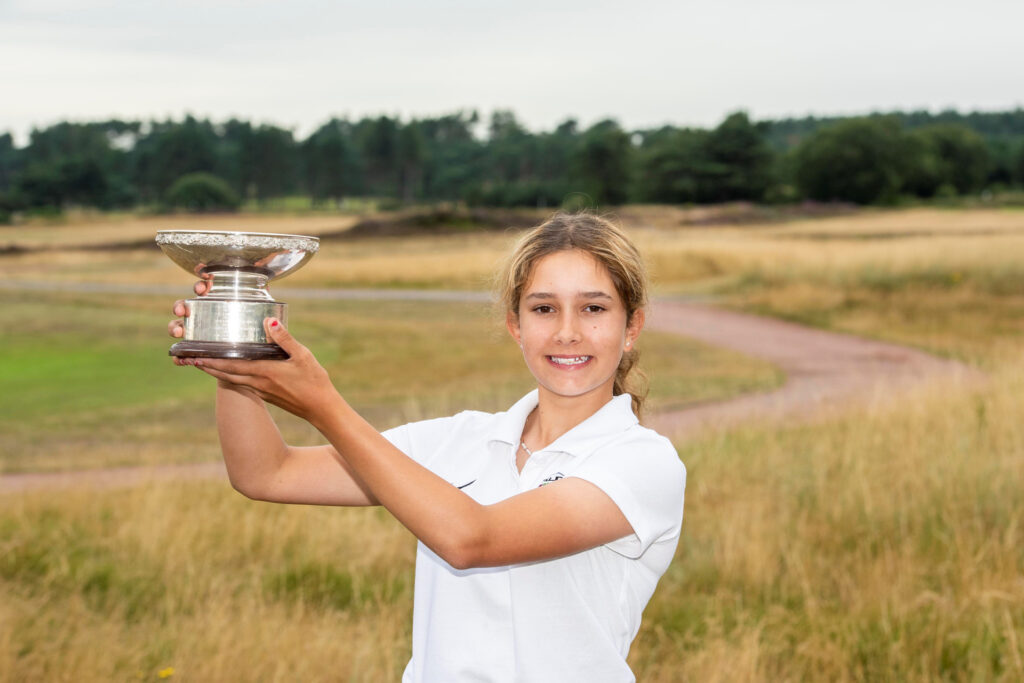 The competition was just as hot in the under 14's category. Annabel Peaford was the overnight leader, but soon found her lead clawed back by playing partner Naughton.
Three birdies for Naughton helped close the gap and a par on 18 was all she needed to claim the title by a two-shot margin from Hill Valley's Lauren Crump.
Naughton said: "I feel very proud to stand here. It means a lot because I've worked really hard for this and it's all paid off.
"A birdie at the second really got me started for the final round. I just missed out on a birdie at the 17th which was my hardest hole so that was alright too.
"I played really well. It's a hard course and now I just need to keep grafting away and get better and better."
View the full leaderboard here.