Italian golf fashion brand Duca del Cosma collaborates with Melanie-Jane Lancaster to produce special edition ladies golf shoe.
Melanie-Jane Lancaster has spent her whole life involved in golf. Her Dad, Nigel, is from the Lake District, a scratch golfer by the age of 14 who played tour events in Europe. He and his wife Paula settled in Zandvoort and built The Dunes, a 9-hole course, which they still own and run today. Melanie-Jane also works there and gets to travel to golf courses all over the world when she is supporting her partner, six-time European Tour champion, Joost Luiten.
As well as working at The Dunes, Melanie-Jane also organises and hosts women's golf events across Holland and documents her travels with Joost in a blog - Melanie On Tour - in an effort to help Dutch golfers understand what life is like at an elite level on Tour.
Melanie-Jane can now add shoe designer to her growing resume with the launch of the Duca del Cosma MELANIE-JANE golf shoe. We got to speak to her about how the collaboration came about, the design process and her women's golf events in Holland.
Where did it all start?
I met Caroline and Frank van Wezel, the owners of Duca del Cosma, for the first time a few years ago at the KLM Dutch Open, it was like we had known each other all our lives and they are just like family. They saw how much I loved fashion and asked me why I hadn't already designed my own shoes.
So that's how it started, it was a dream come true.
What was the golf shoe design process?
I took the design process really seriously. I did a lot of research into what was already on the market, I used Google, I visited lots of shops. I was keen to make sure that although it was a golf shoe, it would also have a sneaker look to it too. That was very important to me.
I created a mood board with all my ideas on it and took this to Duca's business centre and I showed the in-house designers to get their feedback on what I had put together. They showed me what would and wouldn't work.
It was important to me that I designed the shoes by myself because then it was really my shoe rather than another designers that I just put my name to it. I was then able to design the shoes through drawings and using my imagination on my laptop.
The Duca del Cosma designers guided me through the process but I was able to design it just how I wanted it to be. We had the first prototype made in Portugal and it wasn't quite perfect. So, we changed the C from white to black. We also added orange to the C on the back of the shoe because it was important to have a little reference to Holland and to Joost.
I didn't want to have orange all over it as it's a white and black shoe, it had to be something small, so the C on the back worked perfectly.
Will there be any future collaborations?
As it was my first design, it is difficult to know how people will react to it. Especially as Duca is usually really colourful and this is something really different. They are using as a test to see whether people like the shoe. I obviously love it and just hope everyone else does too. I would love to design more in the future.
Tell us a little more about your women's golf events in Holland?
There aren't many golf events in Holland for women, so a few years ago I asked women I knew what they were looking for in an event. They told me they wanted it to be relaxed and that they did not want high level competition. A lot of them were scared at the idea taking part in a tournament because of the emphasis on winning, of course they want to be the best but this was not the reason that they would want to take part.
My golf tournaments are relaxing and there is always a different element which happens as well as the golf. For example, at one event we had a cooking masterclass, another we hosted a lunch and I hope to have one with gin tasting this year.
For my events the golf is secondary to the social side. It's all about creating a relaxing environment where you can enjoy the course and spending the day with a nice group of women.
What is your event schedule looking like this year?
Unfortunately last year I had to cancel all my tournaments. As restrictions ease here in Holland, which they are slowly doing now, I hope to host some events later on in the summer.
There is definitely demand but I need to get them scheduled in when the weather is better. Women prefer to take part when the weather is better, not when it is cold and wet in winter.
Duca del Cosma MELANIE-JANE golf shoe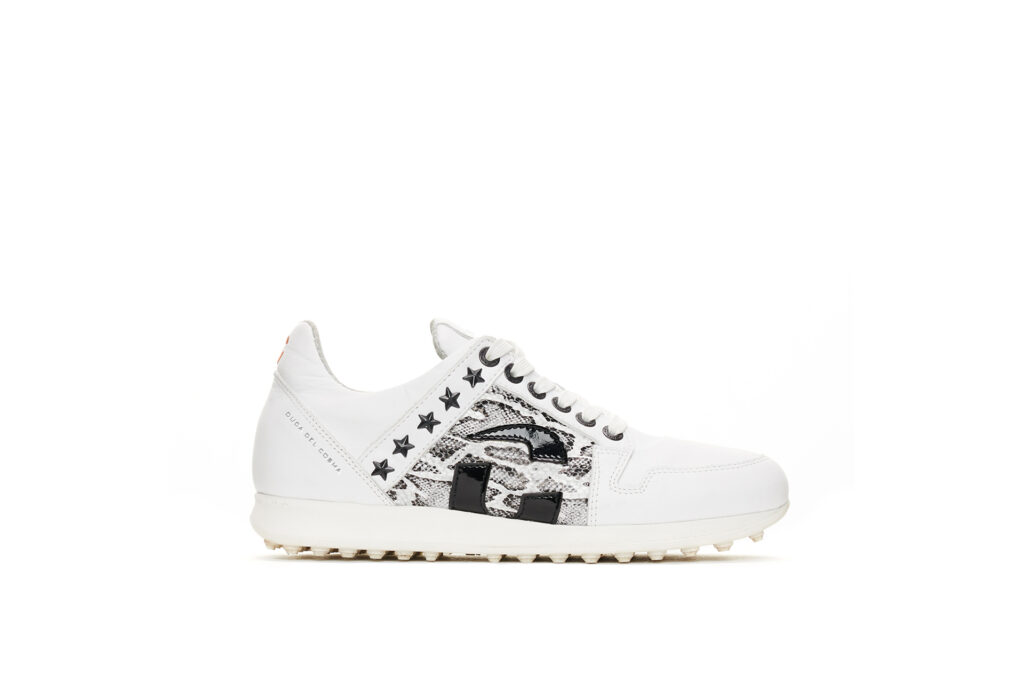 Hand-crafted using a patented leather outer and other premium materials, the special edition shoes combine a Waterproof Bootie System with the innovative ARNEFLEX® insole for exceptional cushioning, plus the lightweight Airplay VI outsole to deliver unrivalled comfort and optimal stability. Strategically positioned 5mm cone-shaped nubs run across the sole of the shoe for enhanced grip during the swing.
In terms of aesthetics, the predominantly white shoe features a sporty black trim, along with five stars to reflect the high standards that should be followed in life and sport. Distinctive black eyelets feature on the top of the shoe, along with two pairs of luxury laces to deliver a striking look that can be paired with any outfit. An orange letter 'C' on the heel support resembles the colour that Joost wears on any Sunday on Tour and adds a super-premium look and feel to the shoe.
The MELANIE-JANE shoe is available now in sizes 3-9 (UK) / 36-42 (EU) at an RRP of £179 / €199. More details can be found at https://ducadelcosma.com/products/melanie-jane