We meet the women behind the quintessential British Brand - Meg & Bee - whose Classic Kit Bag was worn at the 43rd Ryder Cup
When it comes to the Ryder Cup, there is always a lot of discussion around fashion. Not only is the focus on the players, from the opening ceremony right through to the final day outfit, but also on their wives, girlfriends and partners.
The responsibility of "dressing" the ready-made support team normally falls to the partner of the Team Captain. This year in Whistling Straits, for Team Europe, that job fell to Padraig Harrington's wife Caroline. We have to admit that we really liked the opening ceremony outfit but it isn't just about the clothes they wear either. This time there was also an on-course bag for the week!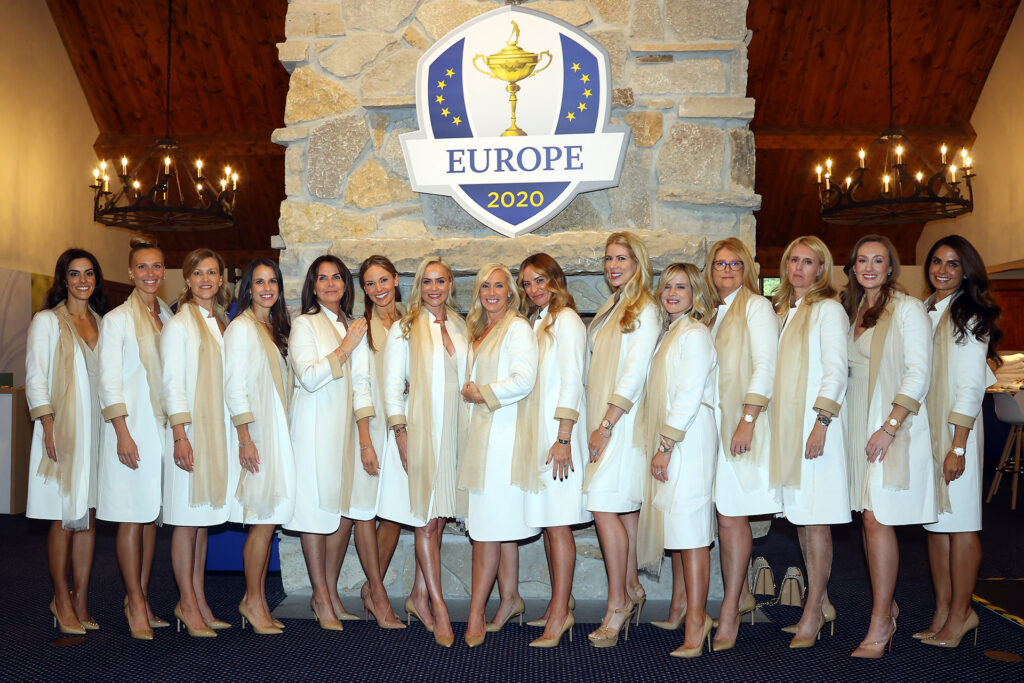 Step in Meg & Bee, a brand only launched in 2018 but already its striking bags, straps, tassels and charms are loved and worn by many women all over the world including a range of high profile personalities in the UK such as Gaby Roslin, Davina McCall, Lisa Faulkner and Dame Kelly Holmes.
We caught up with Meg (Tudball) and Bee (Paul) to find out more about the brand and how the opportunity for their bags to gain a worldwide audience came about.
Tell us about Meg & Bee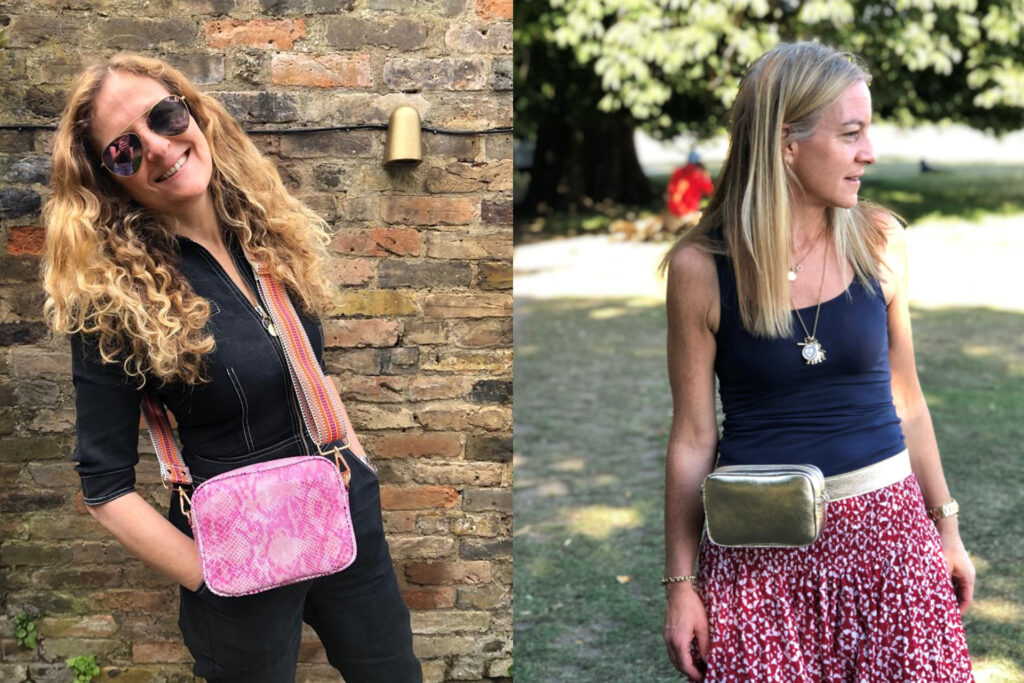 Having met each other on the school run the two of us, both mothers of three, became great friends and later on business partners when establishing Meg & Bee. We founded our company by chance really when, following a break in Italy, Bee returned home with a bag she had treated herself to on holiday having been inspired by the huge array of colours and leather available.
Soon afterwards, over a glass of wine with Meg in the local pub, we sat down and had a brainstorming session and the foundations of Meg & Bee were born there and then!
We both felt that Meg's interest in fashion and business and Bee's 25-year-career in interior design combined with our friendship was the perfect recipe for our exciting new bag venture.
What is unique about the brand?
We are very proud of the fact that our bags are not mass produced but are beautifully made individually, with love and care in a small workshop in Spain to our specific designs using leather and hardware handpicked and designed by us.
We offer quality at an affordable price in a vast array of colours and sizes and an ever-expanding range of designs. We supply the components so that our customers can have some fun creating their unique bag by choosing their very own combinations of colour, strap and tassel.
How did the collaboration with Caroline Harrington come about?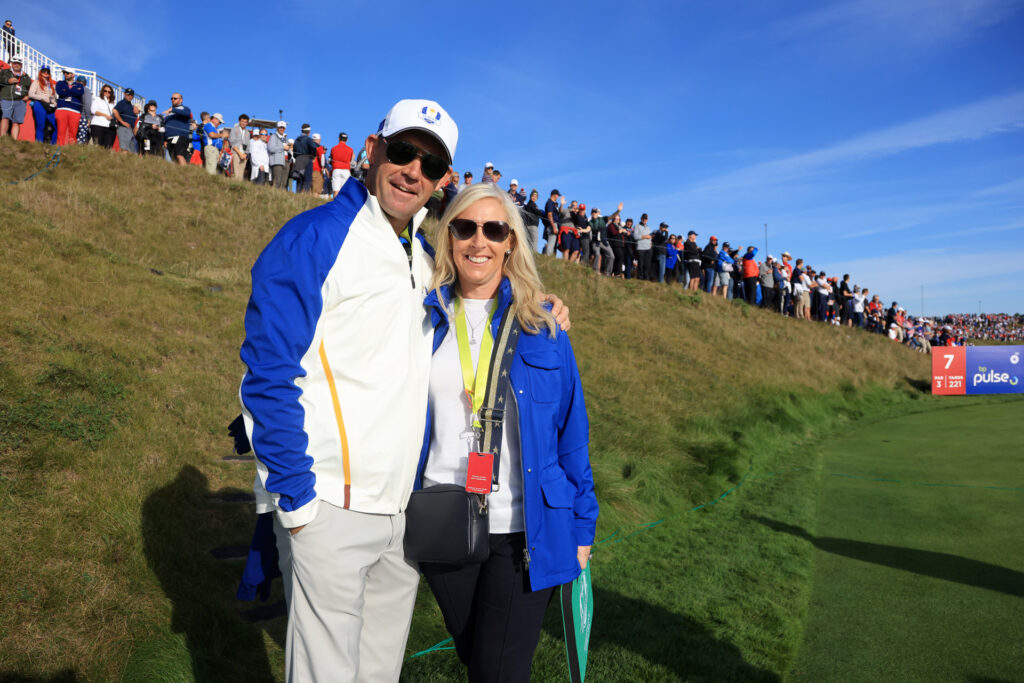 We were bowled over when we received an email from the European Tour asking us if the wives and girlfriends of the Ryder Cup could wear our bags throughout the tournament. The final choice of bag that was worn at Whistling Straits was made by Caroline Harrington, the European Team Captain's wife.
For a young, fledgling company like Meg & Bee to be asked to be a part of one of the world's greatest sporting events was totally overwhelming and to be chosen over hundreds of other established fashion brands was simply an amazing compliment for our bags.
Tell us about the bags that you provided for the Ryder Cup
Once contacted by the European Tour about the opportunity, we put together a selection of combinations (ie a bag, strap, tassel and charm) to reflect the European Team colours. The bag chosen was a navy leather camera style crossbody (The Navy Classic Leather Kit), a dark blue strap embossed with gold stars (The Navy Gold Circus Strap) and a contrasting Suede Navy Tassel.
It proved extremely popular with Team Europe wives and girlfriends, most of whom were seen wearing them out on the course whilst following the golfing action.
What other bags and accessories do you have at Meg & Bee?
We currently have four different sized crossbody bags; Major Kit, Classic Kit, Mini Kit & Mobile Kit and our Money Kit, a small zip around wallet. Each design, in synergy with our brand, is customisable with our large variety of straps, tassels and charms, enabling the customer to create their own look.
We supply the components, the customer creates their bag. The combinations are endless! Each bag has the Meg & Bee gold star disc charm, whether it's as a zip pull or simply a charm; this is the mark of a Meg & Bee bag.
Are you golfers? If not, have you been inspired to try it out after the Ryder Cup?
We have to admit neither of us are! However, who hasn't heard of The Ryder Cup?! When we told friends and family that we were going to be involved one of the world's greatest sporting events, they were so impressed and thrilled for us. We loved being involved in the event and followed it for the first time this year. It did inspire us to someday take up the game but at the moment, it may be safer to leave it to the professionals and sadly we simply do not have the time!
Meg & Bee bags are available to buy at www.megandbee.co.uk, with prices starting from £90 for a bag, which includes the leather bag and a strap.
We loved the bag so much here at Women & Golf that we asked whether we might be able to give one away to one of our readers. Meg & Bee kindly said yes! For your chance to win your own Ryder Cup Team Europe themed crossbody Meg & Bee Kit bag – just click here.