Here are some Halloween themed golf accessories to get you in the spirit - plus a free competition.
Just for fun, we took a look around the internet to find our favourite Halloween themed golf accessories, from gloves to grips, to balls and headcovers - it won't be just your golf game that's scary! There are no tricks here, just treats and if you scroll down to the bottom you can enter our special Halloween competition.
Keep dry and tone in with the Autumnal colours with this BIG MAX Aqua Umbrella which has an easy-to-use automatic function that combines with a soft grip and robust waterproof fabric to provide comfort and protection even in the toughest conditions.
G/FORE do a range of colourful gloves, so you could even have one to match your golf bag or outfit. These gloves are precision-crafted from premium AA Cabretta leather, with an embroidered patch detail on the tab.
From supporting your local football club all the way to Team Europe in the Solheim Cup, the Golf Pride MCC Plus4 Teams Standard grips are a great addition to your bag. They are a half-cord grip featuring a larger lower hand thickness and a new, softer rubber material for excellent grip and performance. Also available in midsize too.
As well as helping the ball to carry longer, the TaylorMade TP5 pix 2.0 golf balls offer a multi-colour system for better visibility and alignment. These are supposed to provide a visible line that gives instant feedback after the putting stroke.
Are you a fan of music on the course or maybe you need a portable speaker for your home? The Bushnell Wingman GPS Speaker is a "first of its kind" product as it combines high-quality audio and a GPS function from the included Bushnell Golf App offering audible GPS front, centre, back distances with customisable settings for your game.
Helping you to keep a better eye on your ball this winter, the Wilson Staff DUO Optix golf balls. The matte colour scheme is even brighter and bolder ensuring you'll never lose track of your golf ball in flight - they also stand out much better on the fairway, greens and even in the rough.
The Zombie on the PRG Originals Fairway Headcover looks like I do after my usual performance of the golf course! If you can relate then maybe this fully embroidered wood cover made from a leatherette exterior and soft interior lining could be for you this Halloween!
Train away your terrifying three-putt this winter with some putting practice at home with the PuttOUT Pressure Putt Trainer - if you didn't already buy one throughout lockdowns.
Don't lose your way or your game with the Bushnell ION Edge GPS Watch. This new game-changing watch simplifies your game, with auto hole and course functionality, and accurate insight to over 40,000 plus golf courses around the world. We've got one to test...so we'll report back soon.
Halloween Competition
If all of this talk has got you in the Halloween spirit then we have a real treat for you. Thanks to Angela Reed - Furniture & Fine Things, we have been gifted one of these beautiful mugs to give away.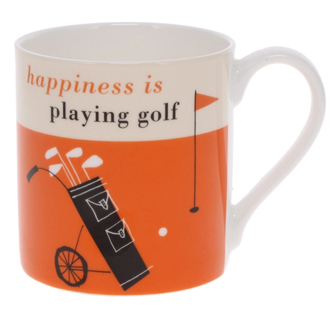 A Repeat Repeat design mug, perfect for all keen golfers. A contemporary design, made from bone china and decorated in Stoke on Trent.
Happiness is Playing Golf Mug competition
With thanks to AngelaReed.co.uk for donating this happy prize