We take a look and give our first impressions of the Bettinardi Queen B #11 putter. Is this the most beautiful putter you could ever play with?
As putters go, you're unlikely to find any that are more stunning than one from the Bettinardi Queen B Series.
When it comes to putting, a lot comes down to technique but there is an element of confidence too. We're sure that your confidence would not be lacking with one of the Queen B putters in your hands.
We were excited at Women & Golf HQ to get our hands on the Bettinardi Queen B #11 putter to try out and review.
Tell us more about the Bettinardi Queen B #11
The classic half-moon mallet shape has been expertly designed for the player looking for a more traditional compact mallet.
The Queen B #11 is precisely crafted with soft flowing contours in the body, and Bettinardi's trademark crescent-milled neck that provides optimal toe hang for players with a moderate arc in their putting stroke.
The design of the putter brings the centre of gravity to the middle of the head for maximum forgiveness and control at impact, giving any player the confidence and stability of a Tour-winning putter.
No detail is left unturned and the Bettinardi Queen Bee #11 putter features a honeycomb milled face showcasing a staggering level of detail that their fine milling process produces.
An eye for detail from Bettinardi and their Queen B #11 mallet putter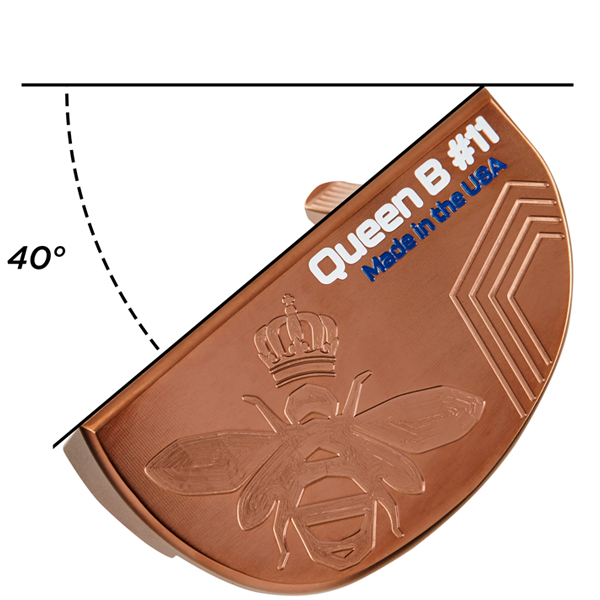 Rose Gold PVD finish
The finish is another feature which really sets the Queen B apart from other putters on the market. Bettinardi's Rose Gold PVD brings aesthetic charm to complement the features of the Queen B line.
This stunning finish not only enhances the timeless beauty of each model, but is extremely durable and glare-resistant, ultimately optimising visual cues on the greens to give a confidence-inspiring appearance at every crucial putt.
The putter head is made from one-piece milled 303 Stainless Steel, which is the same blend of material preferred by all Bettinardi Tour players around the world. This metal offers a more durable, responsive, and solid feeling putter for supreme performance.
Don't just take our word for it, we asked Advanced PGA Professional Evie Carter to give us her first impressions of the Bettinardi Queen B #11 putter
First impressions from Advanced PGA Professional Evie Carter
Queen B #11 putter specifications
Neck: Crescent Neck
Weight: 362 grams
Material: 303 Stainless Steel
Finish: Rose Gold PVD
Face Milling: Micro-honeycomb
Loft: 3°
Lie: 70°
Toe-Hang: 1/2
You won't be surprised to hear that a putter that looks this good is going to come at a premium price, with the Queen B #11 coming in at £355.00!
If you are looking for a high-performance putter that is also a work of art, then the Bettinardi Queen Bee #11 Putter would be an excellent choice.
We'll be back with an on-course review soon. In the meantime, find out more by visiting the Bettinardi website here.