We're offering one Women & Golf reader the chance to win a PuttBANDIT 500, the next generation ball marker and putting aid.
The idea for PuttBANDIT came about after founder Neil Hart was having a post-round chat with his brother about their occasional dreadful putting, and they started to think about how they could try and get some consistency. They concluded that the answer lay somewhere in improving their direction and ball speed energy.
Using physics, maths, research and lots of rounds of golf and some creative guesswork, they concluded that putting line visualisation was what was needed.
So, after many months of researching products and techniques – analysing and testing 100 or so prototypes – they came up with PuttBANDIT – a highly visible, ball marker and line visualisation aid.
WIN a PuttBANDIT 500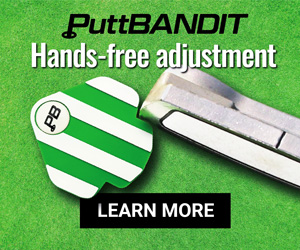 So if, like Neil and Paul, you need some putting help - whether you take aim at a spot in front of the ball or along an intended line - then have a go with it.
After climbing and falling off many a steep learning curve, with regard to CAD, injection moulding, materials, 3D printing, CNC laser cutting, intellectual property and much more . . . PuttBANDIT is now available to UK golfers.
To be in with a chance of WINNING a Limited Edition PuttBANDIT, all you need to do is tell us you postcode!
The lucky winner will win a PuttBANDIT gift pack, one of 500 Limited Edition versions with each PuttBANDIT featuring a PuttBANDIT 500 engraved stainless steel hand-polished baseplate and a uniquely numbered and stamped certificate of authenticity.
You can find out more about PuttBANDIT at www.puttbandit.com.
Wishing you good putting and good luck in the competition.
Competition deadline: Wednesday, March 31, 2021. Sorry, the competition is now closed.
Sorry the competition is now closed. For more chances to win golf goodies go to our competition page.