We've got one year's membership to Women & Golf to give away, providing all you need to help you get the most out of the game you love.
A membership to Women & Golf gets you access to so many great features, discounts and perks.
But if you haven't signed up for a membership with us yet, here's your chance to try it out being a W&G member for 12 months for FREE.
As 2021 is our 30th anniversary year, we're giving away one free membership every month.
So, if you're not lucky enough to win this time, you'll still have plenty more chances - you're welcome to enter every month if you like!
Women & Golf goes online
Once a print magazine only out six times a year, we are now proud to offer a sleek, modern website that's updated daily with all the breaking news, gossip and stories from the world of women's golf. We're not a digital pdf of a magazine that you have to laboriously flick through.
We offer all the content that the magazine did but more of it. We provide it more regularly too, meaning you really do get breaking news as soon as it happens.
On top of that, we're now able to bring you special multi-media features such as instruction videos, live interviews, more competitions than ever before and so much more.
Our social media channels and free weekly newsletters are there to add a bit more interaction and fun, and also help direct you to our latest stories.
Included in a Women & Golf membership
Unlimited access to content on www.womenandgolf.com.
Virtual Pilates classes.
Exclusive W&G instruction videos.
Special reduced entry fees to W&G events – join us at Costa del Sol, Royal Norwich, Silvermere and Kingswood plus Goodwood in 2022.
Travel and lifestyle offers.
Member's only competitions (meaning extra chances to win).
Access to virtual events and live video interviews.
Regular member's only newsletters and updates sent to straight to your inbox.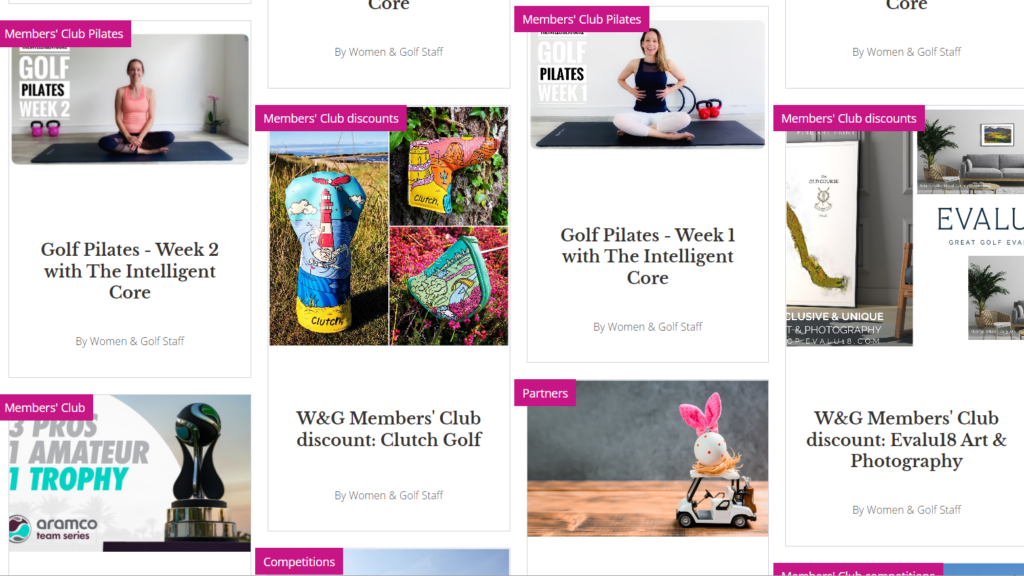 A whole year of unlimited content
Like many online publications, we have a paywall in place.
This means that when you're not logged in as a member you can only view three articles per browsing session. After that, an annoying message will get in the way telling you that you've reached your 'browsing limit'.
But being a member gets you UNLIMITED access to all our brilliant features.
Member feedback
Susan Potts, Derby: "I'd just like to say how much I enjoy reading the Women & Golf magazine online. Being able to watch instruction videos is really helpful. I haven't got round to doing a Pilates class yet but fully intend to do so. Keep up the good work."
Membership packages normally start from £24.99, but each month we're giving one golf fan a chance to join our Members' Club for FREE.
Enter our December competition below.
Deadline: Midnight, December 31.
Win a year's membership to Women & Golf